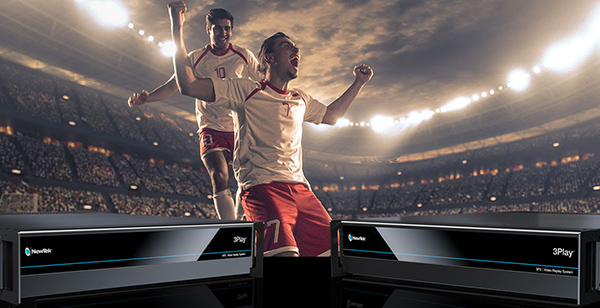 NewTek 3Play 3P2 video replay and telestration system for creating instant replays for sports productions includes shareable playlists, pan-and-scan areas of interest, NewTek NDI Telestrator tools and clip publishing. These features allow sports producers more scope and options to enhance the impact and applicationsof live 4K content as it plays out.
With a built-in playback zoom and tracking feature, operators can select several points of interest and zoom in and out to capture a particular play. It is also key-frameable, allowing the operator to scrub through clips to accurately to highlight desired timecodes of fast-moving plays. Breaking down 4k60p recordings in granular detail with keyframes can produce useful results.
Software-driven and network-based, the system has eight external inputs and two outputs. Inputs can be various combinations of NDI sources, via four SDI connectors built directly into the chassis. The outputs can be independent or work together in a preview/program workflow, including live animated, 3D-warped visual transitions delivered to both SDI and NDI destinations.

Shareable playlists allow the operators of different NewTek TriCaster live production systems to work collaboratively. 3P2 and TriCaster operators can synchronise their 3Play playlists over the network via NDI and collaborate as though they are working on the same system. This makes it easier and faster to push the required clips out to broadcast.
Free Training for 3Play 3P2
NewTek 3Play 3P2 is available now. Purchasers and resellers can take the NewTek University 3Play course for free until 30 September 2021. www.newtek.com