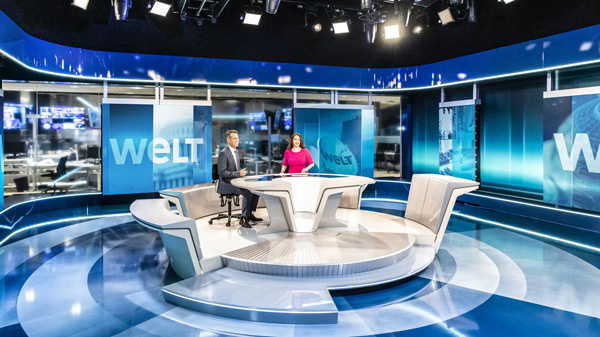 WeltN24 television at the new Axel Springer Campus in Berlin has installed a new automated news and production environment with a SMPTE 2110 NMOS-based infrastructure. The installation comprises two TV studios equipped with IP communication to integrate efficient workflows into the broadcast infrastructure.
Welt's broadcast operatives can perform switching and compositing, and deliver the channel's broadcast output without using a production switcher, which improves accuracy and efficiency and encourages creativity. However, Thorsten Prohm, CTO for Welt said that reaching that point required developing new workflows for each step needed to create the programming they envisioned. "Creating a news broadcast facility is a technical challenge even with traditional architecture," he said. "The new workflows influenced the choice of journalist and automation tools and how our infrastructure needs to work and can be controlled."
Re-Learning Workflow Automation
Although Welt hadn't deliberately intended to eliminate the switcher, the flexibility and functionality of their system's software components and the underlying IP infrastructure made switching hardware unnecessary. Instead, Welt had to think in terms of software-first to solve the challenge of working without a traditional hardware production switcher. Working with the systems integrator Qvest Media, Vizrt supplied software production tools to alter the graphic playout workflow.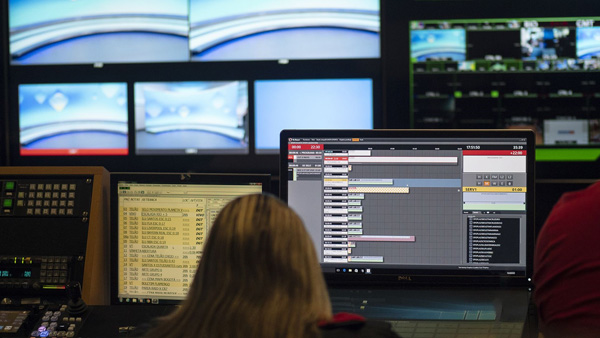 Vizrt Viz Mosart automation and orchestration
All of the M/Es (mix/effects) and DVEs (digital video effects), as well as all content for the moving LED videowalls and the virtual studio are done with the Vizrt software. Welt's news team uses Viz Mosart to automate the graphics rundowns and Viz One for asset management. Viz Multiplay controls the video wall content.
A major reason Welt was interested in automated workflows was to avoid on-air errors. The studio setup features seven robotic cameras, moving motorized LED panels and IP-controlled lighting, resulting in sophisticated looks but a complex challenge for the team. Viz Mosart adds reliability to the playout by accurately orchestrating the interplay between the diverse, moving elements. Likewise, content on the video walls are driven and controlled by a combination of Viz Multiplay and Viz Mosart.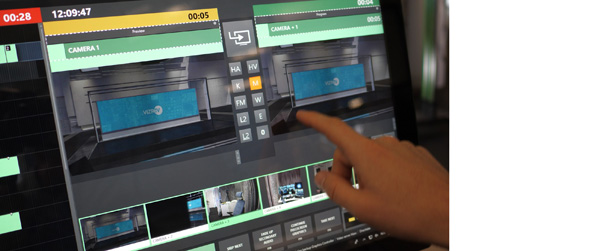 Movable LED Video Panels
Ethernet/IP-capable lighting fixtures were installed throughout the studios. The movable LED video panels on three sides brought special challenges in terms of the lighting design, with a required minimum range of movement for the presenters on set without changing the lighting fixture positions.
After a full round of testing, a total of 100 ARRI SkyPanel series soft lights and Robe Lighting Moving Lights with Fresnel characteristics were chosen, supplemented by LED bars fixed to the top of the panels to direct backlighting onto the presenters.

In Studio 2, especially in the green screen stage, ARRI's SkyPanels with different apertures were specified to achieve ideal light distribution, in line with ARRI of photometric simulation templates. Meeting the lighting quality requirements of an HD/UHD environment over the longer term was also important, including colour rendering index levels, options for colour temperatures adjustments, calibration standards for the LED and service life.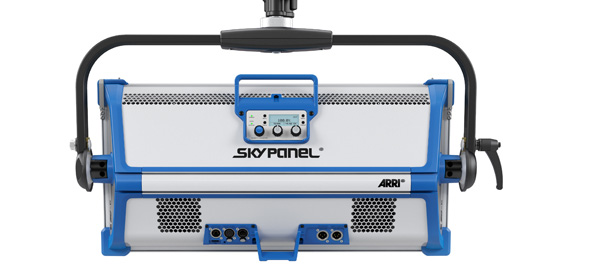 IP-based Lighting Control
The core of the studio lighting design is an IP-based control system, including the integration of the luminaires into the broadcast automation and central monitoring for lighting. "Traditional DMX-controlled lighting networks are proving to be too limited now to meet most customers' requirements for efficient, flexible workflows. We have to be prepared to specify end-to-end IP systems," said Paul Flemming, Head of Projects at the ARRI System Group.
"The ARRI team is implementing Ethernet/IP-based lighting more often now. ARRI integrated an IP interface into the SkyPanel series from a very early stage, and we have found strong support for this idea with the manufacturers of Moving Lights at Robe Lighting. The DMX network protocol limits the use of intelligent system monitoring for lighting, and also limits data rate and the maximum number of channels. Using the RDM (Remote Device Management) mode as a return channel for DMX may also destabilise the network.
"With a lighting control infrastructure based solely on Ethernet/IP, as with WELT, we were able to improve lighting system flexibility and realibility system-wide, critical for a 24/7 operation. Broadcast engineers can take control of all components for the studio's video, audio and light."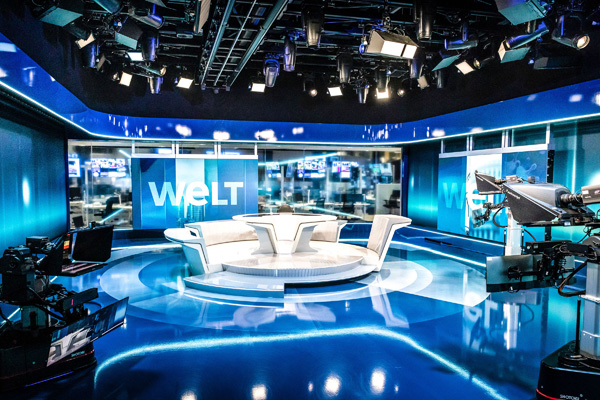 Initially, Zabbix open-source software for monitoring of various IT components is acting as the central monitoring tool but, in cooperation with WELT, ARRI is planning to implement a specialised monitoring tool for the lighting system. In the future, this will enable the crew to monitor the status of all lighting components with an interface to the central broadcast monitoring by centrally managing the RDM and SNMP status information of all the lighting system components.
For On-Air Journalists
Welt's journalists are creating, managing and delivering content for on-air or online with the Viz Pilot Edge template-based system. The templates are automatically generated, or Viz Pilot builds custom templates for user interfaces, using native HTML. The journalist then plans news, sports or election productions with graphics, maps, animations, videos and images from a single newsroom interface with live preview and a workflow that allows last minute changes. Also, because Viz Pilot Edge is integrated with their NRCS, journalists can work from any location right up to the final second before air time to file stories and deliver content.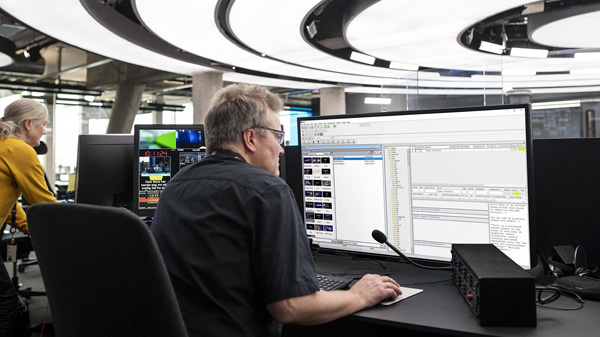 Journalists use the Viz Pilot Edge template-based system for creating, managing and delivering on-air content.
A guiding principle of the project was lifting performance while closely controlling resource use for efficiency. Taking advantage of a SMPTE 2110 NMOS infrastructure, with the help of an orchestrator and a broadcast controller, inputs are pooled for fast access and assignment through NMOS to keep the setup lean and nimble. While performance is always at peak, only the needed bandwidth is used all the way through the interconnected IP infrastructure.
Underneath the Viz tools, Viz Engine handles compositing, real-time 3D rendering and video playout, and performs low-latency graphics and video processing. The SMPTE 2110-compatible Viz Engines deployed in the installation carry out clip playback as well as graphics work. Clips can be played out back-to-back with transitions into 16 clip channels, guaranteeing precise synchronisation. www.vizrt.com