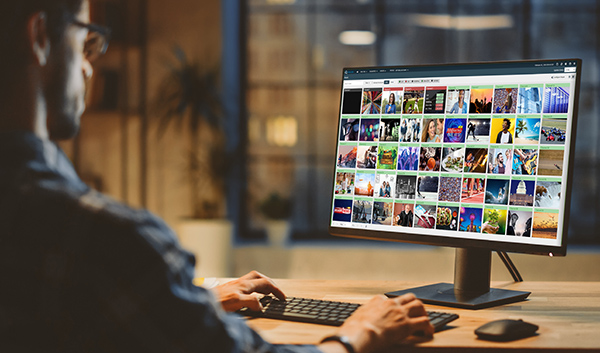 IQ VOD monitoring
Telestream has upgraded its VOD and live monitoring capabilities for content owners, aggregators, CDN operators and subscription service providers, through improvements to the IQ line of monitoring products and systems, and the Inspect 2110 monitoring platform.
These updates increase visibility, reporting and analytics within VOD networks. Users can search for further proofs of performance, availability and validation of live and on-demand offerings, providing more granular ways to quickly find and fix faults.
Large VOD Content Libraries
Telestream's IQ VOD monitoring generates lightweight analysis focused on speed to determine content accessibility, ABR packaging and quick audio and video checks, with results available in a single consolidated report. Long term analysis and diagnostics reporting is also available.
The system is positioned for validating large VOD content libraries, keeping pace with new content as it becomes available – daily, weekly or monthly. By taking advantage of the different monitoring methods and scheduling built into the software, users can allocate resources efficiently to make the most of monitoring investments while limiting the impact on streaming services.
With the VOD monitoring platform, automating the entire process is straightforward using the open API. Users can review the results in a consolidated report that takes no extra integration work or data processing.
Live Applications
For live applications, the updates include expanded codec monitoring, including support for HEVC 4:2:2 profile. Further pre-compression rapid pixel analysis of I-Frames is also included. Should a closer analysis be required, choosing the MOS Level 2 option allows analysis of I, B and P frames without disrupting hundreds of other sources that may be running concurrently. This prevents issues that will be harder to identify once the content is compressed.
Post-compression, spatial and other compression-introduced issues can be analysed and managed before moving the content on, where jitter, buffer, timing and other factors can continue to be monitored and diagnosed.
The ability to check and validate the integrity of the content through multiple packagers, CDNs and distributors, enables a provider to see more clearly what the customer experience will be and reslts in peace of mind, protection of revenue and proofs of performance.
Inspect 2110 Monitoring Upgrade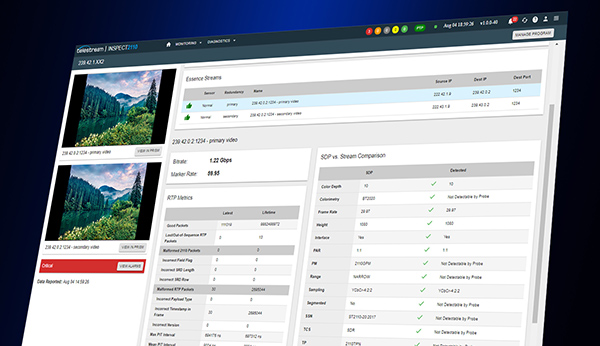 Telestream has also completed a major new upgrade to the Inspect 2110 monitoring platform, which now monitors ST 2022-6 data streams, transport of high bit rate media over IP networks. When added to the existing capability of monitoring ST 2110 video, audio and data essences within facilities and across networks, it can assure reliability within hybrid SDI-over-IP and ST 2110 deployments and simplify operations. This release also adds monitoring of primary and secondary streams in applications employing 2022-7 for stream redundancy.
Alongside ST 2110 monitoring, and new in this upgrade, is the support for NMOS IS-04 and IS-05 APIs as a means to discover and register devices and to handle connection management. This capability makes integrating Inspect 2110 within Software Defined Networks (SDNs) easier. Interoperability and discoverability means other products and software can be added quickly to the monitored network, saving deployment and development resources.
Telestream has increased the Inspect 2110 platform's scalability to handle the growing numbers of essence flows and program streams in hybrid ST 2022-6 and ST 2110 deployments. In this upgrade, added to the dual 100 Gbps interfaces on the Inspect 2110 platform, are 40 Gbps options for easier interfacing among varied network topologies.
www.telestream.net