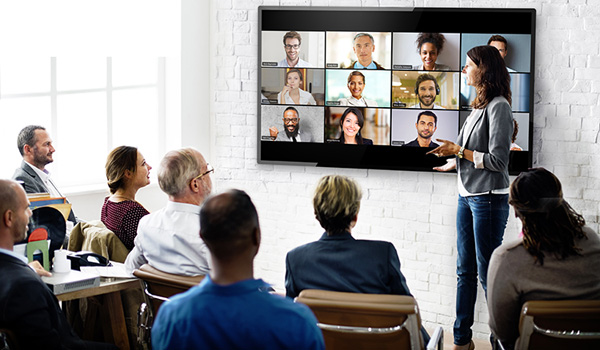 NDI is now supported in Zoom Rooms for Windows. The move follows the adoption of NDI by Zoom for MacOS and Microsoft Teams in 2020, and Skype in 2018. Zoom Rooms brings HD video collaboration into any space – in the office, in the classroom or at home – and enables in-person and remote participants to interact in real time.
The NDI protocol connects media devices over a network, rather than physically, and is an industry standard for producing live content for streaming. NDI 5 is its latest iteration. Producers can now use NDI for Zoom Rooms as a live video source to create and produce stories.
NDI for Zoom Rooms gives content creators a set of creative and production options. Individual video streams, from either Meeting or Webinar, can be used by video producers to connect to other NDI devices allowing them to create custom visual experiences.
For example, live video streams from the mobile phones of reporters in the field can be used by news stations, and a Zoom Rooms presentation can be pulled live into a conference broadcast. Virtual festivals, award ceremonies or celebrations can pull in multiple guests and presenters from around the world for near-zero latency audio and video streams.
"Innovation is one of our key areas, and our investments here at Zoom are customer-centric. We have received feedback from producers that NDI technology is critical to live production and something that they have wanted for a while," said Brendan Ittelson, Chief Technology Officer at Zoom. "With our support for NDI we wanted to make sure that we delivered something to our customers that was a full package and works exactly as they would expect it to." www.ndi.tv