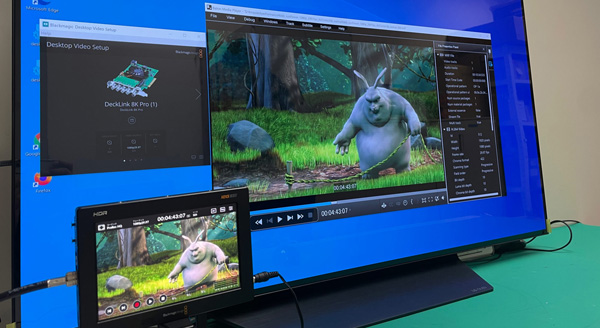 Interra's BATON Media Player (BMP) can now support playback at resolutions up to 8K. Media companies working with video need to deliver reliable, error free content that meets specifications and regulatory compliance requirements around the world. To meet this challenge, Interra Systems' BATON serves as an AI-enabled automated QC platform that carries out comprehensive quality and compliance checks for VOD content for linear and streaming workflows.
Hybrid QC Environment
BATON's cloud-supported, scalable architecture allows users to expand their BATON set-up as their QC requirements grow, and its high availability supports business continuity, should some of its hardware components break down. Working in sync with BATON's frame-accurate manual review of media content, operators can use BMP's features to play, inspect and verify audio/video from dispersed content locations, and collaborate across multiple teams and projects. Users can navigate to specific error locations with a single click.
As an add-on player that can open BATON verification reports, the user can play the media surrounding the error location and manually validate its severity. BMP plays all the detected faults/errors in an automated manner, without manual intervention. Using it also means that end users can implement a hybrid manual/automated QC environment. With automation, the process becomes more efficient through the various media workflow stages, from ingest to distribution, while making sure content looks and plays exactly as it was intended.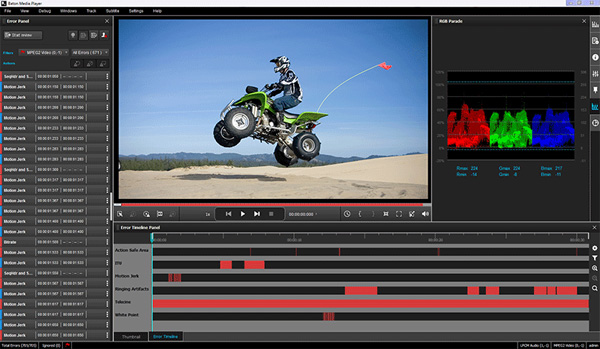 Interra BATON Media Player
Decklink and Video Assist at Interra
Through Blackmagic Design's DeckLink line of PCIe capture and playback cards, Interra improves control and monitoring by allowing users to view video formats up to 8K. Customers can monitor content using the DeckLink to playback in any video format and resolution needed, allowing them to monitor for macro blocking, freeze frames, black frames and other problems.
Interra uses several of the Blackmagic DeckLink cards, including the DeckLink Studio, DeckLink SDI 4K and DeckLink 8K Pro, along with the DeckLink Media Express media player. The DeckLink 8K Pro is the newest of these, a Generation 3, eight lane PCI Express capture and playback card for 8K workflows that includes four 12G SDI connections and supports all SD, HD, Ultra HD, 4K DCI, 8K and 8K DCI formats.
"We have been using DeckLink cards with BATON Media Player for several years. Users appreciate viewing high resolution video, including 4K, in real time from any broadcast quality monitor before going on air. The DeckLink's SDK has made it easy to integrate and build new services with," said Saurabh Jain, Director, Strategic Partnerships, Interra Systems.
Interra Systems also uses a number of DeckLink 8K Pros and a Blackmagic Video Assist 7-inch 12G HDR monitor in their own research and development facilities, as well as with customer workflows. The output from a DeckLink 8K Pro is fed directly into a Video Assist, which includes an adjustable 2500 nit, 1920 x 1200 screen that allows users to see 16:9 video clearly.
"It is exciting to see Interra Systems' BATON Media Player support the entire DeckLink line. BATON's support for all colour space monitoring and inspection up to 4K DCI at 60p 12 Bit RGB will be a benefit for customers. The combination of our Desktop Video and Video Assist 12G HDR gives high quality HDR QC at an affordable price," said Dan May, president, Blackmagic Design. www.interrasystems.com