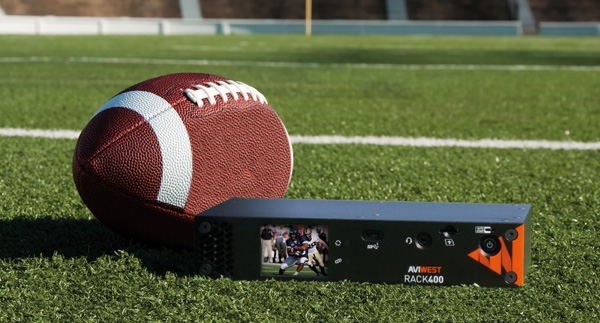 AVIWEST has developed a new encoder in its RACK Series for remote and at-home video production over unmanaged IP networks. Built into a compact, half-1U form factor, the RACK400 supports 4K UHD and multicamera workflows for up to four high-resolution, frame-synced feeds. Both H.265/HEVC and the earlier H.264/AVC compression standards are supported to accommodate new and existing infrastructures. The RACK400 delivers video at up to 4Kp60, combined with eight audio channels.
The RACK400 addresses challenges that broadcasters face when expanding remote production for live events such as sports, entertainment, concerts, political events and interactive TV shows. Its tools help broadcasters produce content more efficiently from a central facility with frame-accurate synchronisation and video transmission between multiple cameras to ensure precise camera switching in the studio, plus HD video return up to 1080p50/60 from the studio to the venue for confidence monitoring or teleprompting.
The RACK400 includes full-duplex intercom, allowing communication between field crews and studio operators, along with data bridging for remote camera control, tally light management, or other IP device control during a live event.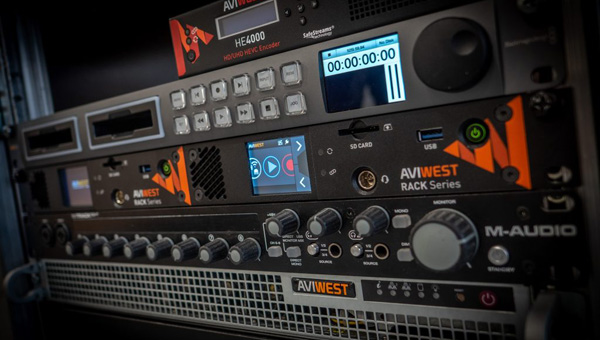 DataBridge helps produce multi-camera live events from a centralised control room, instead of depending on production trucks onsite. It establishes high-speed mobile internet connectivity from any location. Camera selection and control can be managed entirely from the remote studio through a reliable IP tunnel managed by the AVIWEST SST (Safe Stream Transport) system. For efficiency and economy, DataBridge can operate in parallel to the live transmission.
The RACK400 supports transmission over most networks such as cellular, satellite, IP leased line or public internet, keeping latency down to 0.5 seconds end-to-end, which is also due to AVIWEST's Safe Streams Transport. SST combines network aggregation, adaptive packet retransmission and Forward Error Correction techniques to reach high network throughput and derive a quality of service as high as possible. www.aviwest.com