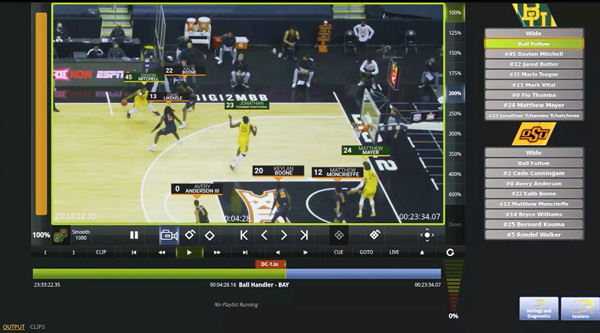 BRAVO Studio is Evertz' cloud-based control room, a collaborative live switching platform that looks and operates like a traditional control room. Working in that familiar environment, broadcast operators feel more confident about producing shows in the cloud. Through web-based interfaces that are accessible from any location, users can work with team members and colleagues to produce live events from home, for example, regardless of the size or complexity of the projects they are working on.
The platform's functionality is dynamic and its scope can be scaled from small to very large teams and projects. The platform contains Evertz products including MAGNUM OS Orchestration and Control for signal routing and to coordinate resources located at a venue, in a broadcast studio or in the cloud.
Other functionality includes multiviewing, VUE user interfaces for operations and access to all tools from the DreamCatcher live production suite. Working with familiar tools, the team has fewer concerns about how to access content and can spend more time turning their content into stories and projects. Cloud-based production maintains the same level of creativity and flexibility as traditional control room workflows.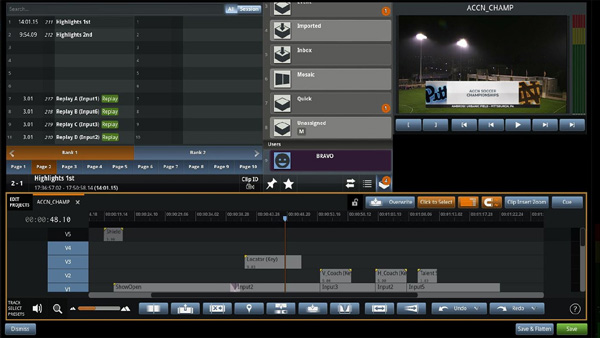 BRAVO Studio timeline record
New Co-Pilots to Automate Cameras
Evertz updates to the platform now include new co-pilots to help automate and simplify production workflows. The existing Metadata Copilot, which uses timecode accurate statistical data that is associated with a broadcaster's video content, builds workflows for capturing and managing data, and turns it into assets that can be used in storytelling.
Data is harvested in real time from statistical sources and applied to clips in the form of tags. The clips can be categorised and suggested to operators as curated playlists and bins, ready for air, which gives the production team more time to focus on stories. Users have access to information about every play.
Now, BRAVO Studio can also use real time data collected by sensor-based systems, including Evertz partner ShotTracker's on-court and on-field sensors, to automate camera workflows. By fitting sensors to the players and the ball, anchor sensors installed in the court or on the pitch simultaneously track their locations at all times. ShotTracker knows where every player and every ball is at every moment, generates statistics and displays the information on the ShotTracker app on devices.
Ease Live Interactive Graphics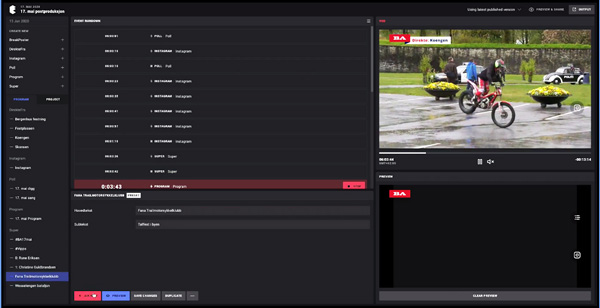 Ease Live HTML 5 graphics editor
Evertz has integrated its software-as-a-service Ease Live HTML 5 graphics editor into BRAVO Studio. Using templates, reusable components and presets, Ease Live extends the viewing experience by producing data-driven, interactive graphic overlays, at the edge, for OTT Video Service Providers.
Program creators can deliver a bigger range of interactive options to consumers that they can use to make bets, select players, view statistics, view highlights or take part in quizzes – all of which are intended to keep viewers engaged in the live production. At the same time, it gathers knowledge about end users' behaviour with cloud-based data and analysis tools.
Evertz will be giving demos of the BRAVO Studio platform's capabilities online in part of the Evertz Connected 2021: Fall Edition virtual technology portal that runs 1-15 October. Registration is free and is now open at connected.evertz.com. www.evertz.com