Dalet AmberFin Accelerates File Transfer with Aspera Integration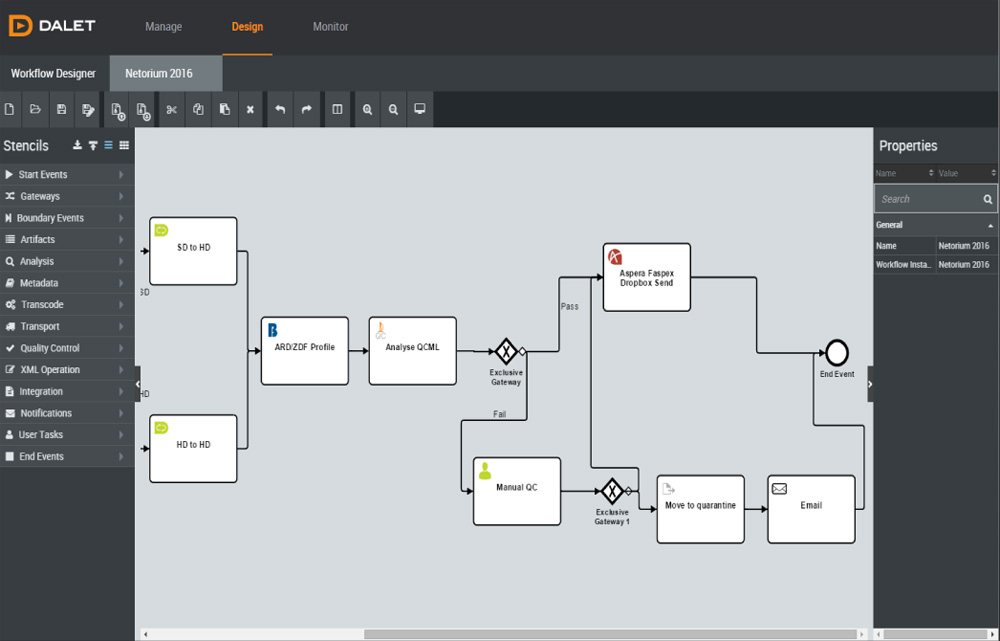 Dalet Digital Media Systems is expanding support for high-speed file transfer and storage within the new release of its Dalet AmberFin media processing platform. IBM Aspera, Dalet's most recent AmberFin partner, adds support for FASP transfers and faspex dropbox functionality to the orchestrated environment. The new integration accelerates transfer speeds up to hundreds of times faster than standard FTPs, and supports mass distribution of media packages to all members of any given faspex dropbox.
This release includes native support for Amazon S3 compatible storage interfaces. Accelerated file transfer systems from Signiant and FileCatalyst are the next integrations planned for Dalet AmberFin, expected to follow shortly. Dalet feels that the ability to work with most of the major file transport and automated QC vendors in an orchestrated media workflow makes delivery and distribution of assets more efficient. As well, it may be especially important for customers currently lacking their own player or mark-up tools for quality control.
Controlling compliance and quality, the accelerated transfer systems are threaded within the Dalet Workflow Engine along with UQC, Unified Quality Control, a QC mark to verify a combination of automated and manual content verification.
Under the control of the Workflow Engine, supporting software from Tektronix, Interra, Venera, VidCheck, Metaglue and Nexidia form a single resource to manually verify content, and to unify and monitor transfer acceleration applied to all transcode and QC operations. With little prior experience, Dalet AmberFin users can create and model complex workflow chains in detail, including user and service tasks, sequencing, task types, parallel or exclusive paths, timeout and escalation management.
The visual modelling, based on standardized notation, helps define roles, responsibilities and processes. Precise graphical representation is used to identify and correct gaps, redundancies and inefficiencies, improving agility and flexibility of existing media workflows. www.dalet.com