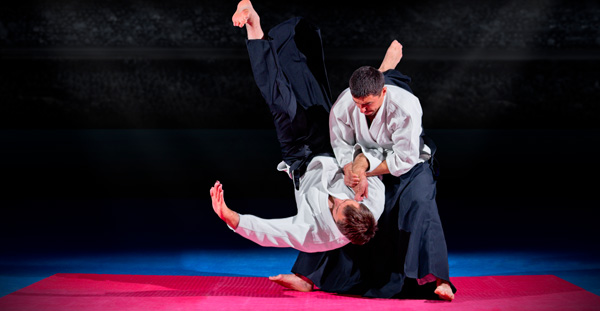 TSP can produce broadcast-quality, multi-camera remote productions with fewer resources using Monarch EDGE.
Tokyo Sound Production Inc (TSP) produces and delivers video coverage of live entertainment and sporting events taking place across Japan. TSP began broadcasting video over the internet in 2019, using remote production techniques. Their workflow involved capturing and sending live event content via IP links to their central production facility where the final program is produced and distributed.
Their on-going goal has been to make more live event content readily available to viewers, and at the same time, reduce the number of on-site staff required for productions.
In order to optimise resources and expand its online live streaming services, the company looked for an encoder and decoder pair capable of transporting multiple channels of very high quality video over long distances using a VPN. TSP purchased and adopted the Matrox Monarch EDGE E4 encoder and D4 decoder, and was able to begin producing remote productions for events across Japan at an affordable cost, while limiting the presence of on-site staff.
Better Use of Resources
"After learning more about the Matrox Monarch EDGE encoder and decoder pair at the Inter BEE trade show, we could see that these devices would improve our workflow by helping us to make better use of our resources – ranging from the quality of the video itself to interactions among our staff," said Kengo Kaketa, Chief Digital Officer, Strategy and Sales Departments at TSP.
Using Monarch EDGE effectively extends the production studio to remote locations that have a network connection. It can encode up to four camera feeds from HD or 3G-SDI sources, accepting either 4K signals over 12G-SDI or a quad 3G-SDI, to deliver a full 4K stream.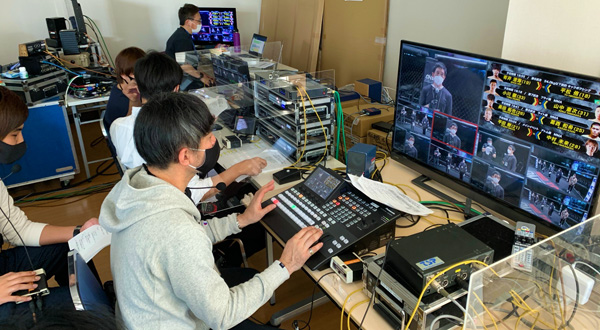 Using the Monarch EDGE encoder/decoder, TSP is able to keep most of its live video production staff in-house.
The device's H.264 engine keeps data rates relatively low while preserving the video quality. Four inputs can be streamed at resolutions up to 1080p60, or one input at 2160p60. Also, more than one type of processing can be performed on each input. This means users can stream at multiple resolutions and bitrates simultaneously, which is useful for remote monitoring.
Low Latency, Choice of Protocol
Signal transport latencies affect remote production video quality in various ways. Audio and video sync may be hard to maintain, and return channels to the field are often too far behind the live-action. Monarch EDGE can achieve latencies as low as 100ms, while using standard 1 GbE networks. All channels encoded by Monarch EDGE are locked to a single clock, and the streams generated will have timestamps so that the Monarch EDGE decoder is able to realign the streams at output.
Users can choose between streaming protocols and codecs. On closed networks, for example, MPEG-2 TS or RTSP streams can be used for delivery. For cloud-based destinations or to manage network congestion, SRT may be more efficient. Users can also record SDI inputs while simultaneously streaming with the preferred transport protocol, saving content to USB 3.0 drives or to local networks. If H.264 with a MOV or MP4 wrapper is used, ISO recordings of SDI inputs can be made for post or backup.
Ultimately, Monarch EDGE gave TSP the means to expand its live web content service. With the ability to securely transport multiple HD streams, their teams were better able to deliver broadcast-quality, multi-camera-angle productions to their web interface.
Differentiating TSP Across Japan

TSP's live entertainment and sporting event content helps TSP to stand out among its competitors.
In order to cover live events in various regions across Japan, a small crew of TSP's camera operators and assistants typically travels to the remote site. Four SDI cameras capture the 1080p event video and send it directly to the Monarch EDGE E4 4:2:2 10-bit encoder on-site. From there, streams are sent via VPN using either SRT or MPEG2-TS to the Monarch EDGE D4 decoder located in the TSP production studio in Tokyo. The studio teams add audio and produce and deliver the video to TSP's website. There, viewers can watch polished broadcasts of live entertainment or sporting events in near-real-time.
TSP now plans to further expand its service to cater to clients in the enterprise sector, and to make interactive, multi-viewer live streams available to audiences as well. "The Matrox Monarch EDGE encoder and decoder devices have allowed us to differentiate ourselves from our competitors by covering more of the live events viewers want to see," said Kaketa. "Taking advantage of Monarch EDGE's REMI capabilities has not only allowed us to create visually engaging video but also keep our staff safe during the COVID-19 pandemic by limiting their travel and in-person interactions." https://www.matrox.com/