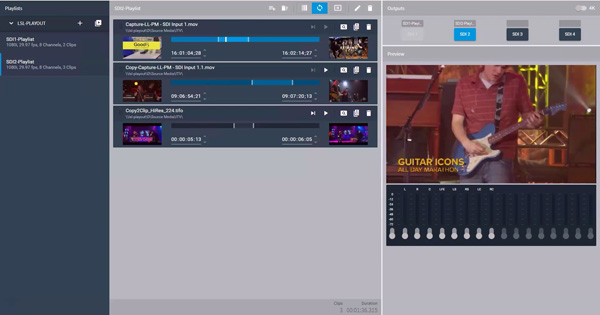 Telestream's Lightspeed Live Capture platform now includes new 12G and ST 2110 hardware interfaces in its latest version 3.3. The update especially affects broadcasters and OTT streaming service providers looking for large-scale capture platforms that combine inherent resilience with high channel density. Lightspeed Live Capture records and processes up to eight 3G-SDI inputs or a ganged UHD or 4K signal while also ingesting multiple MPEG-2 and RTMP sources, within a single 1RU server.
The first release of Lightspeed Live Capture in 2019 helped broadcast engineering and operations staff capture content from tape or from live event production scenarios. It has been used at global sports events such as the FIFA Men's and Women's World Finals in Russia and France, and several broadcasters used Lightspeed Live Capture at the Tokyo Games this year. Recognised for its resilient, reliable operation despite challenging live production environments, this new version can capture media over 12G and ST 2110, promoting the transition to IP-based workflows.
Currently, many 4K/UltraHD workflows configure up to four 3G-SDI connections to carry and create a full 4K/UltraHD image. 12G-SDI simplifies the task by transmitting the full 4K signal across a single 12G-SDI cable [note that 12G-SDI is 11.88 Gbps, ST 2082]. Also, the SMPTE ST 2110 Professional Media Over Managed IP Networks suite of standards is a major contributing factor in the movement toward one common IP-based mechanism for the professional media industries.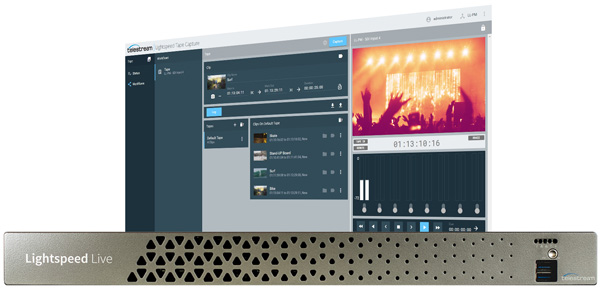 With this new functionality, Lightspeed Live Capture works as a scalable, automated, multichannel IP and SDI capture system for ingesting live or tape-based media directly into production, post- production and broadcast workflows. Lightspeed Live Capture processes video in 16-bit space to preserve total source quality, while recording in a wide variety of mezzanine file formats for delivery to local shared storage, SAN, NAS, object storage (S3), FTP, Aspera and others.
Telestream notes that the ability to edit and monetise content effectively within large-scale ecosystems is critical. A compelling feature within Lightspeed Live Capture is its ability to ingest content for immediate use with Edit While Capture, or frame-chase, workflows on regular NLEs, both on-premises or in geographically dispersed locations.
"The ability of broadcasters and OTT service providers to live stream over IP at scale, with equivalent resilience and efficiency to linear broadcasts, is gaining importance for businesses," said Scott Matics, Senior Director of Product Management at Telestream. "These updates to LightSpeed Live Capture make it possible to orchestrate IP workflows within larger content delivery ecosystems." www.telestream.net