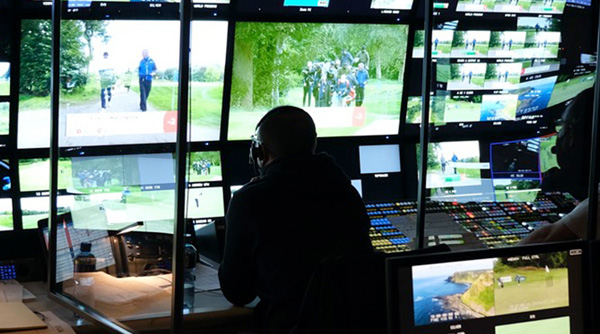 At the time AJA Video Systems was founded in 1993, it brought an initial single Mini-Converter to market, designed to convert parallel digital video to serial digital video. The company has grown since then, employing more than 250 people worldwide and expanding its range of products to include video capture cards, digital recording devices, video routers, frame synchronizers and scalers, digital Mini-Converters and IP and streaming solutions.
One of AJA's advantages been its strong engineering ethic and attention to detail, working with customers to solve the issues that can suddenly emerge within today's complex video industry. Test and measurement equipment are a core part of the problem-solving process. AJA currently runs eleven PHABRIX Qx and QxL devices – seven in the engineering department with four others set up for automated work in the manufacturing department.
"We probably work regularly with 300 or 400 different video signal formats, but at any time one of our customers may do something different and cause an issue that we need to sort out," said Bob Hudelson, one of AJA's Engineering Department Managers. "That makes having the broad range of signals that PHABRIX covers extremely useful."
Bob joined AJA seven years ago and remarked that the amount of testing gear within the company was one of the first things that impressed him. "We have a company that was founded and is still run by an engineer, and sees value in allocating dollars to the equipment budget for tests. That's critical in order for development engineering to be successful," he said.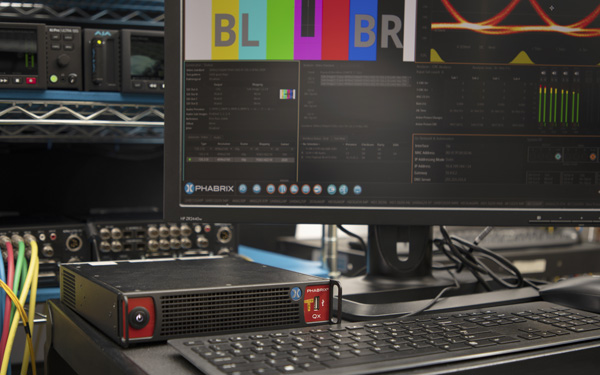 AJA Ki Pro testing set-up
Serious about 12G-SDI
AJA's involvement with PHABRIX Qx started in about 2018, a time when the company also started to move seriously into the 12G-SDI market.
"Certainly, IP is a strong movement, but 12G-SDI solves many of the problems that broadcasters are currently facing," said Bob. "We have had considerable success deploying a number of products in the format. The PHABRIX Qx has really facilitated our validation and testing of those products on a manufacturing line. It's really been an enabler for us in the area of 12G-SDI."
AJA originally selected the PHABRIX Qx rasterizer for its comprehensive tools and in particular its coverage of 12G-SDI, both of which were considered to be ahead of its competitors at the time. It has been an integral part of the AJA set-up ever since. Designed for environments using formats from HD to 12-SDI and SMPTE IP standards ST 2110, 2022-7 and 2022-6, the Qx has tools for rapid fault diagnosis and compliance monitoring, as well as product development. Media analysis tools for HD-SDI include picture view, waveform analyzer, vectorscope, 32 channel audio metering and ANC status. Its IP tools give operators the access required to monitor and measure IP traffic to SMPTE standards.
Diverse Applications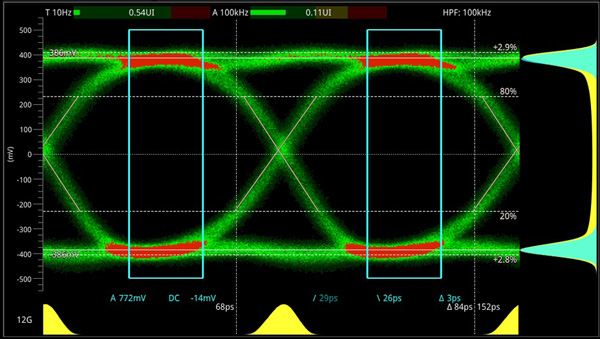 HD-SDI eye pattern jitter monitoring
"The different departments here use the device in very different ways," Bob said. "For engineering, we may have some specific validation tests that we use it for, but then we can also use the tools for troubleshooting, which could present contrasting scenarios depending on what we're trying to chase at any given time. In Manufacturing Testing, we use it in an automated way by writing a script ahead of time to drive the unit a certain way to perform repetitive testing on a product."
Single link 12G-SDI and quad-link 3G-SDI cover its main use cases within the company, but one of the reasons AJA rates the Qx highly is because of the responsiveness of the PHABRIX team to help sort out the challenges that its engineers encounter. Given the scope of its products and the markets they serve, those can be unexpectedly wide-ranging.
"AJA sells to a diverse market, from television broadcasters to Hollywood content producers, proAV, healthcare and others – our systems hardware can end up in almost any context," said Bob. "If it only applied to television, we'd be primarily testing YCbCr 10-bit 50/59 fps signals, but since our gear can be used in so many different applications, the range of signals, raster sizes, frame rates and colour spaces that we need to work with is very broad. The Qx has been very helpful in that respect."
AJA in the IP Space
While 12G-SDI has been a critical part of the company's success in recent years, over time AJA has also developed well-received products in the IP space, which continues to evolve. The most recent unit the team purchased from PHABRIX was the QxL, a 10G/25G IP enabled rasterizer specifically enabled for IP environments. It has the same JT-NM tested features of the Qx, with 2022-7 Seamless IP Protection Switching (SIPS) and independent PTP followers on both media ports.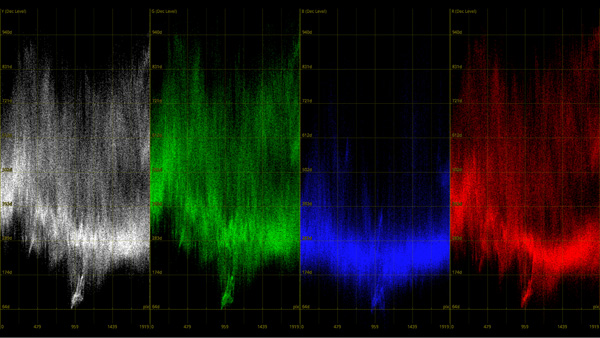 Waveform monitoring
AJA BRIDGE NDI 3G is a 1RU gateway used for high density conversion from 3G-SDI to NDI, and NDI to 3G-SDI for multi-channel HD and 4K/UltraHD. BRIDGE LIVE is a low-latency turnkey system for remote production, multi-channel video contribution, remote collaboration, direct-to-audience streaming and multi bit rate/format delivery.
The KONA IP video card for PCIe based hosting supports SMPTE ST-2110 and 2022-6/7 with optional JPEG 2000 TR-01 support. Io IP is a portable Thunderbolt 3 ingest and playback device for HD video and audio over IP, bridging 10 GigE to creative software applications with SMPTE ST 2110 support, or with 2022-6/7 for embedded SDI.
"AJA has a built a number of IP-based products so far, and the QxL is assisting us as we continue in that direction," Bob said. "Meanwhile as AJA continues to grow, I can also see the 12G-SDI market advancing and I'm sure our product portfolio will grow to align with both of those trends. That means another QxL purchase will be in order soon." www.phabrix.com