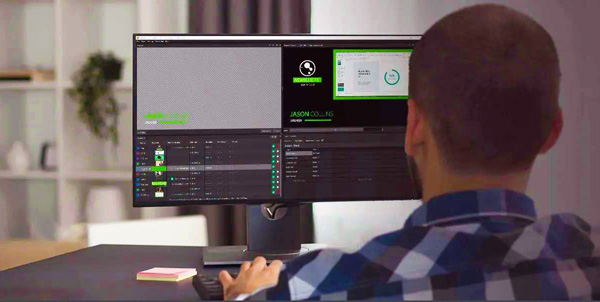 NewBlue Titler Live on-air graphics software for live video productions is now available in a new version 5 that has simpler more flexible tools, and wider output and data visualisation options.
The software's three editions – Titler Live Broadcast, a comprehensive graphics package, plus two specialisations Titler Live Sport and Titler Live Present – suit users and producers from various industries. Operators working in broadcast, corporate, education, sports, house of worship, event production and government environments use Titler Live to add information for viewers and a distinctive look to live video productions.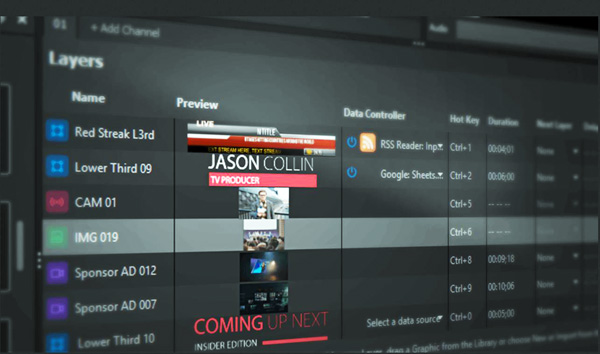 Titler Live 5's UI
Titler Live 5's upgraded user interface (UI) is central to users' ability to produce good-looking, informative multi-layer live video graphics and lower thirds faster and more easily. Karen Gauthier, Chief Product Officer, of NewBlue said, "As live broadcast productions become more common and sophisticated, ease of use has become a primary concern. Several of the UI enhancements make it simpler to create broadcast-quality graphics without all the 'building' that can slow users down when working with less flexible packages."
For example, Titler Live 5 can output graphics to nearly any type of switcher using standard hardware and software integrations. The package also natively visualises data from a wide range of typical sources, and can be customised using the API to input data from any source. Working with Microsoft Excel or Google Sheets and Slides allows a level of collaboration during live productions, and users can also set up custom iterations of the same graphic with a built-in spreadsheet interface to avoid having to duplicate and edit existing graphics.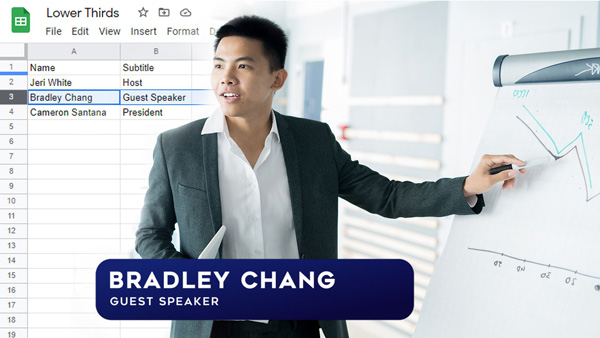 Titler Live 5 supports media clips, live video sources and editing data from multiple sources and connected devices including NDI feeds, PTZ cameras, webcams, screen captures, browser windows and Blackmagic DeckLink. Now, in the broadcast edition, such sources can also be managed as a downstream key.
Titler Live 5's graphic design features are dynamic. For instance, after designing a graphic once, it will automatically move and scale to fit the text as it changes length or position. As designers work, they can preview their graphics and animations, like crawls and rolls in real time exactly as they will play live. Graphics may also be animated with cross-fades and transition cut points using markers.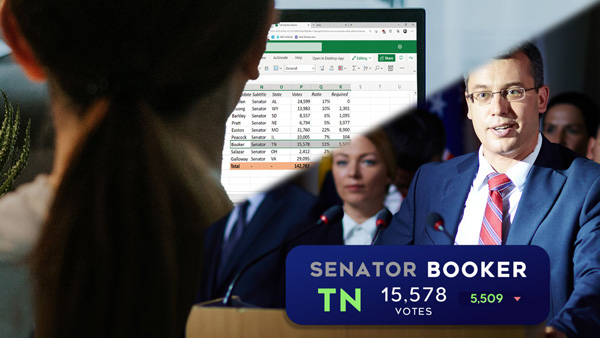 Titler Live 5 editions are all available via perpetual license or annual subscription. Titler Live Present is designed for corporate, house of worship, event production, government and education applications. It includes social media integrated audience engagement features such as polling, tweets, Facebook posts, and live comments from live streams. Titler Live Sport for sporting event producers handles sports-style inputs such as scoreboards, statistics and player details.
Titler Live Broadcast serves the professional broadcast market, capable of supporting 16 channels, unlimited layers per live channel and features suitable for commercial use. It is packaged with priority support, creative and workflow training with NewBlue solutions experts, and a dedicated account manager. newbluefx.com