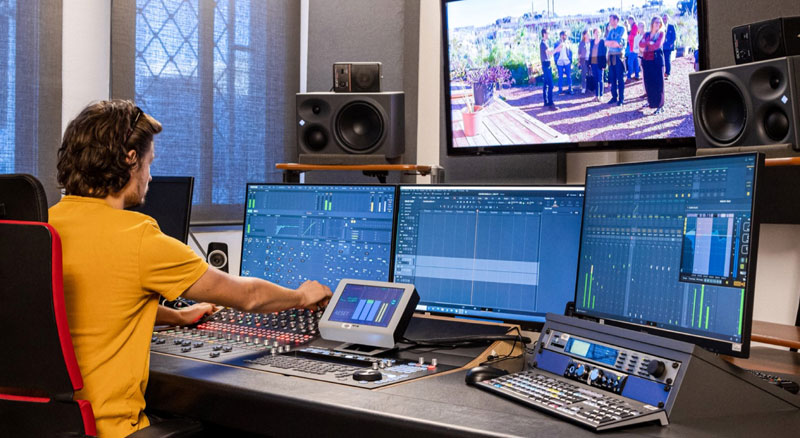 France Télévisions has renewed its audio and video post production capabilities and established a route for future upgrades. Their team worked with reseller Magic Hour in Paris to define the requirements for the tender and select a supplier.
Head of engineering and technical services Gregory Vital said, "Our main requirement for the tender was to guarantee on-air continuity for our 24 newsrooms with a system capable of producing our regional broadcast news in a fluid, rapid manner. The system we were using previously could no longer cope with our demands, and the amount of time and money devoted to supporting it was considerable."
France Télévisions chose a digital audio workstation (DAW) system based on Blackmagic Design's Fairlight, and has implemented 31 Fairlight Advanced Consoles in a two-bay configuration at 24 regional newsroom hubs across the country, handling various workloads.
Extensive testing in several different locations, with close liaison between engineering and support teams, gave France Télévisions the ability to push Fairlight hardware and software in simulated environments, supported by Blackmagic Design.
Automated Import
According to Gregory, with extensive workflow automation in place, the solution had to establish a future-proof audio and video set of tools, while integrating directly with the broadcasters' existing media and production asset management (PAM) pipelines, across their whole news operation. "Fairlight met all our immediate requirements while also supporting our need to expand into 4K workflows in the future," he said. "Access to DaVinci Resolve's API also made it possible to interface Fairlight quickly with our existing systems and workflow automation, and set out a smooth transition for our operators."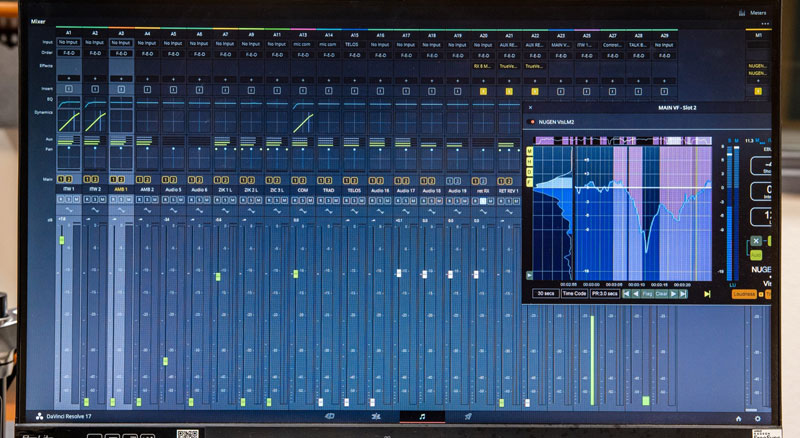 Two types of import workflows are typically used for broadcast news, which are automated by sending out API requests from iMediaTouch to DaVinci Resolve using Python scripts that create and load work sessions from templates. The iMediaTouch automation system – for any format, single-station operations or broadcast clusters – is used to simplify system transition including database conversion, hardware repurposing, new system integration and so on. "As for output workflows, we can deliver AAF, MXF or sound alone via the delivery presets," said Pascal Arnold, sound board operator.
Modular Consoles
France Télévisions was impressed by the quality and standard of the Fairlight control surfaces. "They afforded our operators more direct access to essential features and controls such as EQ, for example, when we needed to adjust the volume of different frequency bands within audio signals. This process is crucial when working in a broadcast newsroom environment where speed to air is critical," said Amandine Doucet, AV project manager.
Senior project engineer Antoine Flinois said, "The fact that the consoles are modular and can be integrated into custom furniture or the Blackmagic Design chassis is a real asset. It allowed us to set up the consoles to function in varied mixing environments."
The ergonomics of the Fairlight Desktop Audio Editor is a further asset, according to Kamel Founas, IP Applications engineer. "Once correctly configured, it allows the operators to use a large number of shortcuts and macros and speed up their mixing process, which is an advantage in the news workflow."
Training for an Open Platform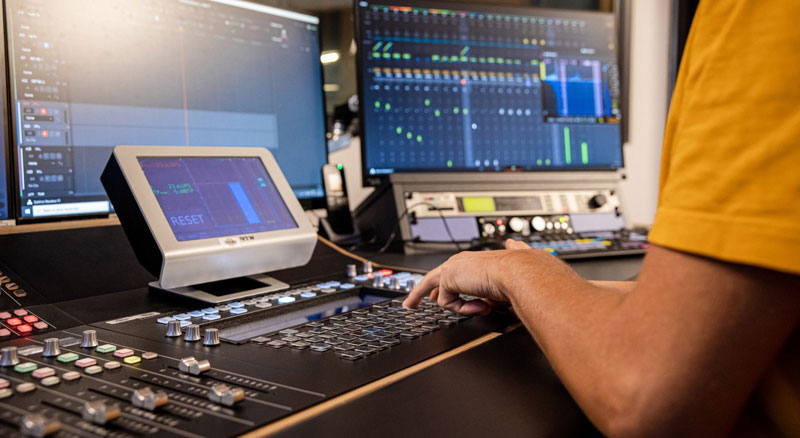 Working with France Télévisions Université, a dedicated, certified training program was implemented to support current and new staff education. "With help from the manufacturer and reseller, we've created a group of certified Fairlight superusers," said Gregory. "This effectively supports internal training and ensures regional self reliance and speed. The openness of DaVinci Resolve was also a decisive factor in our decision to implement Fairlight. The integration of a modern and more open platform means we'll have a greater choice of systems when we want to renew them, without being blocked by incompatibility."
He noted that the project has been a significant undertaking. "We had less than 18 months to integrate Fairlight into our workflows, train 190 users and make 24 centres operational throughout France, all while managing COVID." Blackmagic Design's ability to deliver Fairlight consoles to a rapid roll out schedule across all 24 regions was critical to the project tender. By working alongside Magic Hour, the Blackmagic team achieved France Télévisions' vision across all regions, on time and within budget. www.blackmagicdesign.com