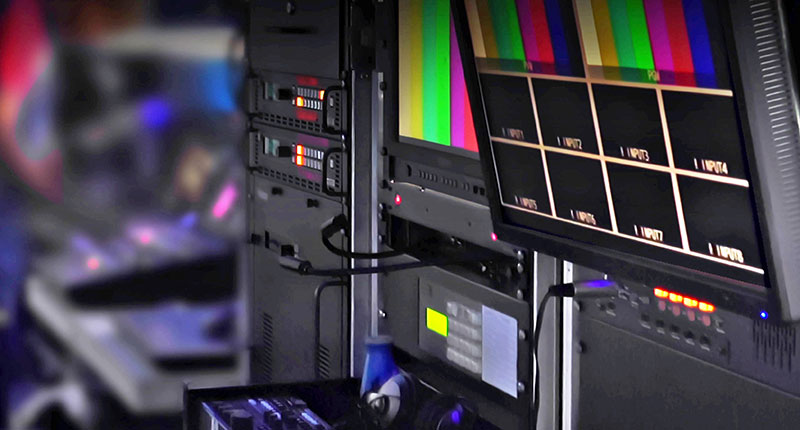 AJA's new v3.0 firmware for the 4K/UltraHD and multi-channel HD FS4 frame synchronizer and up/down/cross converter includes new support for HDR production workflows. It increases frame buffering depth from 6 to 20 frames and upgrades ancillary data management.
During the pandemic, the number of live productions using augmented reality and virtual cameras grew, which require additional processing time and, in turn, demand longer synchronisation periods for other sources. Incorporating features similar to AJA FS-HDR, the FS4 v3.0's update increases the frame buffer depth in order to support configurable delays of up to 20 frames. This free update is available to all FS4 users and does not require changes to hardware.
AJA FS4 has a large number of digital and optional 12G-SDI Fibre LC and 12G-SDI BNC SFP connections, and diverse connection options for video and audio. Consequently, FS4 can take the roles of four separate devices in 2K/HD/SD, or combine all processors and channels together for flexible 4K/UltraHD productivity.
VPID Management for HDR Production
As HDR productions are on the rise, the need for better VPID (Video Payload Identifier) management has become necessary. The VPID carries information such as whether the video is interlaced or progressive, the aspect ratio, transfer characteristics (HLG, SDR or others), frame rate and so on. Now considered critical, many pieces of equipment in the signal chain still ignore or delete these details.
FS4 v3.0 adds the ability to configure the HDR components of the SDI output VPID on a channel-by-channel basis, which has proven vital to workflows that require a consistent and correct VPID. If utilizing the monitor output, overwriting the SDI VPID also overwrites the HDMI EOTF – the Electro-Optical Transfer Function describing the data conversion to a particular brightness on the screen – and Colorimetry infoframes that describe the active audio and video streams. For more help with HDR workflows, FS4 v3.0 now includes new HDR test patterns and an improved Web UI status page to display more VPID information.

Ancillary Data Pass-Through
FS4 v3.0 also increases ancillary data pass-through or translation capabilities for a wide selection of formats and conversions. Ancillary data is information such as closed captioning or embedded audio that is included in the non-active video portions of the video signal. Pass-through sends the data through the system without encryption, quality loss or other alteration.
In transmission applications requiring the use of SCTE-104 markers for ad insertion, FS4 will now automatically pass-through SCTE-104 packets. FS4's new Timecode Xlator can be activated to pass-through or translate ancillary timecode (LTC, VITC1, or VITC2) when performing a conversion. Previously these packets only passed-through when the FS-HDR was not performing a conversion. The update also expands the set of conversions that support pass-through of closed captioning.

Furthermore, Enhanced Single Channel Mode (ESC) establishes simultaneous 4K/UltraHD and 2K/HD outputs where the 2K/HD output can have its own unique down-conversion applied. In this mode, processing can be performed on a true 4K or UltraHD signal, and a down-converter is available for HD or SD needs via the SDI monitor output.
Early Adoption
"FS4 v3.0 includes updates that are useful for working on major productions involving HDR and SDR," FS4 v3.0 beta tester Edd Bonner, Vice President and Chief Engineer at Bexel, said. "On a project this past summer, we realised that FS4 lacked the VPID management required to pass-through HDR/WCG colorimetry and transfer characteristic payload IDs, so we made a request to AJA. In response, they gave FS4 the ability to pass-through the original HDR/WCG video sources' VPID or override it. Since then it has proven essential to our operations."
Mobius Productions President Jason Rudolph, an early FS4 3.0 adopter said, "When working on a major halftime production earlier this year, we needed to maintain an HDR signal path to the stadium control centre for a complete stadium LED takeover. FS4 processors, with the new firmware from AJA, allowed us to pull it off. We were able to take 12G-SDI HLG BT.2020 signals and convert them into quad link 3G-SDI, which allowed us to send the signals via fibre to stadium control while maintaining the HLG BT.2020 signalling through the entire signal chain. It worked without any issues."
BRIDGE LIVE v1.13
AJA's v1.13 software update for their multi-channel UltraHD and HD live video system, BRIDGE LIVE, adds new functionality for live video production. It includes new Synchronous Multi-Channel/Multi-System Transport, dual-channel UltraHD support to enable bi-directional UltraHD exchange, and multichannel end-to-end HDR support over SDI to preserve all image quality during transport from site-to-site.
According to AJA, as the demand for streaming and live production workflows continues to grow, enhancing BRIDGE LIVE's ability to support new standards and production demands is critical for workflow flexibility and assuring the quality of video and audio feeds.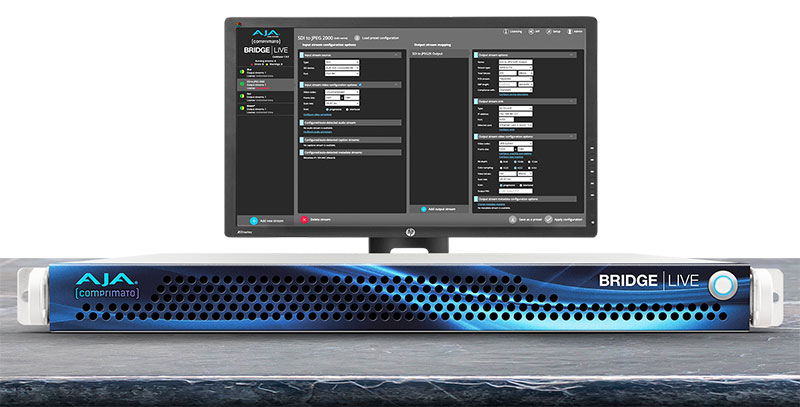 A turnkey enterprise system for remote production, contribution, collaboration, streaming and delivery, BRIDGE LIVE was developed in cooperation with IP video software specialists Comprimato. It transports multi-channel UltraHD and HD video back and forth between uncompressed SDI and many different streaming and contribution codecs, including NDI, H.265, H.264, MPEG-2 and JPEG 2000.
Preserved Sync and Colour
For multi-camera workflows across a pair or multiple units, BRIDGE LIVE v1.13 performs new multi-channel synchronous transport, allowing separate UltraHD and HD channels to be transmitted and received in sync. For SDI backhaul, one or more pairs of BRIDGE LIVE systems can be used to transport incoming SDI cameras and other feeds from one location to another, and then output the SDI signals with the sync relationship preserved. This feature also allows users to contribute multi-channel synchronous sources to cloud platforms and services.
BRIDGE LIVE v1.13 also brings new end-to-end HDR over SDI capabilities via ancillary data to enable remote HDR workflows, preserving SDI transfer characteristics, colorimetry (colour measurement) and luminance, from SDI ingest to SDI output. As well as its single-channel UltraHD 60p capability, BRIDGE LIVE v1.13 adds support for UltraHD dual encode/decode or bi-directional encode/decode up to 30p. www.aja.com