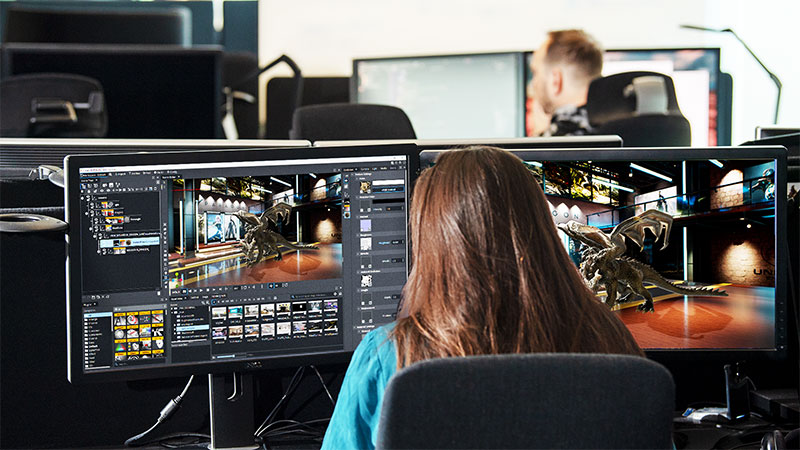 Vizrt's upcoming live graphics compositor, Viz Engine 5, will give users access to adaptive graphics, which intelligently automate the deployment of graphics to multiple output formats simultaneously. The goal is saving time and effort, and making workflows simpler.
Vizrt notes that producing video for multiple platforms and using multiple virtual graphics techniques can become inefficient and inconvenient for broadcasters. Instead, Viz Engine 5 aims to open various options for users to make this type of work less complex.
For instance, Viz Engine 5's integration with Unreal Engine 5 now makes it possible to blend the two render paths into a single versatile graphics workflow built on the combined assets of both render blades in real-time, in the same scene.
The intention is to consolidate multiple, full production lines into one with multiple outputs so that graphics artists can spend more time focussing on creating more original material, faster.
Adaptive Graphics
The unified adaptive graphics is a single workflow, multi-platform content delivery that automatically adjusts resolution, format and layout to support specific display devices, optimising the graphics for the viewer. For graphic artists, this update means they can create once and publish multiple times with more confidence, helping to prevent errors and save time.
The templates still need to be set up for the desired outputs at the outset, but from there, graphics output is likelier be appropriate, readable and adjusted to suit the destination they are headed for. Following the artists' initial fine-tuning, adaptive graphics will have a better look and consistent identity across all platforms, protecting the media provider's brand.
Viz Engine 5's Integration with Unreal Engine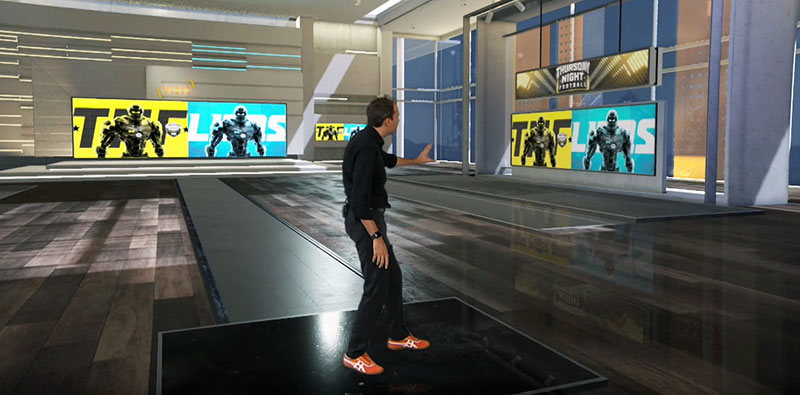 Viz Engine 5's integration with Unreal Engine is also updated with a single workflow that combines the outputs from both engines. Virtual graphics designers can now use the tools in Unreal Engine for virtual environment backgrounds, and directly blend those results with data-driven graphics and the detailed interiors and objects generated through Viz Engine.
With this integration, artists can choose which engine to use for various elements of a project, at any moment, using a drop down menu. So far, this facility has made its greatest impact in large-scale environments using Unreal's tools for on-the-fly rendering of large scenes such as landscapes and cityscapes, achieving photoreal looks. As a result, the same level of photorealism available for virtual studios in the Viz Engine, can now be achieved in larger environments through Unreal Engine.
These major changes to Viz Engine have also called for re-consideration of the user experience for designers and producers working with virtual graphics. Working with and aligning assets or settings is fluid and global, and project settings for Unreal are automatically adjusted to help avoid errors.
In production, assets are dynamically loaded into either renderer according to performance requirements. Element tracking is unified to improve on-air quality, and data from Vizrt's colour-difference keyer, Fusion Keyer, are available globally.
Updates reflecting performance enhancements in Viz Engine include better clip playback, new HDR workflows, video I/O that serves all relevant formats, PBR (physically based rendering) import capabilities, and others. Viz Engine 5 will be publicly available from September 2022. www.vizrt.com