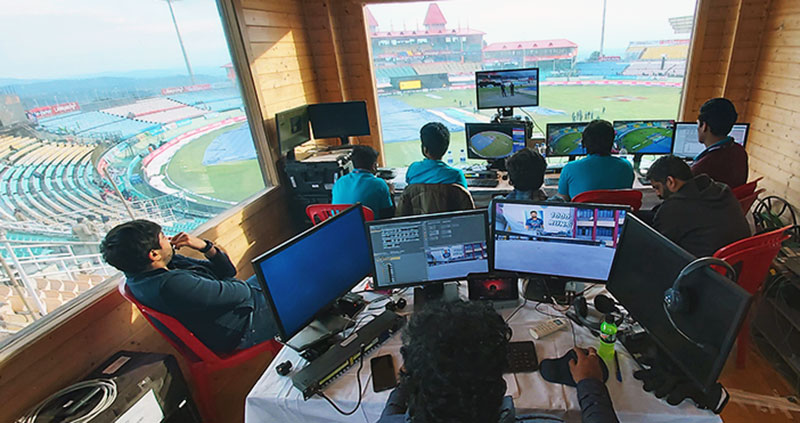 Quidich in Bombay develops camera systems for broadcast and other video applications. Aiming to enhance storytelling, the company's camera configurations capture unusual moves and angles for live sporting events, film and television. The company's founders have backgrounds in filmmaking and engineering, and over the years have developed integrated services that make use of drones, buggies, AR, graphics and live player tracking – all of which add to the viewer experience.
These services attract clients ranging across sports and entertainment, including leagues for cricket, football, basketball and kabaddi – one of India's fastest growing sports – as well as Bollywood film studios for feature films released in cinemas and on OTT platforms.
Cricket Opportunity
Chief Operating Officer at Quidich Neil Gokhale said, "Our entry into the broadcast market was through cricket, and we've worked with the Board of Control for Cricket in India (BCCI) for the Indian Premier League and domestic tournaments, and with the International Cricket Council (ICC) and global leagues across Sri Lanka, the Caribbean and other regions.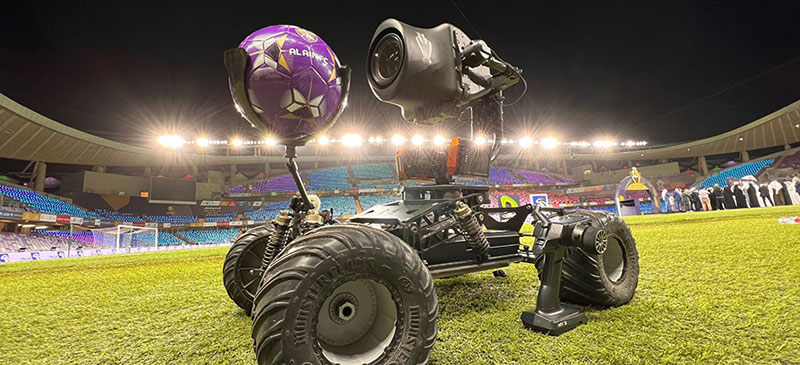 BuggyQam remote controlled vehicle

"Early on, we recognised an opportunity to engage casual cricket fans through more dynamic camera work that would add new perspectives and different dimensions to storytelling during live events. Seeing that sports broadcasts traditionally feature stationary cameras positioned around the field, we began development on the BuggyQam remote controlled vehicle, which captures low angle shots and unconventional POVs during cricket matches.
"We were also early in the development of live AR tracking on wireless moving cameras, resulting in the Spatio system for drones. From there, we widened the gameplay perspective by designing the Quidich Tracker (QT), a proprietary real-time optical tracker that displays player positions during live matches."
Colour Consistent
As a hardware base for these developments, the Quiddich teams uses various AJA devices, including the FS-HDR real-time universal converter and frame synchronizer. In particular, FS-HDR serves as a colour correction tool for matching the BuggyQam camera output with the broadcast system cameras to produce a consistent look.
"The BuggyQam houses a single-sensor camera, while all of the other cameras used in our broadcast setups are built with three CCDs with separate sensors for receiving filtered red, green and blue signals," said Neil. "Our team takes the raw format video from the different camera profiles and uses FS-HDR to colour match that footage to the output cameras."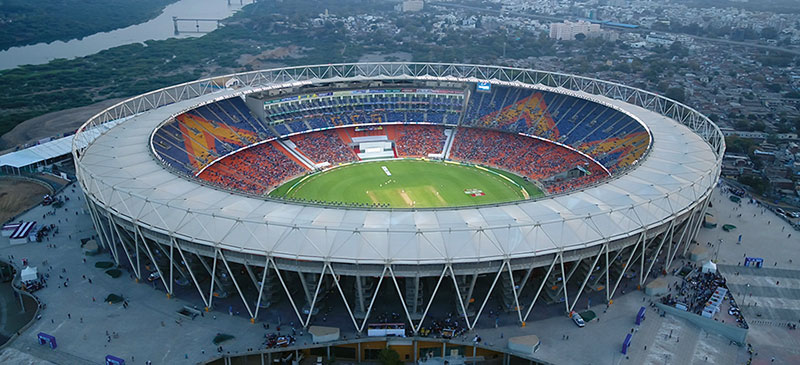 Meanwhile, the Quiddich team has been taking advantage of FS-HDR for real-time colour transforms, ingesting multiple feeds in multi-channel mode and other use cases. By setting up colour profiles prior to games, they can accommodate colour temperature and lighting changes very quickly, by clicking a button. Adjusting colour and light manually during live broadcasts takes too much time.
The SFP (small form-factor pluggable) slots on the device are helpful for data transmission. They make extra converters unnecessary when routing BuggyQam feeds to the broadcast control room, and establish long distance connectivity over fibre. "We can ingest fibre directly through FS-HDR's SFP slot and output as BNC, saving money since we don't need devices for BNC/fibre and fibre/BNC transforms. Being able to run up/down/cross conversion on a single device simplifies the workflow," Neil said.
"So, the deliverables formats we support depend on the broadcaster. For example, some geographic regions typically require 4K, HDR or high frame rate content delivery, though certain specific areas will still only broadcast in HD. We capture content at the resolution and specifications required by the broadcaster, and when necessary, we'll downscale it for internal use cases."
Passionate Innovators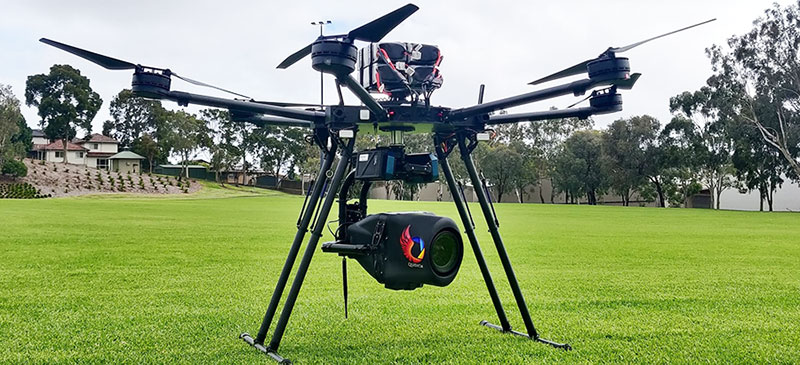 The Quidich team is constantly aware of the challenging nature of the sports broadcast business, often requiring months of long hours working back-to-back. Neil remarked, "This industry is designed for those who are passionate about both sport and technology, and my advice is to persevere until you succeed. You will encounter roadblocks, but each one gets you a step closer to achieving success. At Quidich, we started with a great ambition, stuck with it, and have grown into an impressive business with repeat clients.
"Our biggest advantage – our capacity to innovate – also turns out to be a disadvantage in a way. The goal post is always moving. We spend time deliberating on systems to meet current industry demands, and often by the time we have finished developing them, the industry has moved on to the next hurdle. It's a tightrope walk between market demands and how quickly we can deliver. Neverthless, the spirit of innovation remains critical." www.aja.com