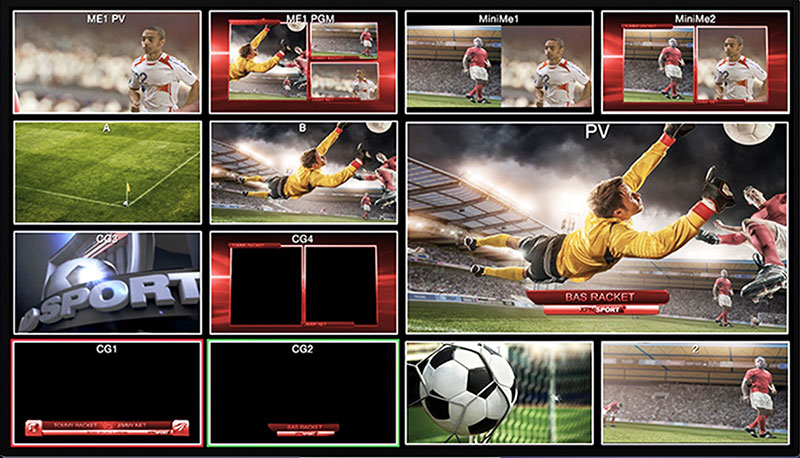 Ross Video's Ultrix Router platform is now upgraded to support 12G, extending its routing, multiviewer and signal processing capabilities for studios, OB vans and flypacks. As a software defined platform it can help users control costs, save space and improve their power efficiency, and make facilities more flexible and agile. It is also one of the few routers available now with an integrated production switcher.
Without buying further hardware, new software defined features can be added by purchasing extra software licenses. Ultrix natively supports 12G throughout the chassis and is transport agnostic, supporting SDI, fibre and IP signal I/O, singly or in combination.
Hyperconverged and Configurable
The Ultrix platform is production in a box, in a hyperconverged design. Video/audio routing, multiviewers, audio processing, frame synchronisers, clean/quiet switching, UHD gearboxing, production switchers, audio mixers and the other features are housed in a single chassis. Its size, base feature set and software capabilities create opportunities to save money on capital costs.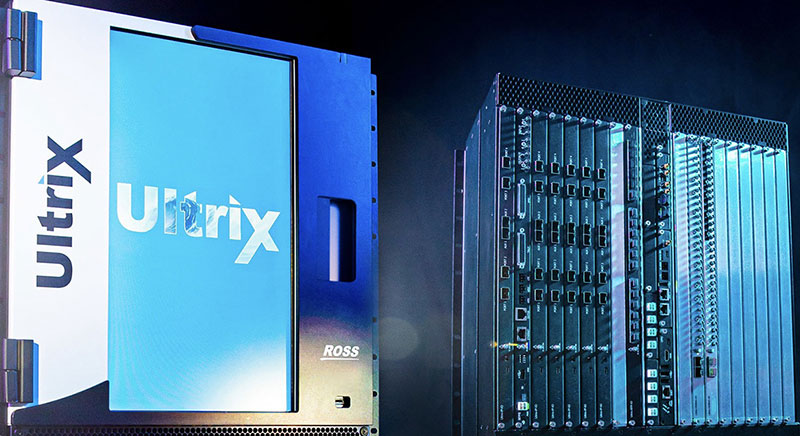 The architecture is developed to deliver ROI in terms of power, cooling, shipping and space costs. Ultrix can be configured as a single frame system or as part of a multi-frame distributed architecture.
The FR12's build includes an LCD display for monitoring the system, troubleshooting, configuring and control via a high-resolution touchscreen panel. Regarding power, users have up to 288 x 288 SDI ports with a 6144 x 6144 TDM audio fabric, up to 288 frame syncs, 288 clean quiet switches and up to 48 x 100 PIP multiviewers.
Up to 8 SDPE blades are configurable as a single 8ME Ross Acuity switcher, 8 independent Ross Carbonites or, if required, a 4ME Acuity and 4 independent Carbonites. In other words, the build gives users many options.
Less Hardware
The FR12 needs substantially fewer rack units for an equivalent traditional system, according to Ross. Less hardware means lower power consumption, less cabling and significantly less weight – the FR12 weighs only about 45kg. The 48 multiviewer heads per 12RU chassis are independent and individually controllable.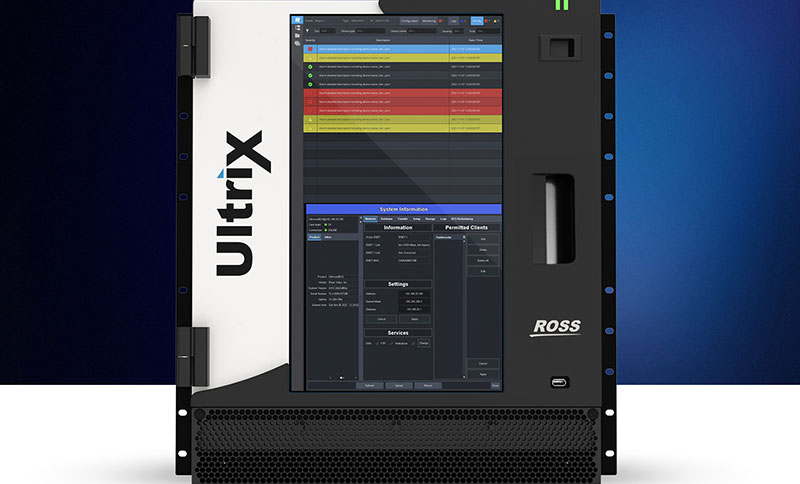 Up to 6k x 6k audio routing and processing fabric comes standard with Ultrix. Further to that, up to 6k x 6k embedded, and 2k x 2k discrete audio through use of the AUX ports, are supported. Users can route, process and configure down to a mono channel regardless of I/O. Adding the Ultrimix-MXR license, available as an option, to the fabric enables a virtual, fully routable audio mixer.
The hardware design includes thermal management, internal smart fabric, locking card guides and edge connections, and is able to withstand harsh environments.
As Ultrix platforms are built with a modular input and output matrix, users can swap in unique I/O cards to expand and customise the Ultrix features. All these cards are compatible with each other on a single chassis and allow the platforms to serve as 12G-capable routers, multiviewers and signal processing platform, a hybrid-IP switcher or a signal-processing hub. www.rossvideo.com