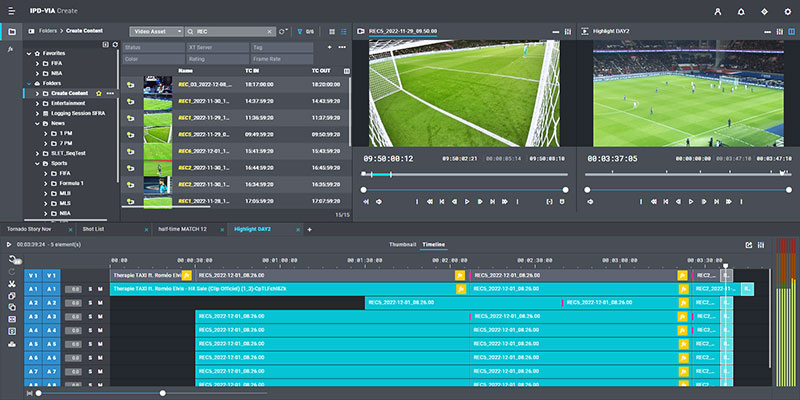 EVS IPD-VIA Create is a new web application that users of the MediaCeption Signature live production asset management (PAM) workflow can deploy to access NLE software from inside the same platform.
MediaCeption Signature is based on tools for content management and media workflow functions from ingest to playout – ingest software, servers, a scheduler, storage, 3rd party editing integrations and linear playout. The IPD-VIA web-based PAM platform is at its core, also encompassing comprehensive workflow orchestration and system monitoring, all of which are accessible from within a single interface. IPD-VIA Create is the most recent application added to this UI.
Instant Access to Content
The software was designed in collaboration with Blackbird, developer of its own cloud-native video editing platform. Fully integrated into EVS' platform, IPD-VIA Create gives instant access to all content through a browser-based interface. As a result, users can work with their assets from anywhere in the world and immediately view and push assembled content to craft editors, or directly distribute it in broadcast quality to multiple channels.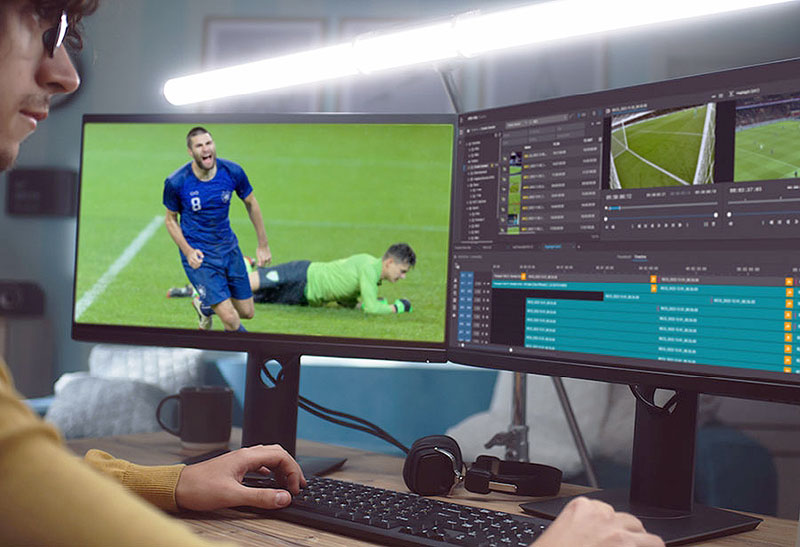 IPD-VIA Create has a 9x16 video framing effect, colour correction and the choice between thumbnail and timeline displays to accommodate beginners and experienced editors. It also works for storyboard editing, enabling journalists and producers to begin drafting the first cut of their stories while the action is happening. These storyboards can be exported instantly as they are, and at the same time more experienced editors can pick up the projects and continue to refine them in the timeline view, using conventional techniques and familiar keyboard shortcuts.
"MediaCeption Signature has been built on EVS' expertise and experience in live production," Nicolas Bourdon, Chief Marketing Officer at EVS said. "Since the edit-while-capture concept is central to everything we do, this is a huge time saver for MediaCeption Signature users who can begin working on their projects while feeds are still being recorded and ingested."
Cloud-Native Flexibility
The wider EVS VIA platform also has a central workflow engine, VIA Flow, where users can set up the required workflows for import, multi-platform publishing, conversion, archiving and so on to meet production requirements – and also extend the facility's capabilities. Now, by exporting IPD-VIA Create sequences to a destination such as play-to-air or social media outlets, they are made instantly available in craft editing applications.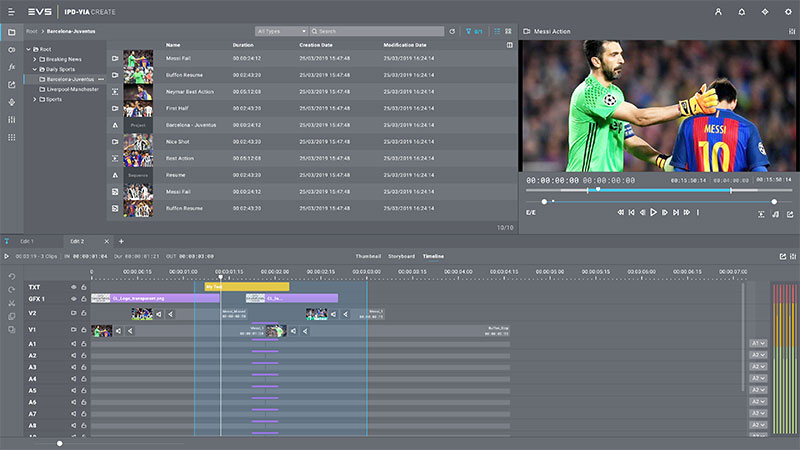 IPD-VIA timeline in/out
Through the use of Blackbird's cloud-native software and codec, the application makes the MediaCeption system more flexible. Blackbird CEO Ian McDonough said, "As part of EVS' end to end workflow, IPD-VIA Create increases its efficiency in terms of cost and time. For the user, it adds more functionality and Blackbird's responsive codec."
IPD-VIA Create aligns with EVS' Balanced Computing vision as well, as it can be deployed either on-premises or in the cloud, depending on the production. Balanced Computing refers to establishing the right hardware and software combinations in the right location and managing the balance between those environments dynamically in order to fulfil the needs of the client in terms of speed, flexibility, security and cost.
EVS showed the new IPD-VIA Create application for the first time at the SVG Summit in New York on 12 and 13 December 2022. https://evs.com/