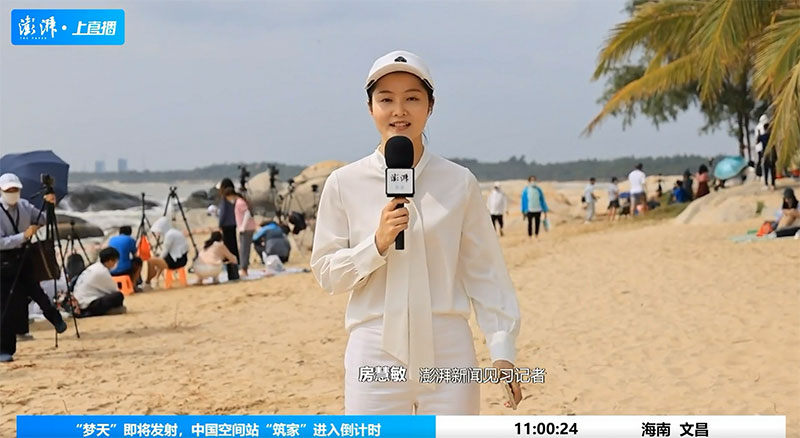 China's digital newspaper, The Paper, covered a live countdown from Wenchang Spacecraft Launch Site ahead of the launch of the Mengtian space capsule. As well as a live camera broadcast of the launch itself on 31 October 2022, the 19 hour event included interviews with industry experts and passersby at Wenchang Qishui Bay Beach. Throughout the event, video and still images from the site were sent via a TVU One 5G mobile transmitter to a TVU Transceiver at The Paper's Shanghai Production Center for real-time transcoding.
China successfully launched Mengtian ('Dreaming of the Heavens') laboratory cabin module – the third and final part of its space station – into preset orbit. It is the second laboratory cabin module launched, with Wentian as the first, and will be the last piece before China completes space station assembly.
Stability was an important factor for The Paper's crew when choosing a system for the real-time transmission. TVU Networks' support of 5G and reliable Inverse StatMux Plus (IS+) transmission proved essential for completing the live broadcast mission from the countdown event. On-site reporter for The Paper, Deng Chaojian said, "The TVU equipment is not only able to handle our live broadcast video without problems but also reproduces high-quality stills. During the entire pre- and at-launch process, TVU One was very stable and reliable."
Inverse StatMux Plus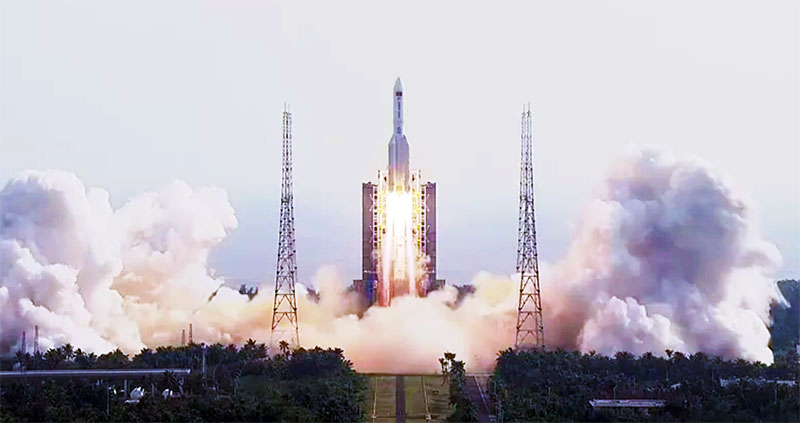 When working in conditions with an unstable internet connection, or capturing high quality live footage wirelessly in crowded locations, TVU cellular bonding improves connectivity. By aggregating all the possible data sources in the immediate vicinity including cellular 4G/5G/LTE, a high bandwidth signal can be established to transmit full HD / 4K HDR video files with very low latency, using H.265 encoding to limit data consumption.
TVU developed its own IS+ multi-network aggregation transmission algorithm to overcome latency and loss of data, starting with a familiar process, Statistical Multiplexing or StatMux. In a normal broadcast, StatMux forms a communication link allowing information from mulitiple channels to be combined for transmission over a single channel.
Reversing that process, TVU's Inverse StatMux divides a single signal source across a number of channels which, after transmission, are then re-aggregated at the receiving end. Meanwhile, the TVU One is able to mitigate the effects of constrained bandwidth, as transmitting the video signal over multiple channels simultaneously gives the broadcaster a way to push a larger amount of data over the network and produce a better picture signal.
The Mengtian module's in-orbit experiment facility includes eight research cabins and a pressurised environment for researchers to conduct experiments in freefall or zero gravity that are not possible on Earth for more than a few minutes. Experiments can also be conducted on the exterior of the modules for exposure to the space environment, cosmic rays, vacuum, and solar winds.
Paul Shen, CEO, TVU Networks said, "The Paper's pre-launch coverage helped spread enthusiasm for the mission and China's space program worldwide. The Paper has developed a devoted audience since its start in 2014, and we look forward to participating in breaking news stories with them in the future." www.tvunetworks.com
By Sean Young