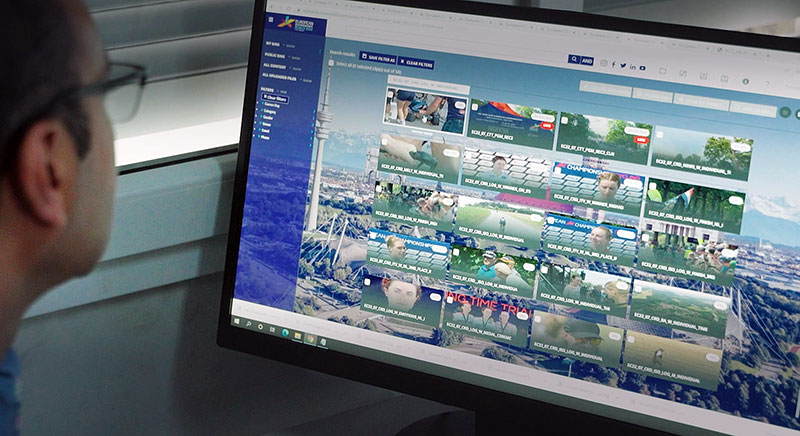 Euro Media Group (EMG), broadcast services and media systems provider, handled media management of live coverage of the Athletics section of European Championship 2022 in Munich, held in mid-August. The EMG team used EVS' MediaHub content exchange platform to facilitate sharing of high-resolution content created with the EVS LiveCeption live production, replay and highlights system, to all the different rightsholders for the event. The complete cloud-based system allowed rightsholders to browse and download their tagged clips and highlights from any location.
Guy Kreydt, EMG Head of Technical Operations, said, "All the sports held at Munich's Olympic Park were collated with EMG's IP platform called diPloy that made it possible to remotely bring feeds from cameras and base stations located all over the park, into the nine broadcast galleries we operate within the Park's IBC. Then, for our six external venues around the Munich area, we operated out of six OB vans."
EMG also supplied the necessary wireless equipment for the sites and the short and long range cameras and, at the middle, operated a very large EVS MediaHub platform used to gather content and feeds from all of these venues for the range of sports represented at the Championship, and make it readily available to each of the rightsholders.
One of the main advantages of the MediaHub for this type of project is the cloud-based nature of the system. Ali Alaoui, Sr Project Manager at EVS, said, "We have remote users who can browse their content and highlights and download content faster and more easily than if they were working at the busy IBC. The content itself is placed on a website, accessed via a login and password assigned to each member with his own credentials and rights to see certain content."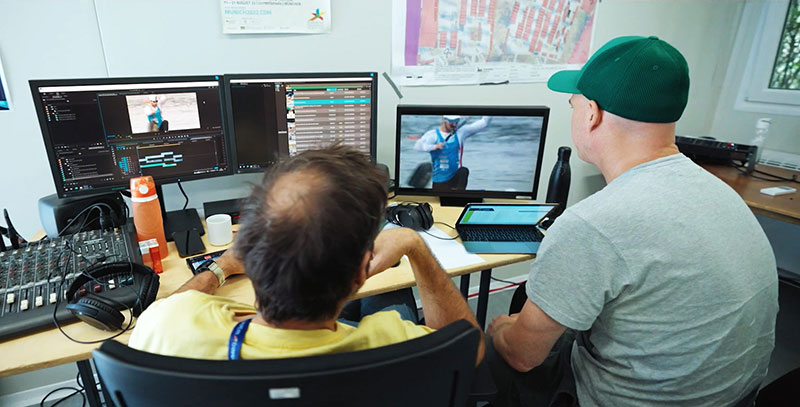 Logging and adding metadata to content
EMG's Project Manager Dirk Rodiers described the two types of logging that are set up in the EMG diPloy platform. "Loggers have the conventional type where they work in log sheets and log detail phrases manually inside the feed," he said. "We also have clippers in each gallery who work together with the EVS LSM operators who are on site. They can immediately add metadata tags to certain clips, which labels them with a description of exactly what is in each clip – for instance, an emotion or action or other specific detail. That metadata and clip are then sent directly to the MediaHub and made available to rightsholders."
The system usage can also be monitored to follow how many clips had been downloaded from the MediaHub, in what formats and the number of users on the system. For instance on the final Day 7 of the Athletics competitions, about 6,000 clips had been downloaded, mostly high-resolution or mezzanine content, and the total number of users on the system was 65.
But perhaps the most important aspect of the MedisHub/LiveCeption system was ease of use for rights holders. Key Account Manager of EMG Chris Demeaulemeester said, "Each TV channel can take control of their EMG signal and adapt it to their language, their athletes of interest, and broadcast it directly on their channels." www.evs.com