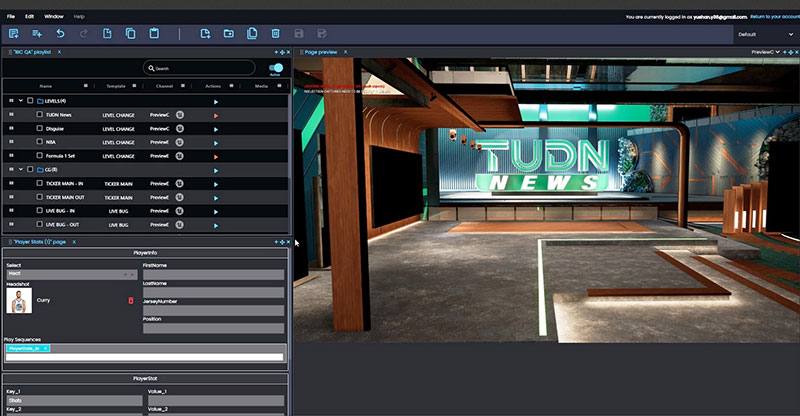 The new Porta 2.1 plugin updates disguise's cloud-native control software for data-driven broadcast graphics built with Unreal Engine. It can be used directly within existing workflows, and can now integrate with News Room Computer Systems (NRCS) through the MOS protocol.
With its new NRCS integration, Porta 2.1 users can improve their control of real-time graphics through data sharing – the main advantage of NRCS integration is the opportunity to ease collaboration between key departments. Using new template creation tools, for example, journalists can build their own graphics from the newsroom without depending on designers or acquiring Unreal Engine experience.
Collaborative Dynamic Graphics
In-house and remote teams can take advantage of precise scheduling features that make production more predictable, automating manual tasks with macros, or previewing Unreal Engine live using Pixel Streaming, which runs an Unreal Engine application on a cloud server and streams the rendered frames to browsers.
Journalists, producers and directors can all work together to create graphics in their News Room rundowns and then supply these rundowns to the graphics operators to play out from Porta during a show, making specialist operators unnecessary. Broadcasters can search for particular graphics and allocate them to the right part of the story, avoiding repetitive tasks and shortening delivery times.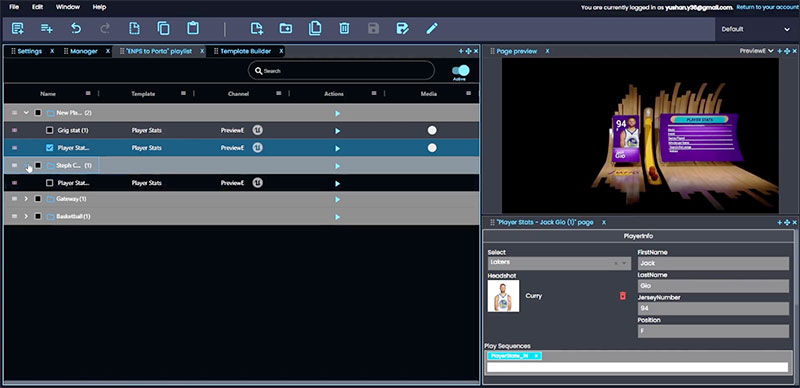 Operators can also work dynamically, customising the workflow and automating how they operate their show with new visual macros widgets and scheduling widgets, replacing manual data entry. To refine their live processes, they can also customise the Porta UI further by colour-coding the playlist and workspaces.
Project Avalanche
Whether they are working with AR or virtual production, broadcasters will be able to use Porta 2.1 to take advantage of the tools of the future. The disguise platform is compatible with Unreal Engine's upcoming Project Avalanche, a new set of tools for users who want to design complete network TV projects in Unreal Engine.
Project Avalanche makes the tools needed in a conventional graphics production pipeline available in Unreal Engine – design, a playlist tool, a rundown, rigging, templating, key and fill, a tool for typing in text and so on. However, with Unreal, 2D and 3D graphics can be rendered in real time with higher fidelity than with a traditional graphics system. This is significant because most broadcast graphics are about playing back pre-rendered video clips. Existing systems often lack flexibility to modify data or details on the fly.
Operators will have the option to art direct and play out animations live, changing the lighting and particles on the fly, as well as use real-time graphics that require data feeds and player/team statistics. Project Avalanche also has an API allowing traditional graphics vendors to integrate the software into their systems.
Porta 2.1 is compatible with disguise xR extended reality systems, which can display realistic 8K content with tracking onto an LED set of almost any size, for live applications. disguise's creative services teams at Meptik and disguise Labs are also available to Porta users that want to design fully-integrated extended reality workflows. www.disguise.one