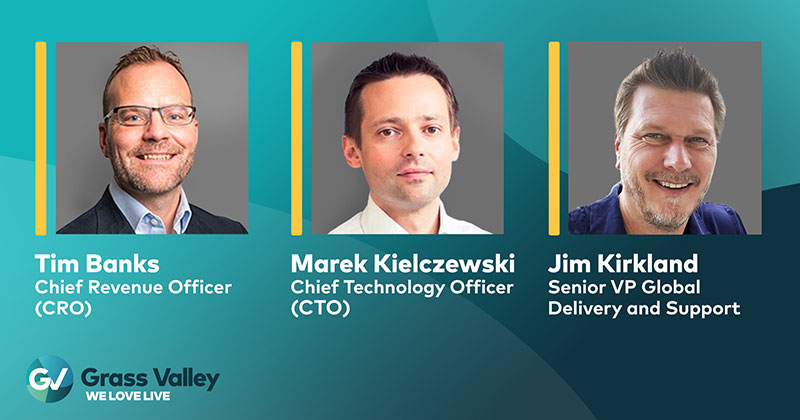 Grass Valley has appointed Tim Banks as Chief Revenue Officer (CRO), Marek Kielczewski as Chief Technology Officer (CTO) and Jim Kirkland as Senior Vice President, Global Delivery and Support. These appointments reinforce Grass Valley's accelerated transformation of its business and its long-term vision to accompany media and entertainment organisations in their digital transformation.
With over 25 years of experience in the media and entertainment space, most recently as VP of Sales EMEA at Grass Valley, Tim Banks has been in the interim CRO role for the past six months. Over his years at Grass Valley, Tim has established an exceptional sales and pre-sales presence in the region and has achieved impressive rates of revenue and market-share growth. "I'm very proud of GV's past and very excited by our future as we continue to help our customers create new revenue streams and drive operational efficiencies, leading the way through the media and entertainment industry's ongoing digital transformation," he said.
Marek Kielczewski comes to Grass Valley with over 20 years of industry experience in running engineering organisations in the broadcast, media and entertainment segments. Prior to joining Grass Valley, Marek co-founded TVCoins, a streaming media startup. He was previously also CTO of SeaChange where he led the consolidation and transformation of the global R&D organisation. "I am thrilled to be joining Grass Valley at such a pivotal time – not only in their journey, but the industry's as well. Our new product strategy will have an incredible impact on our current and future customers and will realise the full potential of AMPP – it's truly an exciting time for all of us," said Marek.
Jim Kirkland brings over 15 years of experience in senior customer-facing positions to his new role, having worked in service and pre-sales at Omnibus, Miranda and Grass Valley. "I look forward to elevating Grass Valley's excellent reputation for customer service even further as we transform our Delivery and Support structure and continue to help our customers and partners succeed," Jim said.
"I'm delighted to see Grass Valley's leadership strengthened by the experience and market knowledge that Tim, Marek and Jim bring to the team. They will be pivotal in reinforcing GV's customer-centric culture and leading our ongoing business transformation," said Louis Hernandez Jr., CEO and Executive Chairman at Grass Valley. "We will continue to lead in media technologies and digital workflows, to create the future of media production, and to be the best partner for our clients as well as for channel and alliance partners." www.grassvalley.com