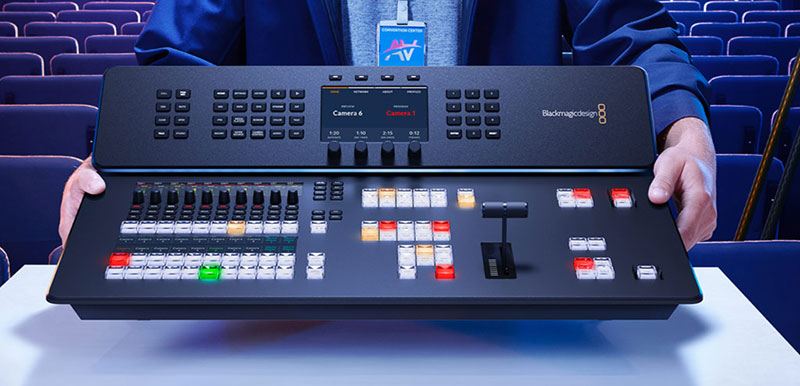 ATEM Television Studio HD8 and ATEM Television Studio HD8 ISO are the first of a new Blackmagic line of live production switchers that combine broadcast functionality with a portable build. The new switchers have broadcast grade control panels with streaming and recording features. The ISO model can record all video inputs and can connect to up to eight remote cameras. These new switchers also support live streaming, talkback and can be purchased with optional internal storage.
A Fairlight audio mixer is built into the ATEM Television Studio HD making it possible to handle complex live sound mixing. The internal mixer has enough channels for all SDI inputs, as well as extra channels for the XLR, RCA and MADI inputs. Each input channel features controls such as a compressor, limiter, expander and noise gate as well as level and pan controls accessible from the front panel using the dedicated audio mixer controls and LCD. Included is 6 band parametric EQ for adjusting the frequency content of signals, allowing adjustments to gain, centre frequency and bandwidth of each filter.
ATEM Television Studio HD has a built in hardware streaming engine for live streaming to services such as YouTube, Facebook and Twitch in high video quality and without dropped frames. Users can stream using the Ethernet connection to the internet, or by connecting a smartphone to use mobile data.

Recording to external USB flash disks is supported as well or, if an optional M.2 flash disk is installed, users can record direct to internal cloud storage. The internal storage plus any external USB disks will be available to share over the local Ethernet network so other artists can work on post production tasks such as editing, colour correction and graphics preparation.
All recordings are in H.264 format with AAC audio for broadcast quality video and small file sizes. An interesting feature is append record, which allows you to re-start recording onto the previous file in order to deliver content as a single file.
The new switcher's ISO model supports live event editing as it can record all inputs to separate video files. This function yields eight separate video input files with matching timecode and sync, plus the program video is also recorded into a separate master video file. Consequently, customers can edit using any NLE software that supports multi-camera editing. A DaVinci Resolve Project file is saved and linked to the input video files, converting live switching into an edit timeline that the customer can click to open.
Further to this multi-cam support, the ATEM Television Studio HD ISO model can connect to remote cameras. The Blackmagic URSA Broadcast G2, Blackmagic Studio Camera 4K Pro G2 and Blackmagic Studio Camera 6K Pro cameras can live stream in H.264 direct to the switcher. Users can access camera control and tally, and program audio is also sent back to the camera to help with live interviews.
ATEM Television Studio HD includes a professional multiview that displays all video inputs, preview and program on a single SDI or HDMI monitor. Each camera view includes tally indicators so the crew knows when each source is on-air, plus each view has custom labels and audio meters. Users can customise the multiview layout with up to 16 simultaneous views. www.blackmagicdesign.com