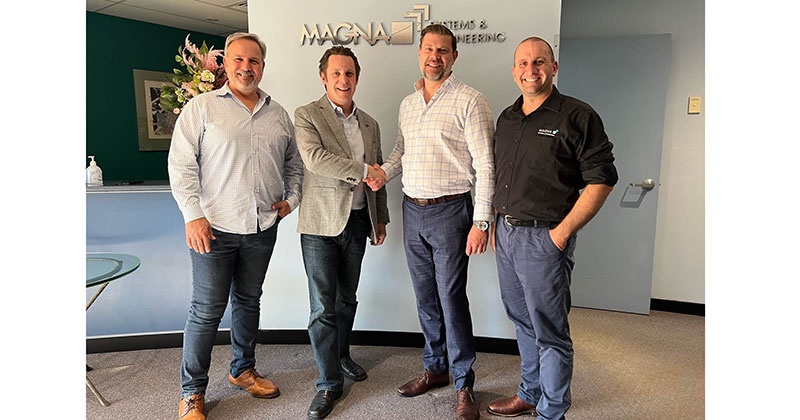 (l-r) Magna Systems group sales and marketing manager, Paul Maroni, arkona sales and business development, Erling Hedkvist, Magna Systems group CEO, Matthew Clemesha and Magna Systems senior solutions specialist, Tim Banner
arkona technologies GmbH, IP core infrastructure developer for broadcast productions, has partnered with Magna Systems & Engineering to support customers in Australia, New Zealand and Indonesia.
Founded in 1968, Magna is a well known distributor, consultant and systems integrator, and has built complete networks, playout centres and turnkey solutions for broadcasters and telecommunications corporations. The company's solid knowledge of broadcast workflows enables it to evolve with the rapid changes as new technologies emerge and the industry shifts to IP infrastructures.
Magna Systems & Engineering group CEO, Matthew Clemesha, said, "Having arkona onboard and representing them in in Australia, New Zealand and Indonesia is an example of Magna's commitment to making the best IP core infrastructure solutions available in our portfolio for our clients. arkona has an exciting roadmap ahead and they are a perfect fit for Magna, our clients and the future direction of our industry."
Magna System's Group Sales and Marketing Manager Paul Maroni will lead the partnership and serve as the conduit between arkona and Magna. Paul will work with both teams to assess local requirements and create strategies and marketing initiatives.
He said, "arkona are leaders in live IP development with their software suite of live production apps under the BLADE//runner brand. We firmly believe that arkona's current product range and future vision fits perfectly with Magna's approach. We're excited about making this ground-breaking solution available to our customers."
Partner Manager at arkona Wiggo Evensen said, "We are confident that Magna will be a significant commercial, operational and business benefit to our customers in the APAC region as they guide them through their journey to IP, and provide the expertise they need to meet their objectives. We look forward to a successful partnership." www.magnasys.tv