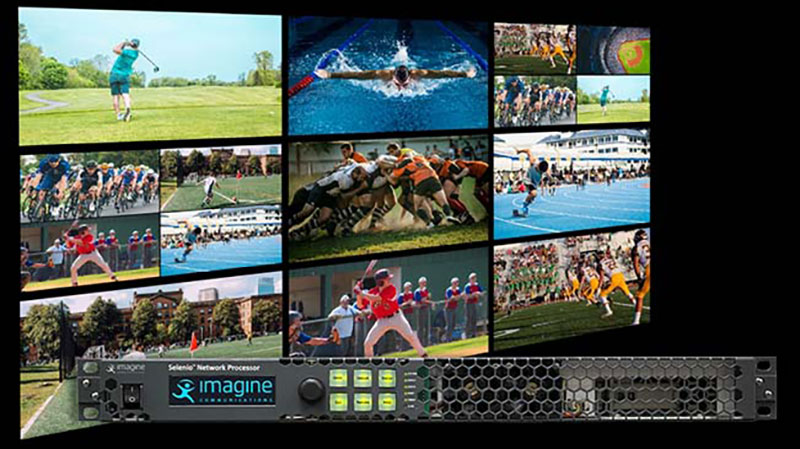 At the 2023 NAB Show, Imagine Communications will display new master control and branding functionality for HD, UHD and HDR in its 1RU processing platform, Selenio Network Processor (SNP).
The SNP Master Control Lite (MCL) software adds branding, live graphics and full master control functionality to the latest release of SNP. With support for HD and UHD signals, the SNP MCL can also be configured as a ST 2110-compatible dual downstream keyer (DSK). As the SNP is an entirely software-defined application platform built on high-density hardware, the MCL personality can be licensed onto any SNP unit so that current users can add this new functionality to their existing system.
"The SNP's architecture allows us to continuously develop practical functionality to meet the evolving needs of users – in this case, the need to bring the production values of their main channels into the UHD era," said John Mailhot, CTO Networking and Infrastructure at Imagine Communications. "As UHD becomes a format of choice in many countries, broadcasters can now use SNP MCL to create linear channels with proper branding, graphics in UHD and professional transitions under automation control, combined in a straightforward, cost-effective package."
From HDR Graphics to Automated Playout
The new SNP MCL supplies channel release functions within the framework of a powerful 1RU processing platform. Its features include full-resolution 10-bit and HDR-capable graphics, four full-frame keyers and three external Key/Fill inputs, plus full frame sync on each input – including Key/Fill. Sixteen channels of audio processing are included with voice over and graphics audio. Flexible interfaces include 12G SDI, 2SI-SDI and ST 2110. Automation systems can be integrated via Imagine's IconMaster switcher protocol, over IP network connections.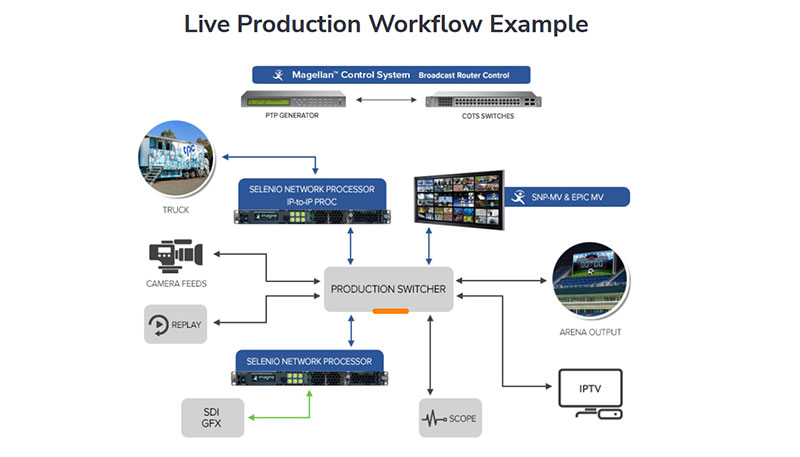 The SNP MCL is suited to multiple applications. Customers using an integrated playout system such as Imagine's Versio platform to make a root broadcast or national feed can use SNP MCL in downstream keyer mode to make specialised versions of the channel for regional splits.
For users running sports channels where the bulk of their UHD content is a production made on a broadcast truck, SNP MCL can be used to upconvert interstitial and remaining content and intermix it with the UHD from the OB truck to make a finished channel that includes both elements. SNP MCL functionality can also be used as a cost-effective disaster recovery system in parallel with a fully featured, automated integrated playout channel.
Hard Panel Control
For control of the SNP MCL, a desktop pushbutton hard panel is available, featuring LCD displays for signal names and high-quality pushbuttons for all functions. The compact hard panel supports fast selection of up to 16 sources onto the program or preset buses, key on/off controls for each of the keyer layers, and transition controls.
All source selections, graphics selections, keys and transitions can be controlled through the Imagine CCSP (Command, Control and Status Protocol), which is supported on Imagine's Magellan RCP series of panels, as well as by many third-party control and automation systems.
The SNP MCL selects and manages source inputs by controlling an upstream router through Imagine LRC protocol and the Magellan Control System. Magellan Control supports integration of third-party SDI routers, and also fully supports ST 2110 IP networking and control of ST 2110 devices through NMOS.
The latest version of SNP, including previews of upcoming functionality, will be part of the demonstrations on the Imagine Communications booth at the 2023 NAB Show. www.imaginecommunications.com