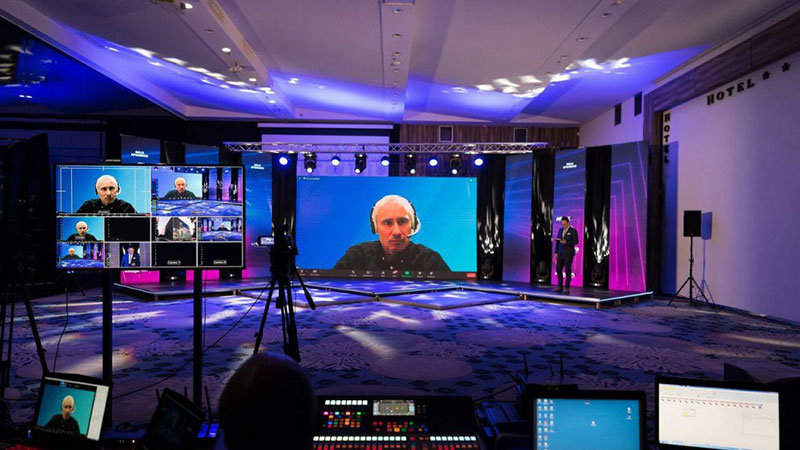 Audinate Dante Connect is a suite of software applications that facilitate cloud-based broadcast production and serves as a platform for primary audio engineers and mixing engineers, combining the ease of use and tight synchronization of Dante audio with seamless connectivity to centralized production tools running on cloud instances.
Dante Connect moves Dante audio into the cloud so that mixing engineers, operators and broadcast A1s can use it with production and editing suites accessed from anywhere. It transports audio to and from production software running in cloud-based virtual machines (VMs) that can be accessed anywhere with an internet connection.
Direct to Cloud
Among its main features, Dante Connect is able to connect local Dante devices directly to cloud services, supporting 256 channels of audio per VM. Placing Dante audio between cloud VMs allows very wide expansion of capabilities, while Dante Connect can be extended across multiple instances and regions for worldwide coverage. Remote monitoring allows producers to check on audio over a lightweight webRTC connection without risk of interruption to source channels.
"Broadcasters can use Dante Connect to capture, mix and produce audio with efficient REMI workflows," sais Bryce Dunn, Senior Director of Product Management at Audinate. "It reduces the need for expensive OB trucks and ground crew and allows preferred mixing engineers to work from wherever they are located using centralised resources. This lowers expenses and enables many more events to be produced cost-effectively."
Partners Supporting Dante Connect
Several of Audinate's key partners are announcing support for Dante Connect for remote production and REMI workflows. For example, Audinate is now an Amazon Web Services Validated Partner and has completed the Foundational Technical Review (FTR) for Amazon Web Services. The FTR ensures that AWS Partner products and solutions adhere to a specific set of requirements based on security, reliability and operational competence as defined by the AWS Well-Architected Framework.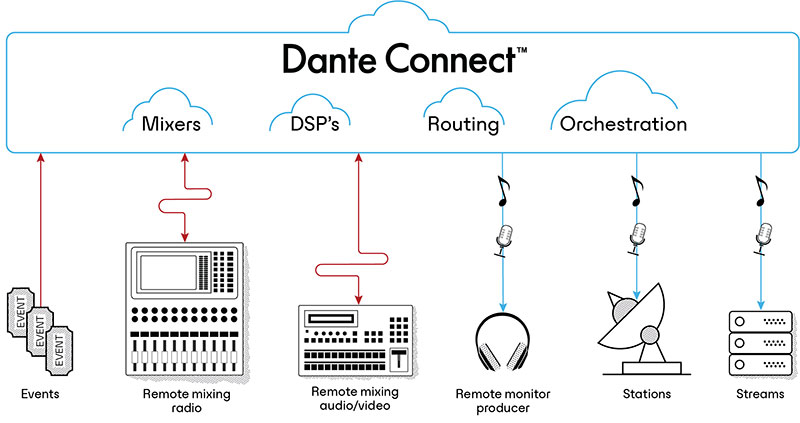 The Waves Cloud MX mixer is a cloud-based production tool designed for the broadcast market. Noam Raz, Waves Live Division General Manager said, "Following the successful Waves Cloud MX AWS FTR, and with Cloud MX and Dante Connect's interoperability, broadcast professionals have a high quality cloud-based mixer with high-precision mix control, easy deployment and excellent sound quality in a scalable, broadcast-ready cloud workflow. It includes Waves plugin integration for creative processing, such as the Dugan Automixer, playback leveler, noise suppression, bass enhancer, loudness meter and true peak limiter."
At Audiotonix, known for its Calrec and Solid State Logic (SSL) console and processor brands, incorporating Dante Connect became a key element of their cloud platform, opening true audio routing capabilities within virtualised cloud environments and remote connections. It has made possible the collaboration between Calrec and SSL, resulting in focused systems where specific brand control surfaces and user interfaces remain consistent with their work-flow models and operator user base.
New API for Audinate's Domain Manager
Audinate has also announced their new API available with Dante Domain Manager 1.5, which is network management software used to set up user authentication, role-based security and audit capabilities for Dante networks, put in place while users expand Dante systems over their network infrastructure. Service providers, integrators, software developers and OEMs can now use the API to build Dante control and monitoring into management applications, control hardware, automation scripts, help desk solutions and software-based source switching – among many other applications.
The API covers all the key functionality of Dante Controller. It can query Dante domains, devices, channels and status, and can be used to change channel subscriptions or add and remove devices from Dante domains. It allows configuration of securely managed Dante AV-over-IP systems via third-party applications and products, making it possible to design new capabilities and integrations for many types of installations.
The new API is built using the widely used GraphQL query language for rapid development with common tools such as Postman, Apollo Studio or Altair. It inherits protections and permissions from the Dante Domain Manager configuration, ensuring secure deployment.
"This feature has probably been our most requested," said Laurence Crew, Senior Product Manager at Audinate. "The new API works with Dante Domain Manager to deliver control to third-parties in a manner that is secure and scalable and covers all Dante-enabled products running Dante 4.0 or higher." audinate.com