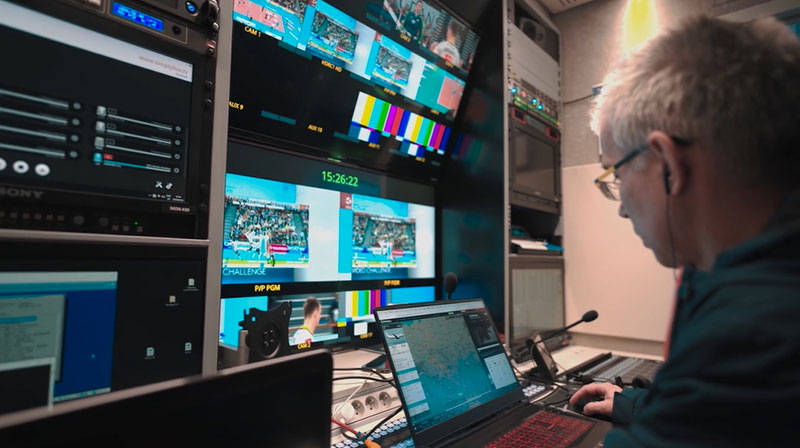 NEP Group in Sydney and French live production company AMP VISUAL TV have become the first organisations to purchase Sony's new MLS-X1 modular live switchers.
NEP bought more than 20 MLS-X1 units for use in their NEP Andrews Production Hub in Sydney, Australia. The MLS-X1 stood out for its modular approach as part of NEP's plans to make its business operations as scalable as possible. The MLS-X1 is a key element of the Sony Networked Live ecosystem, which helps productions take better advantage of resources in high-value live situations through connected hybrid on-premises and cloud capabilities.
NEP's SVP Technology Marc Segar said, "When the potential of the MLS-X1 switcher was outlined to us, we decided that these capabilities would be ideal for our current and future requirements. Following discussions with Sony at IBC, we were invited to Sony HQ in Japan to see a pre-production unit and spend time with the product designers so we could fully understand the new system and how to deploy and take advantage of it in our environment."
Switcher Network
The MLS-X1 is a modular switcher system that avoids the need to maintain a monolithic switcher chassis large enough to cater for the largest project, or functionality that isn't regularly used in day-to-day productions. Instead, each MLS-X1 unit is connected by a network, and its physical structure can be changed dynamically allowing logical switchers to be configured using one or more MLS-X1 units, as needed.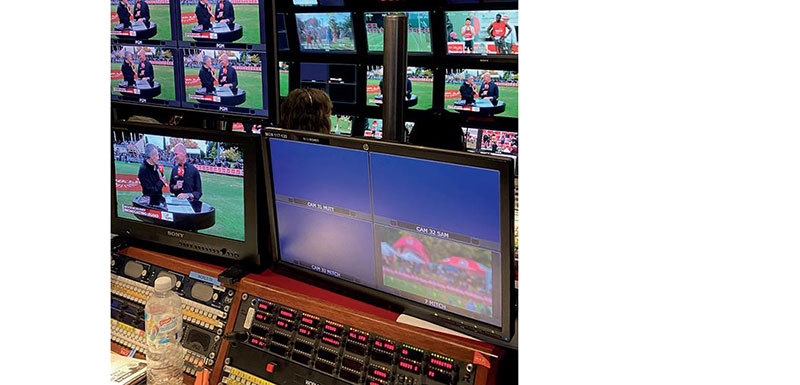 AMP VISUAL TV
This approach makes sufficient power available for large-scale, multi-format events but keeps the agility to scale down or to meet unforeseen demands. Redundant systems, which are essential for live production, are also selectable from different modes, for example, N+1 to N+N.

Marc said, "Because NEP now supports more events in 4K, we were looking for larger switchers with more inputs, outputs and processing, in native SMPTE 2110. We also needed a flexible system that would allow us to utilise resources more effectively and assign these to a specific job when needed, instead of having the resources in a fixed configuration, allowing us to scale very quickly. The new MLS-X1 Live Switchers met these requirements, and others."
The MLS-X1 supports 4K/HD multiformat production. As well as the conventional Format converter, SDR-HDR conversion is available with native support for various HDR formats as a system format. Its switcher architecture adds a GPU-based effects and graphics module to the processing structure, adding further to the flexibility of the user's video processing power. Hardware accelerated processing supports real-time processing of UHD and HDR video while keeping latency very low.
Remote Switching
The new MLS-X1 units will be set up in the NEP Andrews Production Hub in Sydney, Australia, with the signals from remote locations across the country, such as sports stadiums, sent back to the hub across an IP network. The production staff operating the units at the hub itself will then be responsible for switching the signals.

MLS-X1
"The switched production is then delivered to NEP's broadcast partners via IP," Marc said. "This is the same general process performed now in the hub, but the new MLS-X1 Live Switchers are larger, more powerful and far better suited for demanding 4K productions."
OB Vehicles for Live Sports in Paris
The switcher's modular nature also met AMP VISUAL TV's requirements for scalability and flexibility. Planning ahead for the major sporting tournaments of 2023 and 2024, AMP VISUAL TV has been investing in, upgrading or commissioning new Outside Broadcast vehicles to prepare for the demands of the upcoming live productions. Their team chose the MLS-X1 system as the core switcher for two vehicles in its OB fleet, the Millenium Signature 14 and Millenium Signature 19. The MLS-X1 is part of a wider Sony investment, including 50 HDC-3500 cameras and 9 PVM-X1800 monitors to equip the new trucks.
In particular, the new trucks will be able to cater to a range of production set-ups from small, simple outfits to the largest, most complex projects without overutilising or underutilising resources, moving the company closer to its strategic business and sustainability goals.

Optimising Distributed Production
Networked Live is based on network and resource orchestration, hybrid processing and operations, and media transport. Nevion's network orchestration brings together venue, studio, control room resources, regardless of location.
Hybrid processing and operations makes the system more scalable and reconfigurable, using private and public cloud and on-premises services and resources.
Media transport for this networked system needs to be robust, reliable and as close to real-time as possible. Using Sony's low latency, low-bitrate codec, users can preserve image quality while making more efficient use of IP bandwidth over LAN, WAN or 5G on-premises and in the cloud.
The overall effect is to optimise your use of distributed production resources via efficient connectivity. "We have complex, high profile productions coming up over the next two years, especially here in Paris," Technical Director at AMP VISUAL TV Francois Valadoux said.
"That has led to investing in sustainable systems for the new trucks, both in terms of competitive business operations, and a viable environmental point of view. Any systems we adopt also need to deliver for all production types, which make modularity and scalability key elements. Sony's technical team and collaborative approach helped us choose the MLS-X1 at the core of our trucks, as it fits these short and long term, flexible and scalable requirements." pro.sony