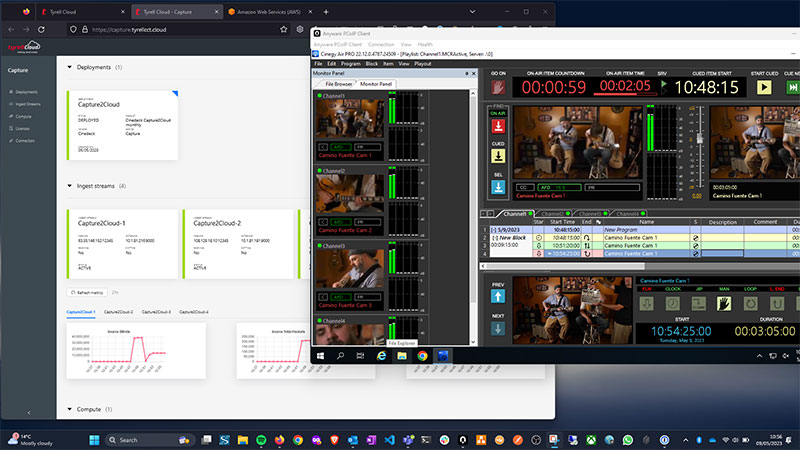 Cinegy is working with Tyrell to deliver a cost-effective new cloud playout system. The system is rolling out as part of Tyrell Cloud, a customisable, secure set of cloud services built specifically for media industry applications.
Tyrell develops video, audio, graphics and storage systems for the Irish and UK broadcast, post and production markets, both on-premise and in the cloud. Software developer Cinegy focusses on similar markets with tools for digital video processing, automation, asset management, video compression and playout.
Central to the new Tyrell/Cinegy playout system is the Cinegy Air realtime broadcast automation and server application. Like all Cinegy products, it is implemented entirely in virtualised software, making it a good match for a vendor-agnostic environment like Tyrell Cloud. Cinegy Air fully automates playout at resolutions up to Ultra HD and 8K, with the option to take manual control as operations demand.
Cinegy Air is designed to take advantage of cloud hosting, including efficient hardware utilisation, instant deployment of additional channels and functionality, and inexpensive high-availability clustering. The system is intuitive to establish and run, and the first installation includes the integrated Cinegy Multiviewer. Built for flexibility, the Multiviewer is able to perform comprehensive signal analysis, monitoring and alerts to minimise reliance on engineers and operators, and meanwhile maintain optimum signal quality.

Cinegy Air was deployed as part of the Tyrell Cloud Capture service at the Media Production and Technology Show (MPTS) 2023. Tyrell Cloud Capture and the other services that make up Tyrall Cloud – which, as well as capture, manage file transfer, storage, workflows and workstations – are based on the company's partnerships with key 3rd party suppliers. These include AWS, Cinedeck, Dell, EditShare, Haivision, HP, HP Anyware (Teradici), Telestream and others. Following this model, Tyrell Cloud Capture ingests live SRT streams with AWS MediaConnect and Cinedeck, directly to EditShare shared storage.
At MPTS, video streams were presented from Cinegy Air in SRT format to Tyrell Cloud Capture where it was ingested ready for editing. Cinegy Multiviewer displayed a visual tally on the streams, while Tyrell Cloud Capture allowed users to manage incoming streams, access and use visual telemetry about the streams and direct them to other services within Tyrell Cloud.
Daniella Weigner, Managing Director of Cinegy, said "This is a great example of how we can work with a strong partner to create a rich solution that meets very specific needs. It shows the value of well-conceived software solutions – our software and the Tyrell Cloud are both designed to be easy to integrate to create systems that are tailored accurately to meet the user's requirements." www.cinegy.com