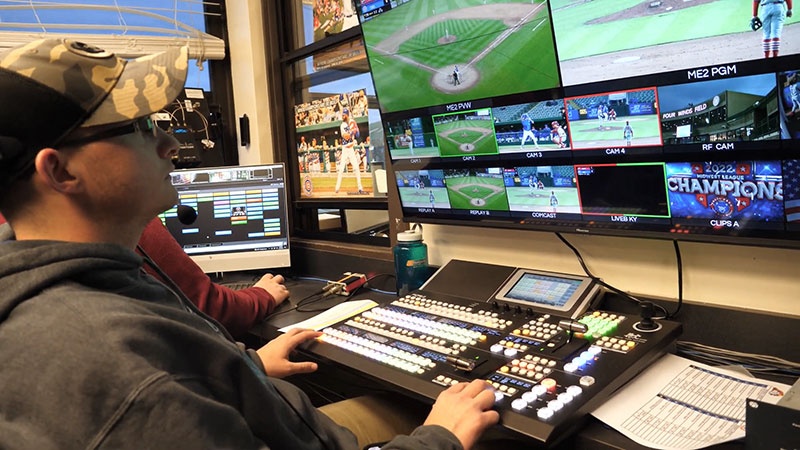 The South Bend Cubs, a Minor League affiliate of the Chicago Cubs, has been under pressure for the video quality of their live broadcasts to rival that of the Major Leagues. While all South Bend games are streamed to MiLB.TV, several games are also broadcast on local TV and the Chicago Cubs' regional network, Marquee Sports Network.
To give the action a more professional look, the club's media team upgraded its production hardware and now uses the FOR-A HVS-490 video switcher. The purchase followed the recommendation of the team's A/V support company, TPC Technologies, which uses a variety of FOR-A switchers in their flypacks. The HVS-490 switcher is built for flexible expansion, opening a path to more affordable 4K production.
"We can go up to six M/Es with the HVS-490. When we combine that facility with the switcher's support for NDI and PTZ cameras, and its overall ease of use, we have an extremely versatile piece of equipment," said Chris Hagstrom-Jones, Assistant General Manager – Marketing & Media, South Bend Cubs. "It gives us flexibility, power and creativity that is comparable with the switchers from the major manufacturers at a much more affordable price."
NDI Support and PTZ Control
The HVS-490 supports NDI using an optional HVS-NIF card. The HVS-NIF serves as a video/audio transceiver and creates a system capable of handling IP and baseband signals. The HVS-490 can also be used to control up to 16 connected PTZ cameras – pan, tilt, or zoom – activate tally lights, set or apply presets or use stored macros for video switching coordinated by bus buttons.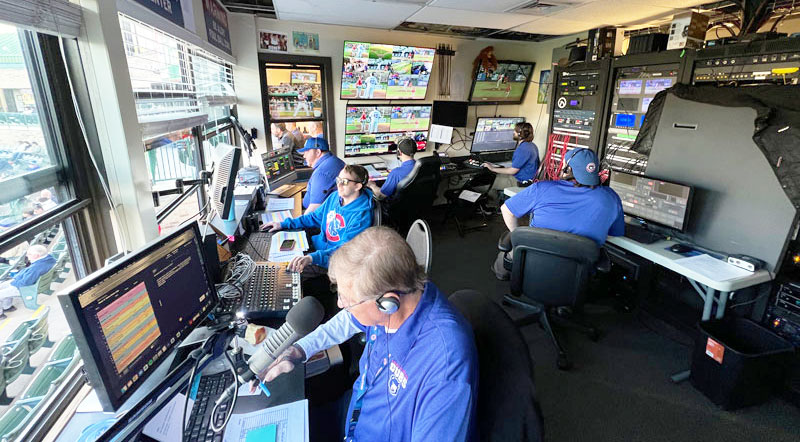 Operators have a choice of cut, mix or wipe transitions. On top of 100 2D wipe patterns, the switcher has 16 useful 2.5D DVE wipes such as rotate, perspective and reposition, and eye-catching effects including mosaic, posterization, pseudo colour and defocus are also supplied.
Chris noted, "We integrate wipes and effects to keep our broadcast on a level with the Chicago Cubs games on Marquee. We've just scratched the surface with all the functions of the HVS-490. As our stadium expands, we'll utilise more M/Es and outputs for the various in-house feeds and monitors across the park." Special keyers are also available, designed for flexible reassignment, that operate separately from the standard keyers of the full M/E buses.
In-house Show
While the switcher is used mainly for producing Minor League Baseball game coverage, it also handles the club's in-house video board show, which makes its role more critical to the South Bend Cubs organisation. "We compared the HVS-490 against several very high-end switchers before making our decision," said Chris. "Some were priced over what our budget allowed, others we've had negative experiences with, and some didn't have the performance we required. The HVS-490 feels like a mainstream switcher as opposed to an at-home web streaming device."
He mentioned that, based on FOR-A's level of support and the switcher's capabilities, the team is considering acquiring further FOR-A equipment in the near future. "The South Bend Cubs needed a system with the performance required for professional broadcast and live event video production, that was also easy to use and cost effective," said Satoshi Kanemura, FOR-A Americas' President. "With the new NDI options coming onboard, the HVS-490 will grow with them." www.for-a.com