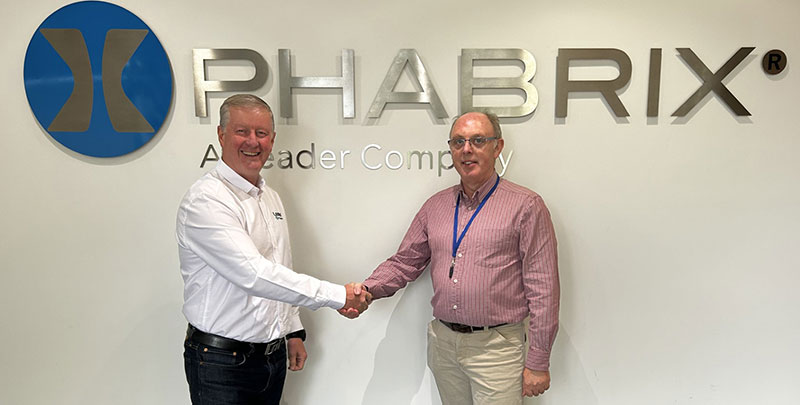 L - R Martin Mulligan and retiring CEO Phillip Adams.
Test and measurement innovator, PHABRIX, has announced that CEO Phillip Adams is retiring 18 years after he founded the company. Phillip's CEO position will be taken by Martin Mulligan, who has been with PHABRIX for nearly 8 years, most recently in the role of SVP Sales & Operations. Completing a trio of major personnel changes, PHABRIX is also joined by a new Chairman, Hiroshi Kajita, who most recently served as Head of Media Solutions at Sony Europe.
Phillip's retirement from PHABRIX is the latest milestone in what has been a hugely successful 40- year career in the professional broadcast industry. Having graduated from Manchester Polytechnic in 1986, where he studied Electric & Electronic Engineering with sponsorship from Granada Television, Adams began his first company – FPGA design skills provider Complete Logic Ltd – at the age of 28.
In 1992, he became a Founder & Director of Oxtel Ltd, a manufacturer of logo inserters and channel-branding equipment. He continued to run the R&D department there until 2001, when the company was sold to Miranda Technologies (now part of Grass Valley), where he served as European Director of Technology until 2003.
After a short sabbatical, Phillip established PHABRIX Ltd in 2005. A recipient of more than 20 awards for technological achievement, and with a workforce of over 40 people, PHABRIX is a world-renowned manufacturer of test & measurement equipment whose solutions continue to evolve in line with broadcast & media workflow trends. He leaves the company in the midst of another successful year, epitomized by a high-profile presence at NAB 2023 and the forthcoming IBC 2023.
Succeeding Adams will be Martin Mulligan, who has served in senior roles in the broadcast technology industry for nearly 25 years following his graduation in Computation at Manchester University (UMIST). For the first 16 years, he was Global Sales Director of production technology innovator Quantel, which purchased Snell Ltd in 2014 (later re-branded as Snell Advanced Media (SAM) and then purchased by Grass Valley).
Since 2015, he has been an integral part of the PHABRIX global management operation, latterly as SVP Sales & Operations. As an excellent grounding for his new position as CEO, Martin's responsibilities in his previous role included the management of PHABRIX's Sales team, operational organisation from supply-chain management by Purchasing, through product assembly and testing and on to customer support and HR requirements, including recruitment and retention.
PHABRIX is also delighted to announce a new appointment to the leadership team, Hiroshi Kajita, who joins the company after a remarkable 38 years with Sony. After many years as Corporate Executive Officer and member of the board for Sony Business Solutions Corporation – where he led various critical 4K, OB and IP developments for major broadcasters – Hiroshi spent the past four years as Sony's Head of Media Solutions, building on the success enjoyed by Sony Europe as a world leader in media & entertainment products, solutions and services.
Reflecting on his own retirement and the new appointments, Phillip Adams commented, "Retirement from a company you founded and have spent many years growing is always going to be a slightly bittersweet experience, but I feel that now is the right time as the company is in such a strong position around the world. With versatile equipment able to cater to the full range of legacy and next-generation workflows, our test & measurement systems are now an integral part of the infrastructure for so many broadcasters – which has always been my driving ambition for the company.
"It is therefore an opportune moment to pass on my role as CEO to Martin Mulligan, who has brought outstanding energy and direction to every facet of the business during the last 8 years, while Hiroshi Kajita brings a phenomenal level of experience in media technology to his role as Chairman. With a superb workforce in every area of the business, I really couldn't be leaving the company in better hands." www.phabrix.com