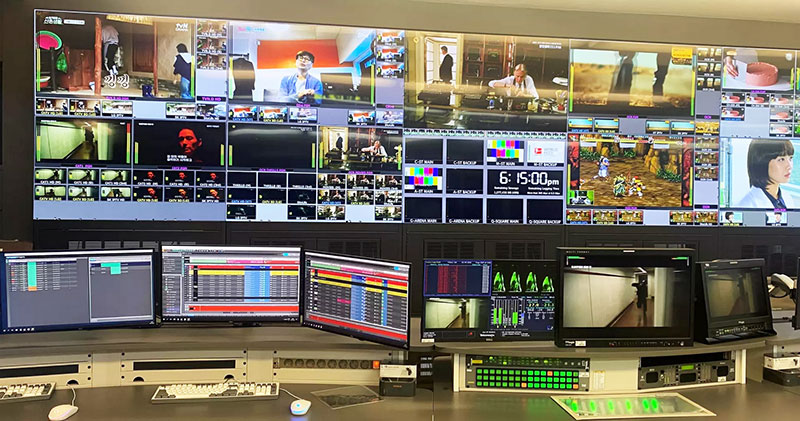 Korean broadcaster CJ OliveNetworks has installed and launched a multichannel setup bringing 11 fully redundant channels to air. The company, an entertainment and media subsidiary of South Korea's CJ Group, carries out broadcast and digital services including managed broadcast transmission of 64 local and international channels.
CJ OliveNetworks' 11-channel launch results from a recent investment in a flexible new infrastructure, acquired to meet current growth and future expansion. The company is now equipped to support a combination of SDI, NDI, ST-2110 and transport streams, hosted on COTS hardware.
The installation, completed with channel partner Besco, combines Pebble Automation, Integrated Channel and Pebble Remote systems. The system now live at CJ OliveNetworks features Pebble automation controlling playout of 33 integrated channels in an 11+11+11 redundant configuration. This means that each on-air channel can be fed from any one of three integrated channels to operate with extremely high availability.
All of the channels have a similar design with 2110 and SDI inputs and outputs plus NDI monitoring. Logical processors include loudness control, audio shuffling, DolbyD encoding, SCTE104 and closed subtitling. CJ OliveNetworks is the first customer to use the RT Software plugin for broadcast graphics under Pebble automation. CJ OliveNetworks also works with Pebble's internal graphics features, and is able to control other external third-party CG software.

The integration of Pebble Open API with CJ OliveNetworks' in-house Traffic and Media Management system supports direct communication between the two platforms. With this integration, the broadcast team can now readily interact with Pebble's live playlist and media metadata.
Korean equipment and services provider Besco played a major role in specifying, testing and installing the system, which has won the Excellence Award for Channel System at the Asia-Pacific Broadcasting+ Awards 2023. Besco also supported Pebble in translating its user manuals into Korean and delivers first line support on the company's behalf.
Besco CEO, Young Bae Kim said, "Pebble systems have extensive redundancy schemes, backed by solid customer service to ensure on-air reliability. We're looking forward to growing this partnership in the APAC region."
Choi Tae-Hyoung, General Manager at CJ OliveNetworks said, "We wanted to build a future proof flexible system that could perform uncompressed IP, compressed IP and SDI in the same system and in the same server with a modern user interface. Pebble systems were clearly the developer we needed to help us to move forward for our clients. We've been very satisfied with the whole process, from inception to execution." www.pebble.tv
Words: Adriene Hurst, Editor