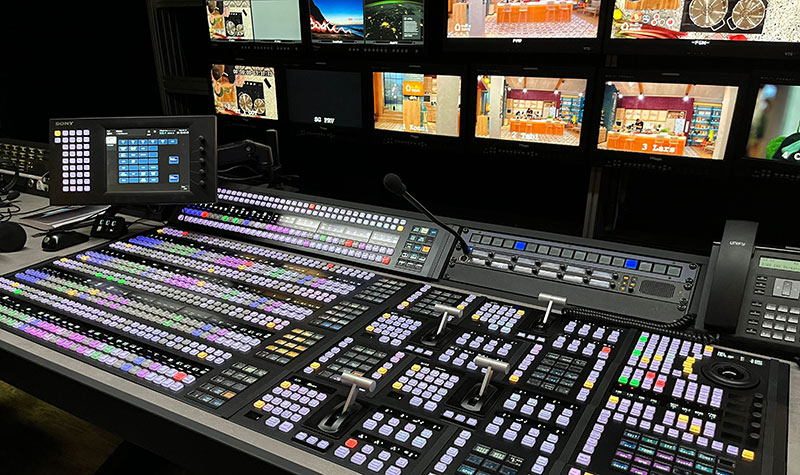 EMG Germany located near Cologne specialises in studio, field and post production for broadcast delivery. It works mainly in formats that suit entertainment and educational material, but also operates an OB vehicle delivering productions for major sports events such as European or World Championships.
The EMG Germany team controls and operates six of its total of seven broadcast studios using two Sony video mixers. Their control room set-up has been running on two Sony MVS-8000Gs up until recently, when they commissioned two Sony XVS-6000 multi-format video mixers to renew their live production systems. Owing to their networked functionality, the mixers can be assigned and re-assigned to individual studios according to each production's requirements.
Flexible and Upgradable
The system is upgradable to UHD or IP at any time, if required, supporting the SMPTE ST 2110 suite of open standards for media over managed IP networks. This means users can run a mixed IP and SDI production environment. 100G IP boards support 4K and HD in a single stream, with on-board format conversion available.
"We have been using Sony vision mixers for a long time," said Christian Boden, who is New Technology Manager at EMG Germany and responsible for the replacement. "We've had very good experience throughout the system changeover, from helping us develop the best concept for our purposes and evaluating the system size, to giving technical advice."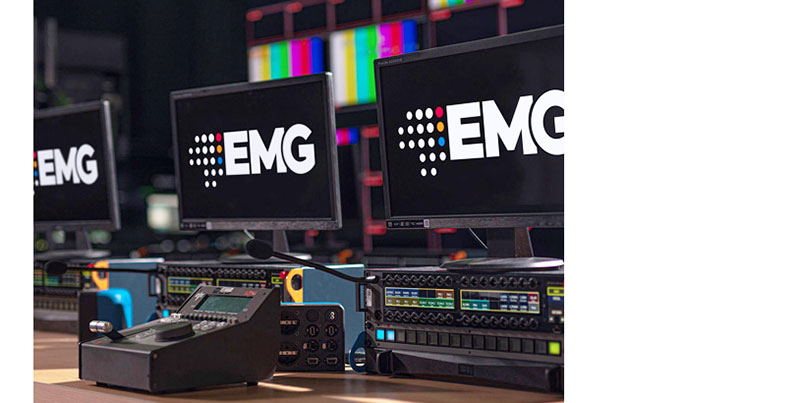 Modular Panel Configuration
The XVS-6000 mixer system supports various hardware or software panels to match user preferences, as well as third-party control interfaces for studio automation and live control. In EMG Germany's new control rooms, two large network-capable 4ME panels are used. Its modular nature makes the system extremely variable and prepared for many different production requirements, including remote access.
As well as modules familiar to the user, the XVS-6000 utilises Sony ICP-X7000 X-Panels, which also have a modular design for very flexible panel configuration. The new XPT pads ease operation of the panels and allow direct access to system resources. Numerous transition modules are available, plus track ball, key fader and shot box modules.
René Steinbusch, CEO of EMG Germany, said, "A major advantage when switching from the MVS to the XVS live video mixer series is familiarity and logical operating philosophy. In our hectic daily production routine, this is enormously important and it made this system change relatively easy for us. In addition, there is very good support from the Sony people, efficient communication channels and a training offer."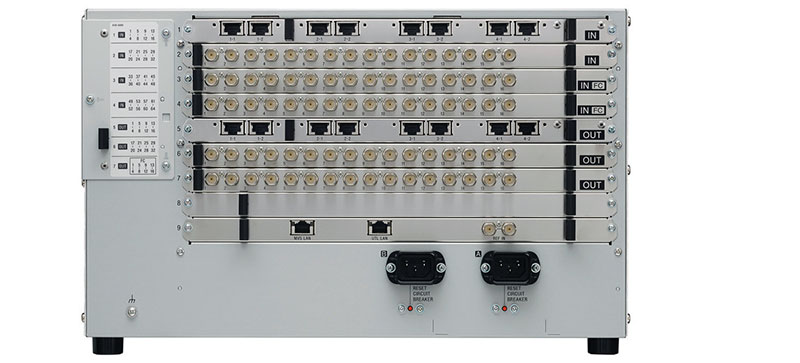 Sony XVS-6000 multi-format video mixer - rear panel
"The experience of our customers flows into the development work and is used to continuously improve Sony products in terms of a consistent operating and ergonomic concept," said Christian Hesse, Key Account Manager Germany at Sony Europe. "We also have a strict focus on designing live video mixers like the XVS-6000 to meet upcoming requirements regarding UHD and remote production, for example, or IP expansions." pro.sony