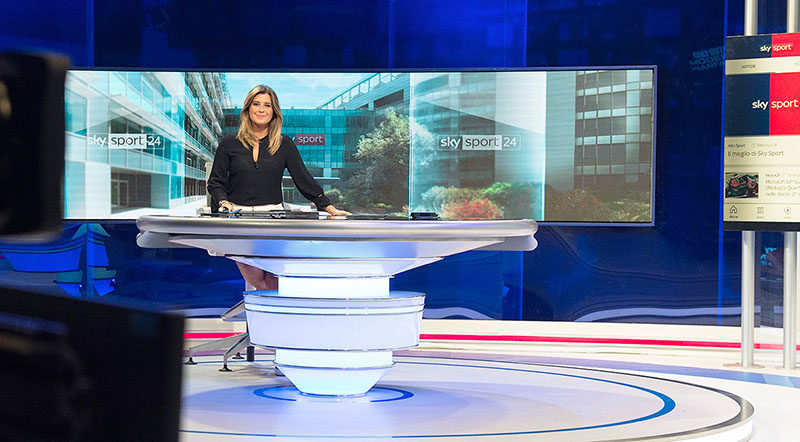 Sky Italia, a major Italian pay-TV operator and part of Europe's main M&E company Sky Group Limited, has migrated its Rome operations centre to SMPTE ST 2110 video infrastructure. As the facility underwent a systems refresh, Sky Italia took the opportunity to migrate to an open-standard, IP-based infrastructure for more flexibility and scalability.
Working with local systems integrator Allyn Srl, Sky Italia has been able to deploy a turnkey, ST 2110 system that supports uncompressed IP video and audio signal routing within the facility, JPEG XS compression allowing high-quality media transfer between facilities at low-latency, and NMOS-based orchestration of all networked connected devices.
IP-based Infrastructure and Connectivity
The system incorporates Imagine Communications' Selenio Network Processor (SNP) and Magellan Control System, which Sky Italia will also be using for high-quality, low-latency connectivity from the Rome facility to its headquarters in Milan.
"Migrating to a modern, IP-based infrastructure as part of our facility upgrade was a practical decision that has brought multiple, immediate advantages," said Gabriele Ubertini, Director of Group Origination & Distribution Platform, Sky. "The flexibility of the 2110 standard and NMOS protocol inherent in the Imagine platforms enabled straightforward deployment of an integrated system that makes our operations more efficient and will allow us to scale as our business requirements change in the future."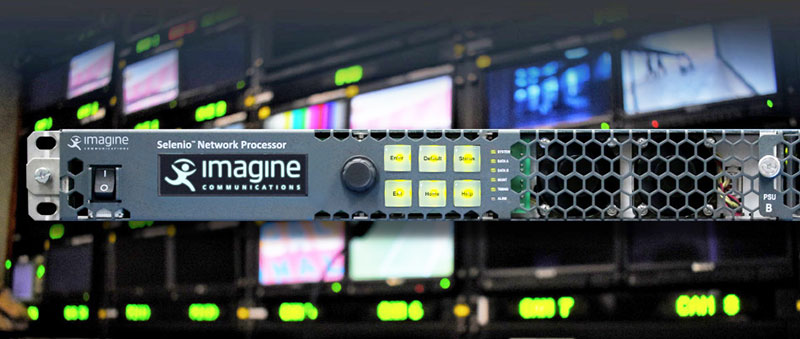 Selenio Network Processor
Imagine's SNP serves as an IP gateway, signal converter and a JPEG XS encoder/decoder working at the centre of the new system and enabling ultra-low-latency, production-quality signal transfer from Milan to Rome and vice versa. With complete ST 2110, ST 2022 and NMOS standards compliance, SNP serves to bridge SDI equipment to an ST 2110 network. As mentioned it uses the JPEG XS compression codec, and carries UHD over a single uncompressed stream, or over12G-SDI or Quad-SDI connections.
Sky Italia's Workflow
A Calrec audio router, which features native ST 2110 connectivity, integrates directly into the system to handle audio shuffling – managing which channels belong in which audio streams and shuffling channels from one stream to another – and multiplexing/demultiplexing of the high number of audio tracks within the video streams. The routing infrastructure has an Arista spine-leaf architecture, with uplink to central cores.
Fabio Mattei, Sky Technical Project Lead, said, "The SNP's support for JPEG XS standard is a real advantage because it means we can lower the costs of video connectivity between our two facilities by using less bandwidth for signal transport."
Orchestration and Control
Quality of service is achieved via the bandwidth management API supported by Imagine's Magellan Control System, which manages control and routing for IP and SDI systems, and has an orchestration application for monitoring and visualising operations.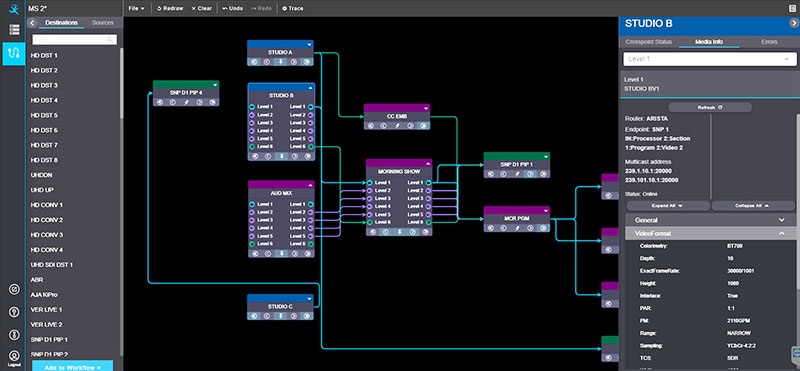 Magellan PathView
Magellan orchestrates multiple streams and control of ST 2110 devices across the network through NMOS. Imagine is now using NMOS in nearly every project deployment to integrate ST 2110 endpoints from other vendors, allowing customers to build custom systems based on the cameras, switchers, audio and replay equipment that their creative teams prefer.
Mathias Eckert, Senior Vice President & General Manager EMEA and APAC at Imagine Communications, noted that the various benefits of developments such as NMOS and JPEG XS are motivating a range of media companies to consider ST 2110 for new infrastructure projects.
"Their teams are able to deploy and manage multi-vendor IP media workflows with greater confidence and ease," he said. "Imagine is likewise committed to open, standards-based systems and working with partners around the industry to enable bespoke systems that work for customers like Sky with specific demands." www.imaginecommunications.com