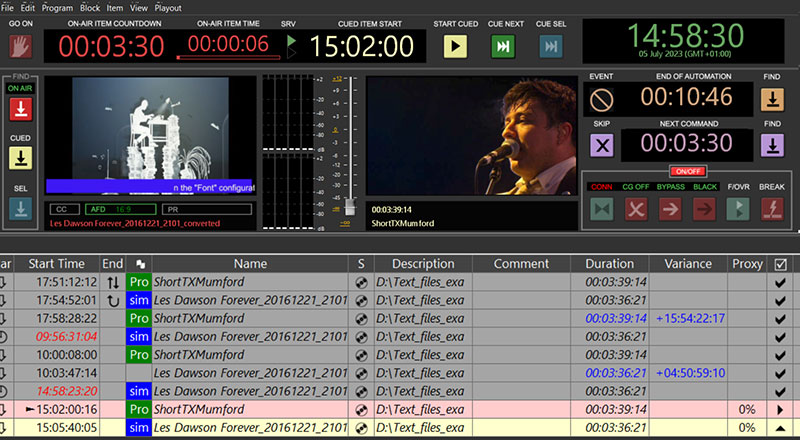 Cinegy Air
Cinegy will be featuring efficiency and footprint at IBC 2023 to demonstrate that media systems must reflect environmental concerns while retaining functionality. Cinegy's software stack – devoted to digital video processing, asset management, video compression and automation, and playout – is highly optimised, which leads to very low energy consumption.
Taking advantage of its partnership with Supermicro, Cinegy will run a total of 256 channels of HD playout using Cinegy Air software from a single 4RU server. With a power consumption of around 1500W, that equates to consumption of less than 6W for per complete playout channel, leading to a substantial reduction in carbon footprint.
Bigger Functionality, Smaller Size
An interesting display of how Cinegy delivers high performance in a compact form is the Micro OBVAN demonstration of a complete four-camera broadcast system fitted in the boot of a Microlino car. The Microlino is a tiny electric town car, only 2.5m long and weighing 500kg. Although its boot capacity is just 230 litres, Cinegy has installed all the necessary hardware and software for production and delivery into it, including 5G connectivity, drawing power from the Microlino's traction batteries.
"Our goal when developing our products has been to create high functionality in very compact software," said Jan Weigner, managing director of Cinegy. "Delivering high performance with the minimum of processor resources results in high availability systems in a low physical footprint, but it also means that the continuing costs of running the installation – including power and air conditioning – can be controlled more easily. Climate change is bringing catastrophic damage, and our very efficient software is playing its part in minimising the carbon footprint."
IBC2023 will show enhanced functionality across all of Cinegy's main products, including Cinegy Air multi-channel playout, Cinegy Multiviewer and Cinegy Capture for ingest. The updates reflect the company's ongoing relationships with broadcasters and media enterprises around the world who use their software. The improved subtitling capabilities in Cinegy Air, for example, were developed in response to a requirement from a major broadcaster in France.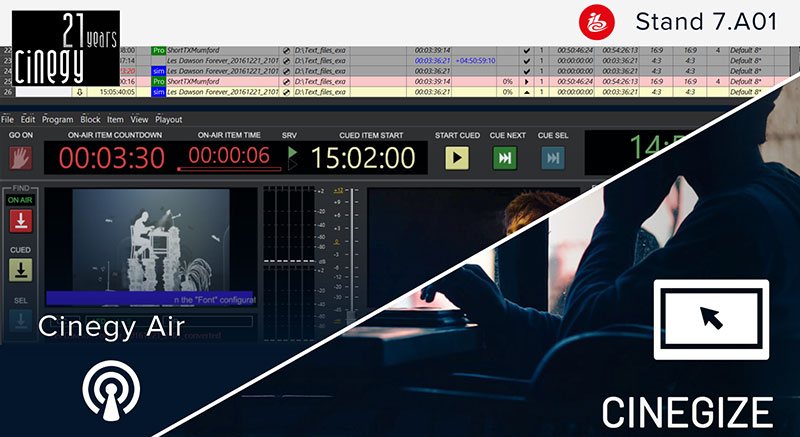 Remote Control with Cinegize
Cinegy will also be showing its new tool Cinegize that controls graphics and broadcast equipment remotely. Although remote desktop tools currently exist, Cinegy has led its development with such critical factors as frame accuracy, colour fidelity and low latency.
Cinegize can connect over any fabric, across a room or around the world. Standards-based, it can use encapsulated data streams like SRT for remote connectivity, and for high bandwidth streams it can use the Cinegy Daniel2 codec that delivers very high quality, up to lossless.
"We see Cinegize as a utility, which is why we are making it available free of charge," Jan said. "It is open, so you can use it to access any suitable software on any remote device, but we hope that in time users will recognise the need to organise and manage the content, which is where our applications stand out.
"While the media market is growing more crowded and competitive, our products are designed to scale with the user, for instance, moving from HD to 4Kor even 8K, or adding more channels and sub-channels, or linking remote workers and locations with rapidly growing content stores." www.cinegy.com