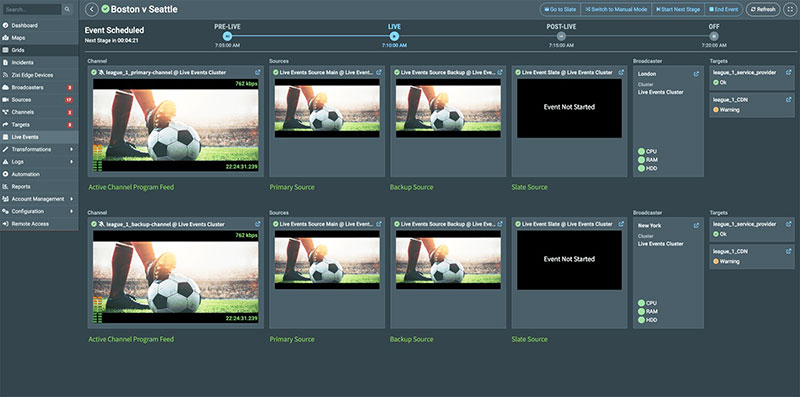 FOX Corporation delivers channels from their 190 local affiliates to their digital MVPD (Multichannel Video Programming Distributor) service partners. The company has now deployed Zixi for the initial delivery of the channels to the partners, making delivery of diverse live and VOD content possible via the internet without supplying their own transport infrastructure.
To support this complex workflow, Zixi Broadcaster software has been deployed for broadcast quality live video delivery. Zixi's ZEN Master and Intelligent Data Platform (IDP) are also in use for management, orchestration and monitoring of the FOX live streaming platform, devices and appliances.
Routing and Processing
Zixi Broadcaster is a universal media gateway that routes live video between sources and target destinations over IP networks. As well as Zixi, it natively supports other common transport protocols such as RTP, RIST, SRT, WebRTC and HLS, allowing users to ingest once and deliver to a group of target destinations – CDN origins, connected TVs, STBs and so on. Supported user workflows range across live-from-file, stream recording, time-shifting and localisation.
Its integrated processing is automated to conform media to target specifications, with functionality including GPU-accelerated low latency transcoding, OTT ABR packaging, stream multiplexing and program alignment. Meanwhile, stream compliance is continuously monitored and validated. Hitless failover and route optimisation are also continuous and automated.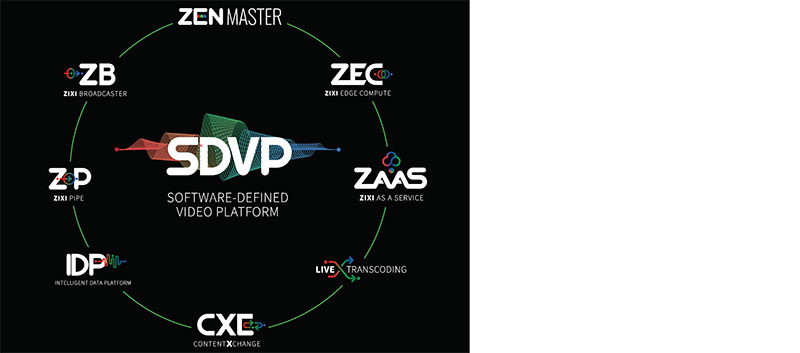 SVDP product system
The FOX affiliates use Zixi to transmit the streams to Zixi Broadcaster instances hosted in the AWS cloud, giving them the option to transcode each stream into the appropriate format before egress to the MVPDs. They take advantage of the ZEN Master integration of the TAG Multiviewer, allowing users to feed sources into the TAG layouts and send those mosaics to desired targets. This approach unifies control and simplifies operations.
Visibility into System Health
FOX accesses a single control plane in Zixi ZEN Master with the Intelligent Data Platform (IDP), which serves to proactively detect issues and identify actionable insights before impacts are felt. In a complex delivery system like FOX, where multiple sources stream to numerous destinations across different network and infrastructure environments, isolating useable insights from the noise becomes a challenge. The IDP uses trained AI/ML driven video analytics and stream analytics for this work, which helps to resolve incidents faster and increase application availability.
"Zixi has been a very collaborative partner in helping us design and implement our broadcast affiliate contribution workflow, and ZEN Master also gives us excellent visibility into the health of the system. Choosing Zixi has contributed enormously to us meeting our rollout timeline," said Alastair Hamilton, SVP Distribution Engineering, FOX Corporation.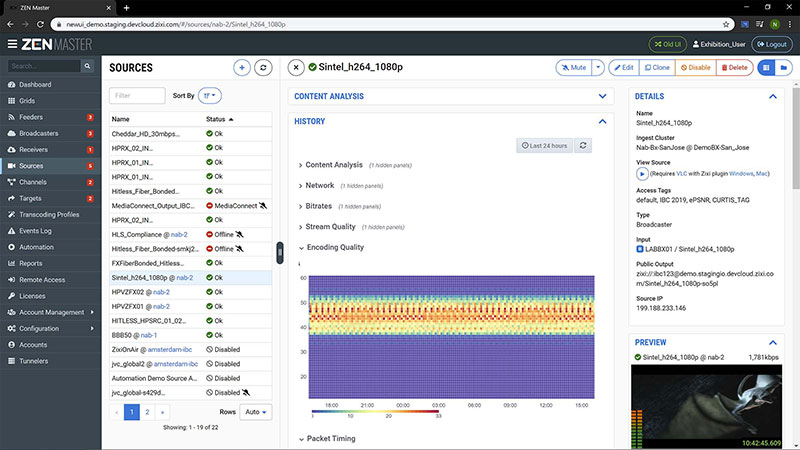 Incident Detection in ZEN Master
"At-scale IP and cloud-based workflows like FOX, with a few hundred channels quickly become thousands of streams," said Gordon Brooks, CEO, Zixi. "We have many clients at this capacity and much larger – alternatives with the same level of reliability at scale as the SDVP with ZEN Master are lacking in the market."
Foundation
Zixi's foundation lies in universal interoperability and simplified onboarding operations that video operations teams can use to add and manage live linear and event channels, at scale. The goal is competitive performance, security and reliability with redundancy and hitless failover that supports the delivery of thousands of streams from regional affiliates to disparate digital MPVDs.
The recent release of v17 of the Zixi core software improves processing capacity, requiring much less compute as well as helping to reduce transport stream egress costs. This efficiency avoids the need for excessive virtual machines, leading to reduced infrastructure and further cost savings. With these reductions, combined with bandwidth optimisation, Zixi aims to open new potential for growth and enhanced video streaming experiences for companies like FOX. www.zixi.com