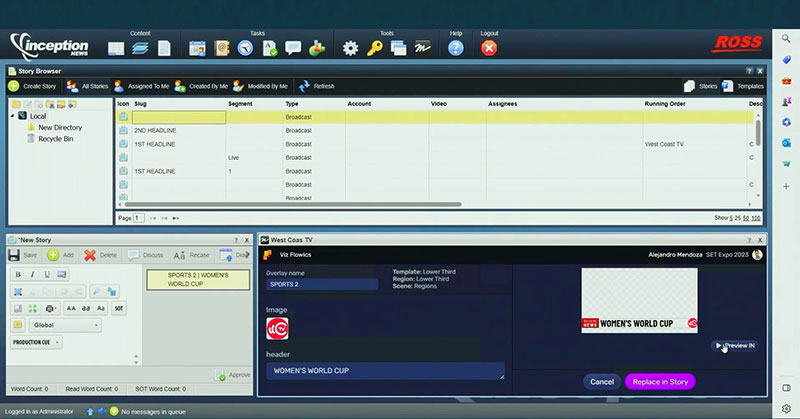 Vizrt's cloud-native HTML5 platform, Viz Flowics, now supports the MOS protocol. The MOS (Media Object Server) protocol is used to structure data before it is exchanged between devices and software. It permits Newsroom Computer Systems (NRCS) and other systems such as graphics platforms to communicate.
However, newer graphics systems, including HTML5, haven't been natively compatible with MOS, preventing users from integrating them into existing news broadcast workflows.
The Viz Flowics HTML5 graphics system now stands out as a MOS Gateway and HTML plugin for MOS-compliant NRCS. Viz Flowics' MOS support makes newsroom MOS workflows simpler and more efficient when creating and managing graphics playlists for playout.
Ready for the Web
Vizrt's existing newsroom workflow already uses the MOS protocol, but this release facilitates an alternative graphics system for newsrooms and broadcasters who want to use HTML5 as their graphics system in order to structure and present content for web applications.
In particular, this new compatibility means broadcasters with relatively simple graphics requirements can incorporate HTML5 graphics directly. "The new MOS support, in combination with the software's native integrations with local weather, traffic and markets data providers, makes Viz Flowics a good match for regional broadcasters and local stations who are looking for more cost-effective graphics systems," said Gabriel Baños, co-founder of Flowics.
Viz Flowics Is simple enough for users without a design background. The web-based editor has drag-and-drop features and a range of tools required to create broadcast-quality graphics, a customisation palette and animation tools. Through the editor, users can create templates and place them in the relevant projects as graphics packages, customised for specific shows.
Viz Flowics MOS Plugin Workflow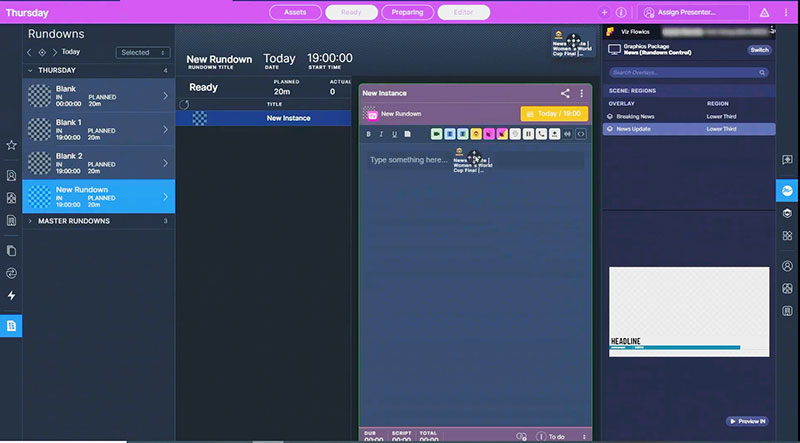 Like other newsroom graphics plugins, the templates are used to create, save and drop graphics into their stories in the news rundown. Meanwhile, creative assets are stored in the cloud in the Assets Library.
For journalists, there is no change to their existing graphics editing workflow when working on a particular story in a rundown inside the NRCS. They log in to the NRCS as normal and will now have the option to open the Viz Flowics plugin to access the templates available in the graphics package for a particular newscast or show.
Due to the MOS Support, via its own MOS Gateway, Viz Flowics manages the connection between the NRCS and the Viz Flowics cloud backend, creating the associated graphics playlist once the rundown is enabled. Viz Flowics keeps the graphics playlist in sync and updated whenever there is a change, such as removing a story or adding a graphics overlay. When the graphics operator in the control room opens the Viz Flowics Rundown Control web UI and selects a dedicated graphics playlist, the graphics play out according to the running order.
Viz Flowics is a multi-tenant SaaS platform, and all graphics packages are hosted on the Viz Flowics cloud. Users do not need to operate their own cloud accounts, provision servers or carry out local installation apart from running the MOS Gateway. Supported NCRS systems include Dalet, Ross, AP, Avid and ohers.
This release is the first phase of the MOS Support for Viz Flowics with more integrations, including studio automation workflows, coming soon. www.flowics.com