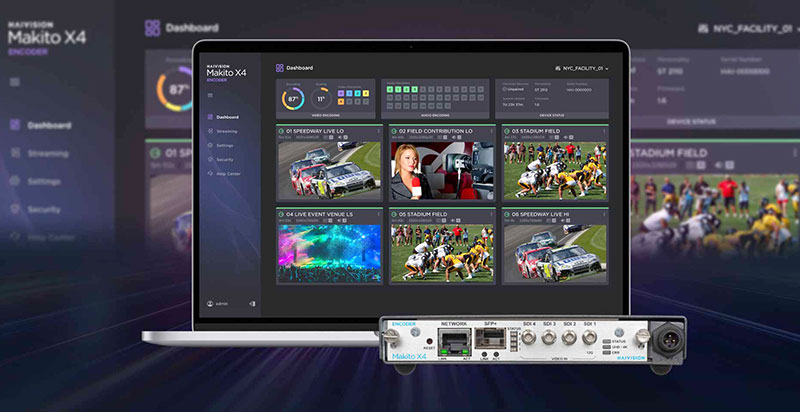 Haivision's most recent software version for the Makito X4 low latency video encoder has a new user interface, redesigned to help users improve and enhance video encoding and streaming workflows.
The main update is a new dashboard that makes it easier to determine whether video streams are running as expected. Displaying a comprehensive overview of encoding resources, the dashboard's thumbnail images can serve as real-time confidence monitoring of all active video sources along with stream statistics graphs and colour-coded status indications.
The new UI design also changes the way users access tools, including the process of accessing administrator tools, license management, security settings and so on. This update aims for a more straightforward user experience so that more can be done with fewer clicks, and everyday tasks such as creating and managing encoding resources, or setting up streams and monitoring performance, are easier to carry out.
This new software release for the Makito X4 is part of a larger, company-wide move toward a consistent user experience across its products that results in operational efficiency. By making UI design a central part of product development, this coherent approach is expected to help new users get up and running quickly, for example, while customers with multiple Haivision products will now have a smoother experience across the software suite, leading to ease of use and shorter training times.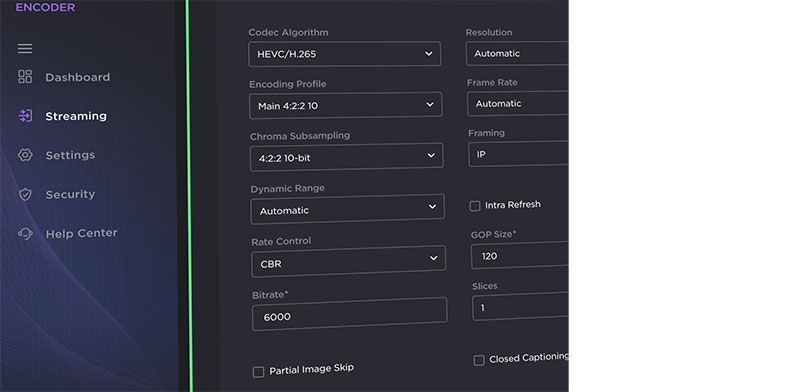 Following this release, the new UI is available to all Makito X4 users, and accessible from a web browser. Examples of changed features are a reorganized toolbar for quicker access to all main areas of the software, customisable resource labelling to assist monitoring, and the dashboard view showing resource utilization and real-time preview thumbnails for confidence monitoring of live streams. Sorting and filtering functions are added for video and audio encoding cores.
Encoder configuration setting is consolidated with live source thumbnails, and users can access preset management and creation at any point. It is also possible to access all streaming parameters and statistics without opening a new panel, and to start or stop encoding and streaming with a single click. www.haivision.com