Rudaw Media Network in Erbil, the capital of the Kurdish region of Iraq, is a broadcaster dedicated to delivering independent information in English, Kurdish, Arabic and Turkish. Rudaw is now working on a transition to a new headquarters in an eight-story complex that will house multiple studios and TV channels. The infrastructure will be built using SMPTE ST 2110 IP connectivity supporting 4K UHD capabilities for production and playout. The new agile, scalable architecture is expected to improve Rudaw's operations in terms of cost and efficiency.
Working with systems integrator WAVE Media Solutions, Imagine will supply the complete IP playout automation and master control infrastructure, including multiviewers, UHD conversion processing, network orchestration and routing control.
Cisco Fabric for Network Processing
"When we launched our channels 10 years ago, we were the first network in Kurdistan and Iraq to broadcast in HD," said Hejar Berenji, CTO at Rudaw Media Network. "Today, our move to a greenfield site is our opportunity to maintain that pioneering spirit by migrating to IP and 4K UHD. That is part of our goal to create a channel and content that is engaging and relevant to our audiences by founding it on high standards. Imagine's broadcast technology will, I believe, make a substantial contribution toward giving journalists and producers the means to deliver their stories to the screen."

Hejar Berenji, CTO at Rudaw Media Network
The new infrastructure at Rudaw Media Network will use a Cisco fabric for SMPTE ST 2110 IP connectivity. To directly integrate their SDI and IP equipment, Rudaw will use Imagine's Selenio Network Processor (SNP) as a straightforward, compact gateway and media processing platform that contains 128 configurable SDI/IP ports in only 4RU. Its functionality can be changed virtually, almost instantly, by loading the appropriate software.
At Rudaw, multiple SNPs will be deployed throughout the new facility for core functionality from audio/video processing and synchronisation to up/down/cross-conversion – supporting as many as 40 UHD multiviewer layouts with 180 inputs. SNP is field-upgraded – as new functionality is developed or business requirements change. Rudaw is planning to incorporate the new Master Control Lite functionality into the next phase of the build, which adds branding, graphics, master control and dual downstream keying ― all in ST 2110, in software supporting UHD.
Channel Origination
Rudaw's channel origination workflow will be built on Imagine's Versio integrated playout platform and ADC automation, supporting three UHD output channels and a preview channel – all of which are fully redundant. With ST 2110 UHD I/Os, advanced graphics and master control capabilities in the build, the Versio playout devices will place both channel delivery and ingest into a 252TB Imagine IOX high-availability NAS storage system, forming a complete, self-contained content management environment.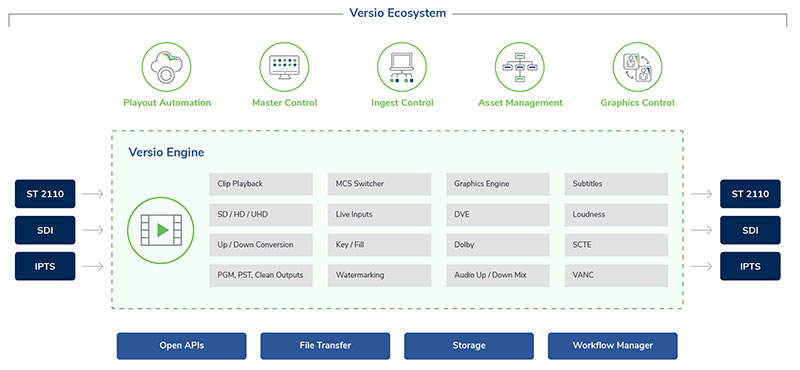 Master Control
Imagine's Magellan Control System will oversee the management and operation of the workflow from production and ingest through master control and playout. Serving as the 'brain' of the system, Magellan Control is a single point of management, automation and monitoring across the infrastructure – including the Cisco switches, Vizrt graphics, Tektronix test equipment and other third-party broadcast equipment – making the whole operation function as one integrated unit. Redundancy is also built across the network, so that each aspect of the installation is reliable and available.
Imagine's relationship with Rudaw Media Network began more than a decade earlier and has continued through multiple upgrades. WAVE Media Solutions contribution will include working with the company's engineering team and Imagine's support team to ensure a smooth transition to IP connectivity and 4K UHD. www.imaginecommunications.com