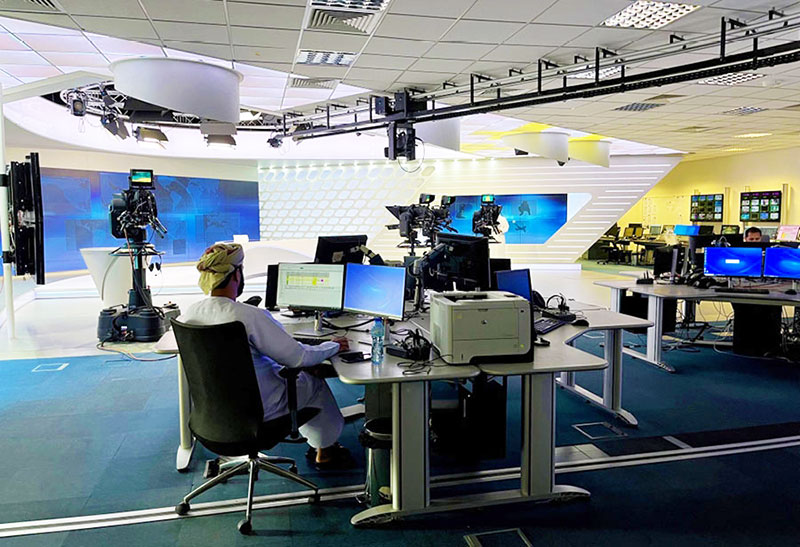 Starting in 2017, the Oman Ministry of Information began seeking proposals for a major upgrade of the studio infrastructure of Oman TV, including its NRCS and production asset management (PAM) system.
The upgrade extends across two sites in the Sultanate of Oman, one in the capital city Muscat and the other in Salalah in the Dhofar Province. The evaluation process continued over four years before the project was finally awarded to United Broadcast and Media Solutions (UBMS), systems integrator in Dubai.
The project's key elements are the components comprising the server, network and hyper-convergence (or virtualisation) infrastructure. Primarily, Oman TV was looking for a PAM system for news and studio production operations that is interoperable with third-party systems from Adobe, Avid, Vizrt and Tedial. The team was also aiming to reduce rack space by virtualising some of the back-end resources. UBMS chose EVS MediaCeption Signature to manage video assets throughout production from ingest to playout.
Ingest to Playout
A system of EVS hardware and software, MediaCeption is based on XS-VIA servers located at each Oman TV site. IPDirector handles the ingest scheduling, media search and browse, centred on a central database. It is then used to create playlists, transfer content to shared storage and control playout.
PMZ virtualises the backend resources used for IPDirector and IPWeb, reducing rack space. Its HCI architecture (hyper-converged infrastructure) can be used to set up the resources needed for each of their live productions, and then change the workflows from one day to the next.
IPWeb supports remote workflows for users working from outside the studio with a web-based UI they use to access and browse content and create clips. VIA Xsquare will then transform the media files as required, and orchestrate and monitor their transfer between EVS and the third-party systems mentioned above. XStore serves as the central shared storage platform in this project. In particular, Adobe Premiere Pro users can access growing files through the XStore plug-in.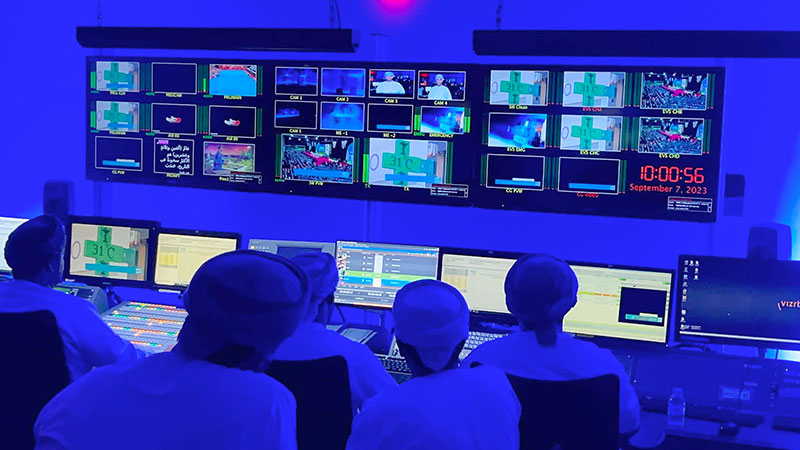 The EVS MediaCeption package supplied to Oman TV also includes a rough-cut editing tool and handles both news and production workflows across eight galleries. The system has just recently gone to air on 7 September 2023.
Loop Recording
An important EVS feature for Oman TV is loop recording, which is an automated way to save video feeds onto a video server through out a production. It means that the operators don't have to worry about missing content or downtime. Loop recording is never-ending – that is, at the end of the internal disk drive, the process continues to record at the beginning, erasing the previously recorded material and replacing it with new content. However, EVS makes it possible to write-protect selected parts as video clips to prevent erasure.
The clips are created by defining IN and OUT points on the record train, and saving the material in-between to the server, preventing the loop from deleting it. This process not only allows continuous recording from camera to server, but also gives instant access to any material ingested earlier on and guarantees that the recorder will never miss the action in live events such as live sports.
Content Sharing
Operators in one Oman TV location can access content from the other, which allows systems administrators more flexibility. The new virtual environment needs less rack space and consumes less power, giving the company a chance to scale up and expand in the future.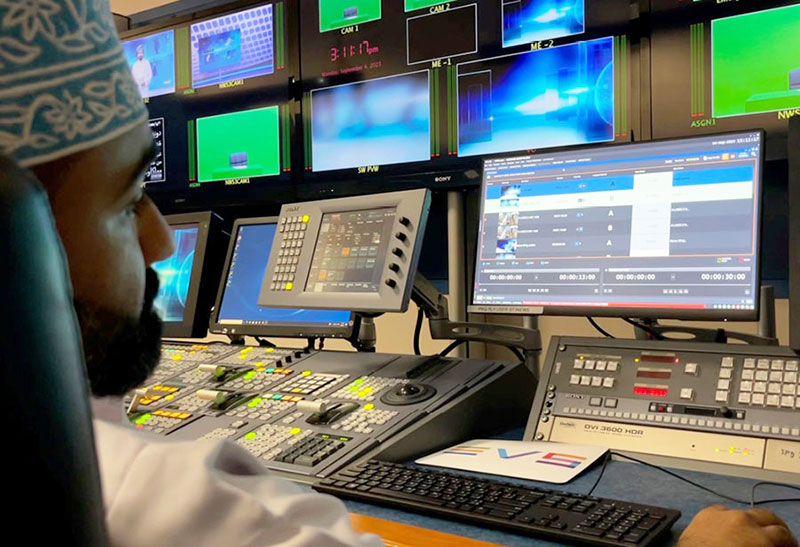 An integration between the EVS' workflows and the existing Tedial MAM system facilitates archive-and-restore of content. Muscat PAM users can access the Salalah EVS PAM content remotely and initiate a content transfer from Salalah to Muscat. Similarly, Salalah users can access Muscat content and initiate transfers.
"Being able to instantly access, manage and turn around our live production assets quickly, from just about anywhere, is key to success," said Mahmoud Mirza Albalushi, Project Manager of the Oman TV Muscat site.
Another important integration is between EVS' IPDirector and Avid iNews to publish a rundown from iNews to EVS and receive the rundown status/feedback from EVS to iNews. Furthermore, IPDirector users can browse a proxy while the ingest is still in progress.
Alongside the equipment and software, EVS delivered on-air support and technical training for 30 Oman TV engineers plus operational training for 150 operators at both sites, assisted by support staff from EVS' Dubai office and its headquarters in Belgium. evs.com