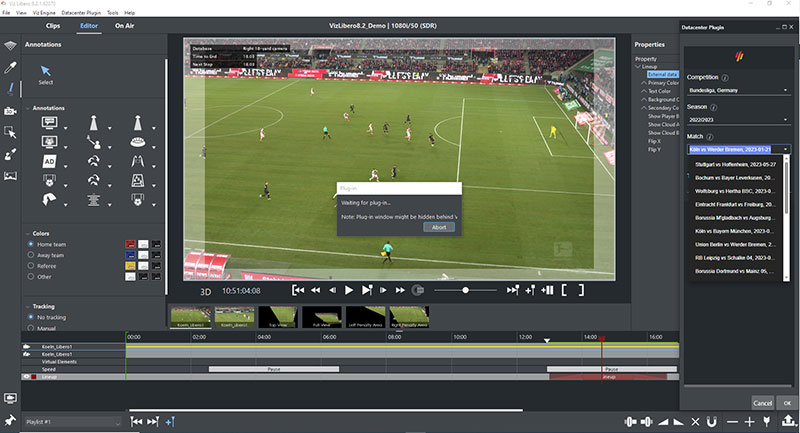 Viz Libero 8.2 updates Vizrt's sports analysis tool with a focus on data – wider data access through a service called Datacenter, and a new set of data visualisation tools.
"This release is about making the most of the available data. It centralises data sources into the Datacenter service by natively integrating the most commonly used data providers – we will be adding more in the coming months. Also, the data visualisation and analysis functions in v8.2 are faster and more diverse," said Edouard Griveaud, Senior Product Manager for Viz Libero, Vizrt.
Connecting Live Data to Graphics
Using Vizrt Datacenter, operators can connect live data sources to fields in graphics templates without scripting, custom coding or applying other special knowledge. They select which data they need, and can also connect incoming live data fields into heatmaps or scenes such as clock-and-score graphics.
As all data is contained in one repository, switching out providers each time for different matches or leagues is not necessary. The data can be accessed in a single central, connected Viz Libero project.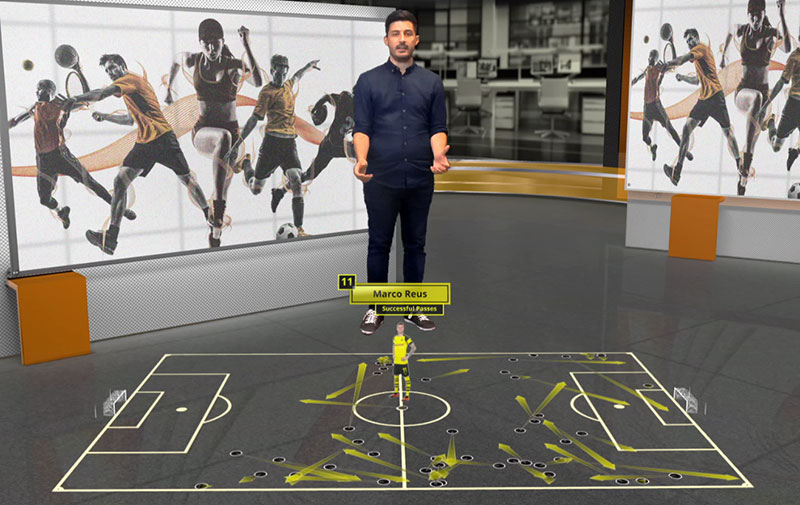 Viz Libero 8.2 includes eight new native data visualisation options, including penalty maps, attack maps and player and team comparison statistics. Once the operator has selected a visualisation option and clicked on the match or team, the data will automatically populate the graphics.
Transparent AR
A new Transparent AR feature removes the playing field when Libero shifts into AR mode, presenting only the grid from the pitch or field. Working in a space with fewer details and distractions gives broadcasters more AR visualisation options. All the graphics in Viz Libero can now be presented either as Augmented Reality or as Transparent AR elements.
Visually Accurate Cutouts
The AI Cutout feature released in Viz Libero 8.1 for basketball and soccer has been expanded in this release to adapt to any sport, including swimming and ice hockey, two sports that have typically been difficult to key because of the colour and texture of their environments.
The AI Cutout process takes advantage of the intelligence trained into Vizrt's Viz AI engine to recognise and mask players and generate visually accurate cutouts very quickly, saving processing time. Creating a cutout this way only requires one step, and uses a precise algorithm capable of ignoring objects like players, cars, ads and any elements outside the calibration grid.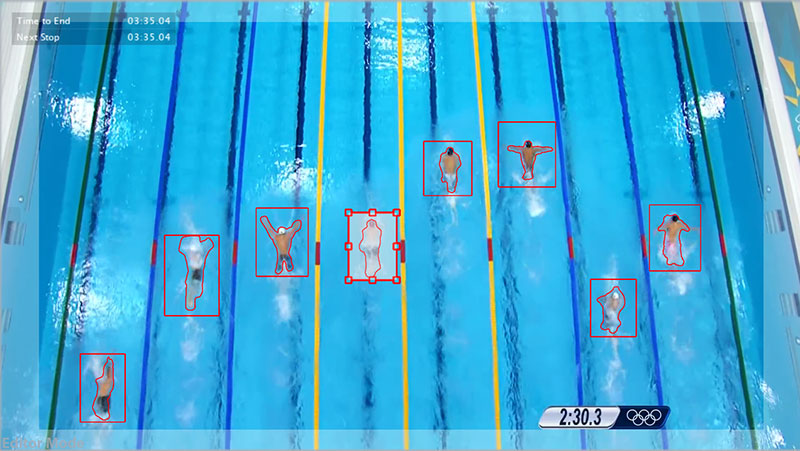 "We timed an experienced operator. What previously took him 12 minutes to create by manually masking the outlines of players, brushing and finetuning to remove overlaps, could now be done in 2 minutes. This makes AI-based analysis, such as 3D flights, possible in the middle of a match, to give viewers greater insights into the game," Edouard said.
Viz Libero 8.2 also includes backend refinements and replay integrations to better support sports productions. Calibration and tracking for the Libero system is image-based only, which may present some limitations but does mean that users do not need to install cameras or equipment at the venue. Any available video input can be incorporated – live, from a replay system or file-based. www.vizrt.com