Korea Educational Broadcasting System (EBS) - South Korea's public broadcasting organisation – operates to gather and broadcast educational content across a range of channels. One shows documentaries and cultural programs for students up to high school level and their families, others focus on further education services; foreign language programming, music and culture; Korea's CSAT (College Scholastic Ability Test) preparation; learning English, children's content and others.
To deliver this material at the expected quality of experience (QoE) for their viewers, EBS needs to maintain accurate, comprehensive quality control at both the ingest and playout stages. The work involves performing quality and compliance checks on the video within their broadcast ingest and playout workflows.
Ingest to Playout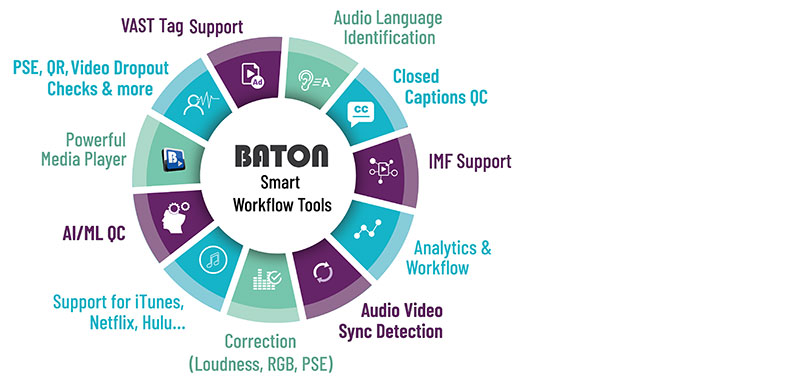 To update their QC capabilities, EBS recently deployed Interra's BATON AI and ML-enabled automated QC platform and BATON Content Corrector (BCC). Using BATON, EBS can now consistently and accurately perform the checks needed to ensure a high-quality, competitive QoE. The team uses BATON Content Corrector (BCC) to correct loudness issues automatically, effectively guaranteeing compliance with EBS' audio quality specifications.
Bibhas Kumar Samanta, sales head, India and MENA at Interra Systems said, "Over time, EBS will also be able to use BATON's scalability to expand the deployment as their needs change, and access the continuous updates that Interra makes to the platform, new features and performance enhancements."
Installed within EBS' production infrastructure at their facility, and integrated with the company's media asset management systems via API, BATON thoroughly checks XDCAM HD422, Apple ProRes and UHD files at ingest for compliance, video and audio defects, and audio channel mapping, specifying the channel in an output audio device for each track in a multitrack video. Before sending assets to playout servers, BATON ensures their integrity and completeness, and that timecodes are in sync.

Automatic Loudness Correction
If the loudness of a file deviates from EBS' standards, Interra Systems' BCC software automatically rectifies it. BCC generates a list of the content that BATON has verified, corrects the errors and schedules the content for QC by BATON once again. The corrected content can be played back in Interra Systems' BATON Media Player to further analyse the corrections when necessary.
Deployed by broadcast, cable, telco, satellite, IPTV, OTT, post-production and archiving companies working with file-based media, Interra Systems' BATON is able to address most QC standards for quality and compliance – in the cloud, on-premises or as a hybrid system – for linear and streaming workflows. The platform's scalable architecture allows users to expand their BATON setup as their QC needs grow. interrasystems.com