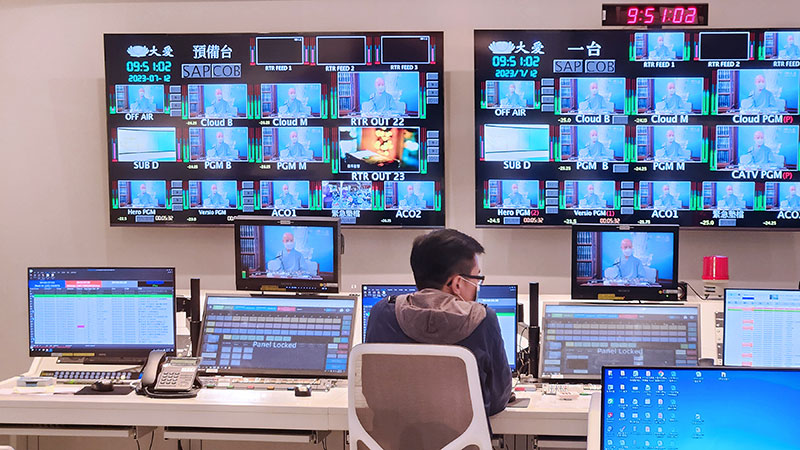 Da Ai TV, operated by the Buddhist charity organisation Tzu Chi Culture and Communication Foundation, a non-profit media group. Tzu Chi has become the first broadcaster in Taiwan to implement SMPTE ST 2110 live production and playout facilities.
First launched in 1998, Da Ai TV is an innovative broadcaster that became the first digital television station in Taiwan in 2005. Da Ai TV's new ST 2110-compliant workflow spans live production, ingest, playout, automation and master control, and is built on Imagine's Versio integrated playout platform and ADC automation. It was implemented in association with local Imagine partner and systems integrator Interactive Digital Technologies (IDT).
"Because migrating to ST 2110 is a significant operational shift for any media organisation, we were looking for experienced technology partners to help us navigate the transition," said Kaming Tseng, Manager, Technology & Engineering Department at Da Ai TV. "We are confident that this new infrastructure will lead to simpler operations, and also be able to scale to meet changing needs and ensure a long-term return on investment."
Integrated, Automated Playout
The platform is modular and features ST 2110 in/outputs, advanced graphics, ingest and master control capabilities. Single or dual channel per server, Versio handles subtitles insertion and passthrough for closed, open captions and live captions, and also SCTE insertion and decoding for playlist triggers. Mixing features like crossfades, fades and dissolves are included, with single and dual DVE.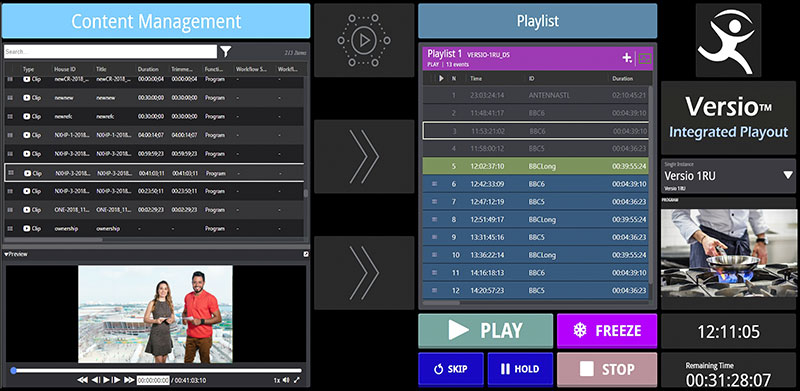 Users can set up live inputs, key/fill and program inputs, as well as clean and preset outputs, simulcast and branded. Versio also has an integrated Ingest Scheduler, a control application for scheduled recordings and crash records, designed to optimize resources by controlling pools of recording ports in Versio Ingest 2110 servers.
Regarding automation, users can choose the native Versio Automation or, as in Da Ai TV's case, ADC Automation. The Versio playout devices can be integrated tightly with ADC in a continuous, end-to-end content management system. Users can choose internal storage or connect to Imagine's online IOX NAS shared storage for Versio.
Routing and Monitoring
Imagine's Magellan Control System for routing and monitoring simplifies management and operation of the whole workflow from production through master control and playout, making each component operate directly with the next. The control layer also incorporates Magellan Touch, the system's control framework that allows operators to customise their own control user interface.
The system's live, dynamic signal-path display for SDI and IP routing environments visualises drag-and-drop source/destination organisation, with paths drawn on the PathView canvas. It updates instantly, giving each operator a real-time view of each route they are monitoring. Visual indicators show IP end-points availability on the network, connections between the controller and end-points, plus alarm conditions.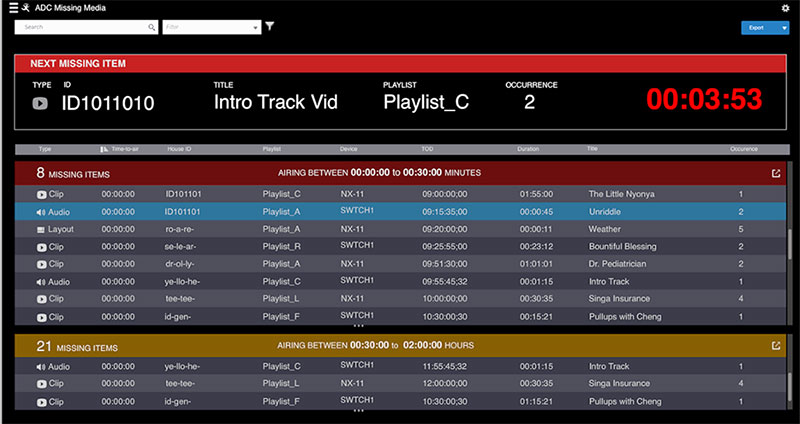 SNP Gateway
To better integrate existing SDI and new IP equipment, Da Ai TV uses Imagine's Selenio Network Processor (SNP) as a gateway. At Da Ai TV, multiple SNPs are deployed throughout the new facility, handling various core processing functions and serving as low-latency, HDR-aware production multiviewers.
The SNP's media processing platform is versatile, with functionality that can be field-upgraded by loading the appropriate software as new features are developed or requirements change. SNP also stays up to date through full IP standards compliance, and carries out full HDR adjustments, including optical domain processing, and JPEG XS compression. www.imaginecommunications.com