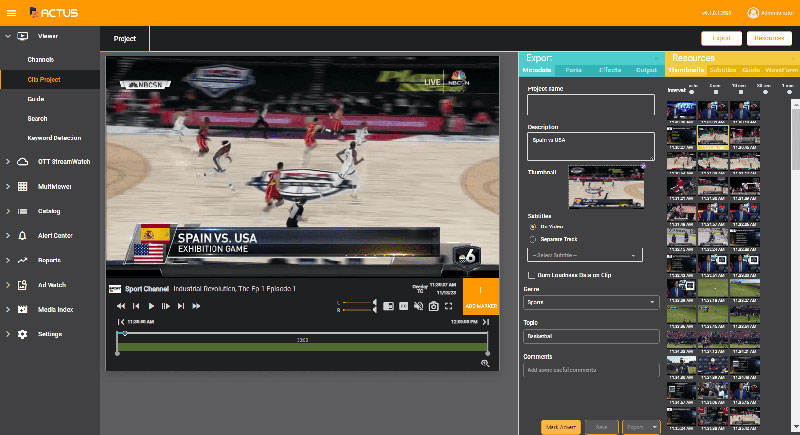 Actus Digital's Clip Factory Pro for automated clipping
A1 Telekom Austria Group is expanding its use of the Actus Digital's intelligent monitoring platform. With the Actus platform, A1 Telekom Austria Group can monitor its own in-house quality of service as well as make remote content monitoring, clips creation and export capabilities and other services available to its broadcast customers. A1 Telekom is using the Actus platform for diverse uses such as loudness monitoring, SCTE-104/35 standards for ad insertion, subtitling and multiple audio languages.
Actus Digital's platform has a comparatively wide range of features. The software carries out compliance recording and fully compliant transport stream analysis, as well as technical monitoring and real-time alerts on audio, video and metadata issues. Receiving timely alerts about on-air video and audio issues for viewers and equipment is critical to help A1 Telekom Austria improve its broadcast quality assurance and maintain services at a high standard.
A1 Telekom Austria Group is a provider of digital services and communications systems in Central and Eastern Europe with some 26 million customers in seven countries accessing its broadband infrastructure for communications, payment and entertainment services, and integrated business systems.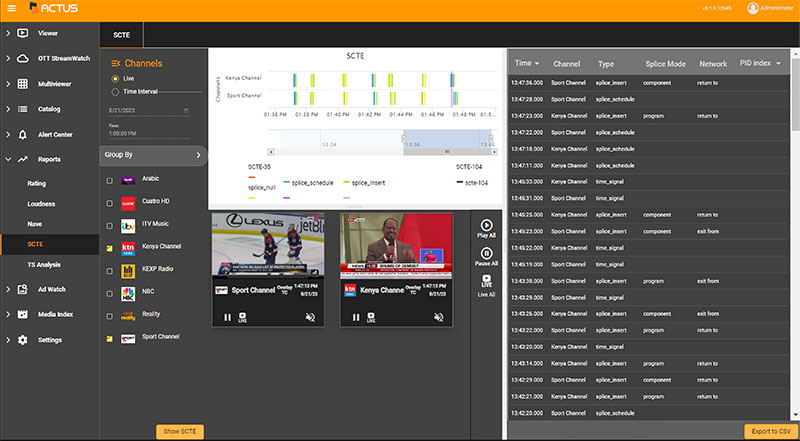 Actus Intelligent Monitoring Platform interface with SCTE
"As a network operator and media service provider, supporting our broadcast customers' evolving requirements is a top priority for us," said Josef Windisch, technical project and presales manager at A1 Telekom Austria Group. "Actus Digital's monitoring system is straightforward to operate and has functionality beyond compliance tasks alone, preparing us for future requirements. The platform's efficiency, reliability and dense capabilities are reasons why we continue to work with Actus Digital."
A1 Telekom Austria Group's broadcast customers can remotely access the Actus platform, enabling them to instantly monitor their content and the quality of their channels and ads. Typically, quality assurance tools produce data and statistics but cannot show what viewers see after signals leave the STB. Actus' remote content monitoring shows what viewers see, which can be used to improve customer QoS, as well as verify ad placements and services.
The company is also using Actus Clip Factory to automate content repurposing. Clip Factory has a simple fast-turnaround content workflow for Facebook, YouTube, Twitter, Instagram, the web and OTT platforms, running from clips editing to adding effects, logos and animations, pre-roll / post-roll, dynamic metadata and cropping. It also has a built-in transcoding engine to support different formats. Customised in/out points can be marked and metadata can be added to define different profiles.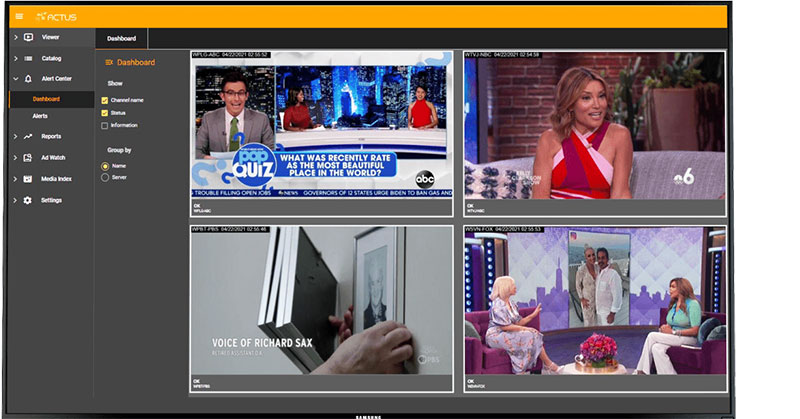 Actus Digital transport stream analysis
"With more than 5.4 million mobile and 2.3 million fixed-line customers, A1 Telekom Austria Group is a media operator with a growing number of broadcast monitoring requirements," said Sima Levy, CEO at Actus Digital. "We're pleased to support the evolving needs of A1 Telekom, as they expand their reach, with a comprehensive source of tools for tasks from broadcast monitoring to quality alerts." actusdigital.com