Digital Nirvana MonitorIQ 5.0 Adds Cloud Recording & OTT Monitoring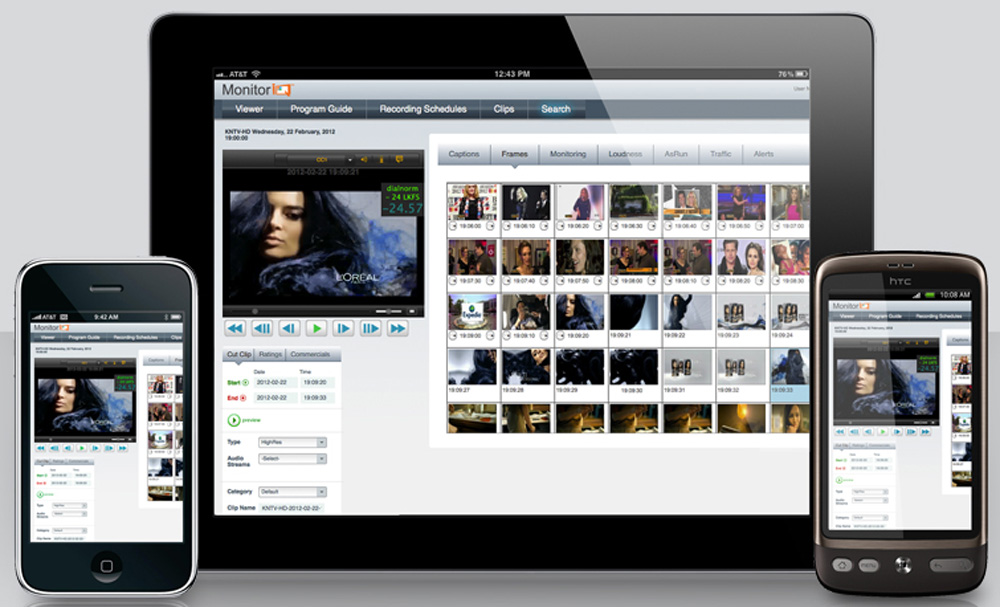 Digital Nirvana's version 5.0 update to their MonitorIQ platform for broadcast video will be on display at the 2016 NAB Show, with new functionality to help providers manage compliance for content distributed across diverse digital platforms.
The Digital Nirvana MonitorIQ platform performs customized, multi-channel signal monitoring, logging, compliance testing and archiving. Broadcasters can use it to capture content live from multiple sources and monitor the video for quality and compliance, and to publish video to digital platforms for on-demand consumption. It combines signal and loudness monitoring, air-check logging, ad verification, competitive analysis and content repurposing. Its content retrieval system, SmartSearch, operates in a centralized management server environment that pulls together all units deployed across the system to one central point.
Digital Nirvana says the availability of content across diverse digital platforms has demanded performance optimization to MonitorIQ many levels. They regard achieving compliance with FCC mandates, performing ad-run validation for advertisers and monitoring quality of experience for consumers - while tightening workflows and reducing costs - as a challenge.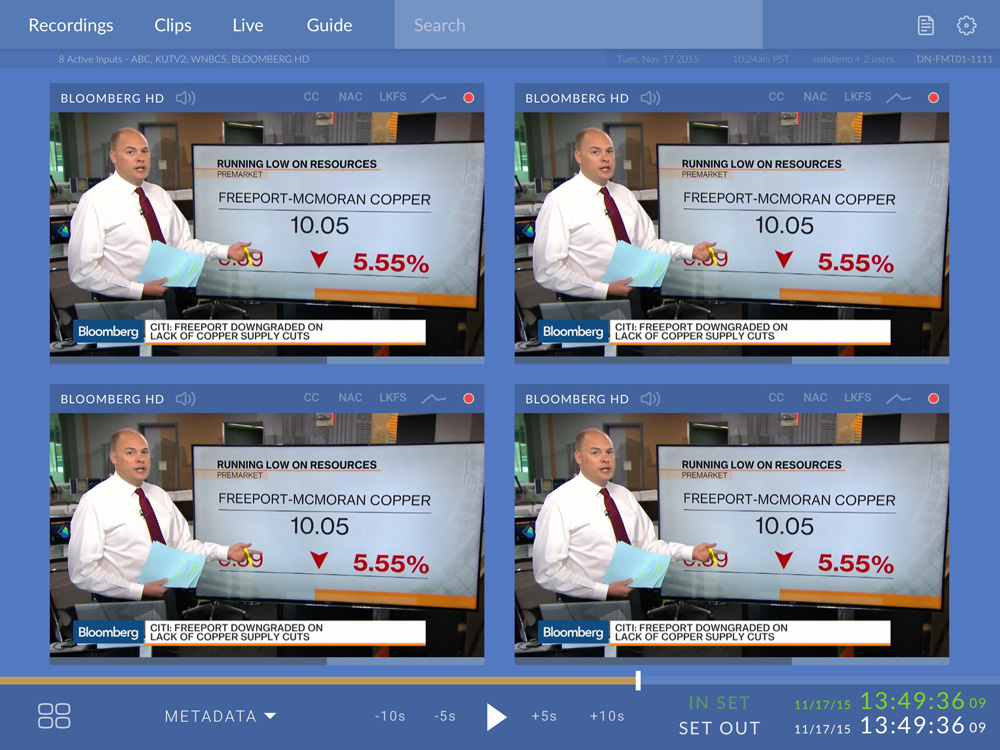 MonitorIQ v5.0 has a new interface that makes content search and retrieval faster and, shifting away from reliance on Flash, supports HTML5 and HTTP Live Streaming, or HLS, so that users can browse and view content uniformly across multiple platforms, including standard desktop browsers and mobile device operating systems.
MonitorIQ now also carries out cloud-based recording and OTT stream monitoring, and includes a VOD Server to view content on any connected Smart TV device. Digital Nirvana will show examples of streamed video-on-demand content on a Smart TV at its booth at NAB.
Matrox Monarch HDX Stream/Recorder Integration
The MonitorIQ 5.0 platform now incorporates the ability to record and stream from Matrox's Monarch HDX streaming appliance, which can be used to add support for HDMI sources and cloud-based recording. It extends MonitorIQ's ability to monitor sources in remote locations where a client has a temporary event, and it increases ROI because MonitorIQ can then be used to monitor several streams from different locations. Clients have centralized access on a single, web-based interface to streams that are geographically dispersed.
From the Matrox user's point of view, MonitorIQ is a convenient interface to access, view, analyze, export, repurpose and share content recorded with a Monarch HDX. The combined system suits professional video producers who need to record or stream events with minimal setup but without dedicated recording units, such as at universities, hospitals, government organizations, houses of worship and local broadcasters. Monarch HDX can be configured remotely by the Digital Nirvana team and is simple to deploy by plugging in a video source and connecting to a network.
The MonitorIQ platform v5.0, like previous generations, records SD and HD in full resolution. It records multiple language audio/video, VANC metadata and closed captions, teletext and subtitles, and is compatible with standards-compliant web browsers. It has cut/clip and editing functionality for QC, viewing, content repurposing and ad verification and exports media to MPEG-2, MPEG-4, H.264 and XDCAM. www.digital-nirvana.com