At the UEFA Champions League match in Barcelona, camera operators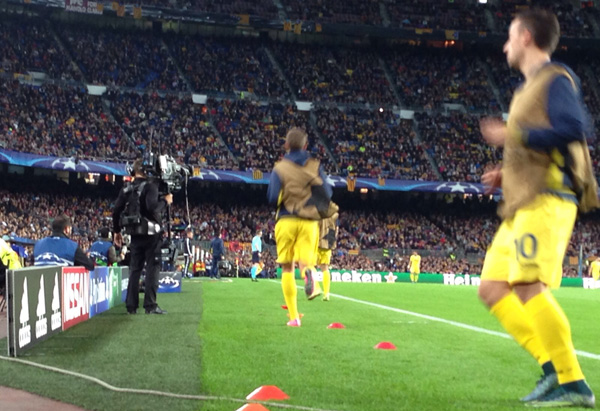 roamed freely while retaining HD quality with Cobham Solo7 Nano TX
transmitters on LDK 8000 Elite cameras.
---
Cobham Solo7 Nano TX Stays On-pitch in Spain for Champions League
The 2015-16UEFA Champions Leagueis the 61st season of Europe's main club football tournament organised by UEFA, now underway through May 2016. Barcelona are the defending champions.
For the Group E match between FC Barcelona and FC BATE on 4 November at Camp Nou Stadium in Barcelona, the on-pitch broadcast package was based on theGrass ValleyLDK 8000 Elite camera.CobhamSolo7 Nano TX COFDM transmitters were attached to the LDK 8000 with OCP 400 camera control panels,VideosysCCCAM-403473 UHF camera control receivers and a Steadicam stabilisation system.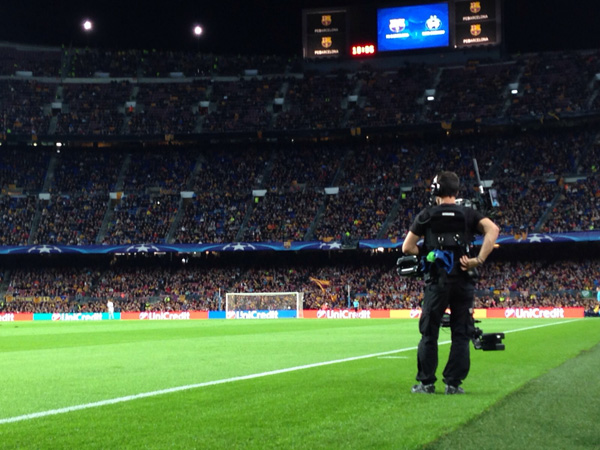 All gear and systems were supplied by production companySobatech GroupSL in Spain, toMediamovilmobile A/V technical resources, which is part of theMediapro Grouptechnical and post-production services supplier and content producers. Mediapro holds exclusive rights in Europe to 112 Champions League matches.

Sobatech Managing DirectorXavier Soler Urrasaid, "It can be challenging to maintain a reliable, uninterrupted wireless signal in a stadium environment, which is typically full of potential RF interference. TheSolo7 Nano TXis not subject to such interference, and its range enabled the camera operators to roam freely while retaining excellent HD image quality."
Cobham's Narrowband (2.5 MHz), Ultra Narrowband (1.25 MHz) and Ultra-X (625 kHz) bandwidths arenarrowband modesthat allow users to share scarce spectrum allocation extremely efficiently. With latency down to 15ms, the Nano TX enables wireless and wired cameras to perform as a unified system to capture and transmit the required detail during events.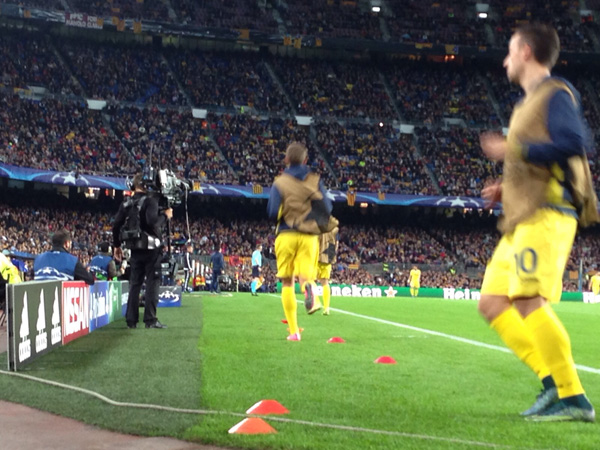 TheLDK 8000 Elite HD camerahas three 9.2-million pixel HD-DPM+ sensors, capturing progressive HD images natively and switching between multiple formats and frame rates at full resolution, with selectable frame rates up to 1080p60. The dockable design of the LDK 8000 Elite also makes it possible to switch directly between fibre and triax connection systems without external hardware or loss of image quality or functionality.
TheOCP 400 camera control panelis one of the smallest available, but packs all controls, including variable matrix control, fine detail adjustments and installation adjustments into the surface. It accesses various parameter levels and can be used to store settings for the LDX and LDK cameras. TheVideosys UHF camera control receiveronly needs a single cable to connect to a camera and red and green tally, and is able to control up to four cameras per channel due to the wide RF bandwidth of the system, operating in the UHF band 403-474MHz.
The transmission package also includedCobham's PRORXD receiverplatform with 1080p60 4:2:2 10-bit decoding capabilities. The PRORXD is compatible with most major encoders and can decode separate HD signals, including MPEG2 HD, which makes it a dual COFDM and IP receiver/decoder. Its bit rate encoding capacity is automatically adjusted to compensate for various rates of contention on IP networks such as VSAT or BGAN terminals. www.cobham.com