As they expand global baseband and digital distribution channels,

Euronews chose Avid graphics systems to upgrade on-screen branding
and live production graphics at their new facility.
---
Euronews Scales Up Graphics for Global Distribution with Avid
Euronews, a news channel headquartered in Lyon, France, is expanding its worldwide baseband and digital distribution channels. Euronews is a full 24/7 multimedia world news platform, broadcasting globally in 13 languages. As part of its plans, the company recently moved to a brand new broadcast production facility in Lyon and took the opportunity to upgrade the functionality of its studios.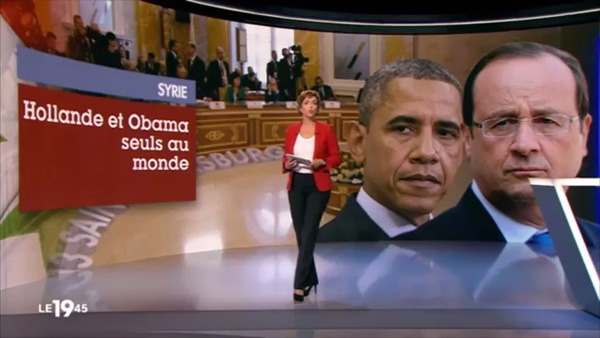 Euronews has chosen graphics systems fromAvid's Media SuiteandStudio Suitefor the on-screen branding and live production graphics at the new facility. The implementation of the Avid Media Suite and Studio Suite is part of Euronews' ongoing strategy to speed up digital distribution to global platforms as the channel increases its international presence, partly through the Avid Everywhere network.
Euronews had been aiming to overcome limitations on its graphics operations, and chose Avid Everywhere so that the team can create engaging, competitive graphics of a quality that they feel they need to keep and expand audiences around the world. "Legacy control equipment at our previous facility limited our ability to expand and develop our graphics capability, particularly as we needed to increase the number of broadcast channels," saidCecile Leveaux, CTO at Euronews.
Orad Graphics Suite
Earlier in 2015, Avid acquiredOrad, developer of real-time 3D broadcast graphic, video server and asset management systems for news, channel branding, sports, elections and special events, virtual studios and virtual advertisement. The looks of products can produce are very distinctive, and stand out particularly among many other virtual studios and channel branding. Euronews, in fact, had maintained a strong relationship with the Orad professional services team for many years.
Euronews installed aMaestro enterprise graphic suiteto develop a graphics workflow for news programmes, live events and on-screen branding for two channels from Euronews' Master Control Room. Maestro's workflow includes ingest, authoring, managing, distribution, playout and archiving. Using a modular architecture, it can be configured for studio and OB productions, editing and post on a single graphic platform, integrated with commonly used news, automation and editing applications.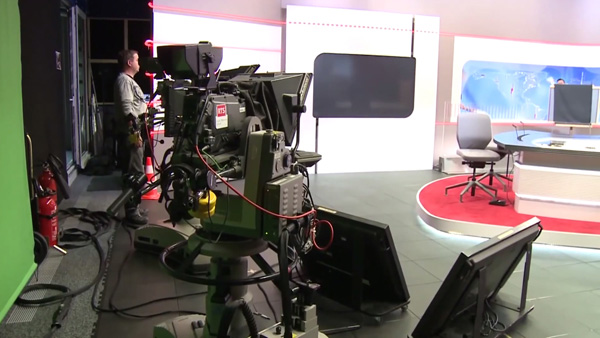 Maestro's3Designerauthoring tool for preparing 3D graphics, again, can be adapted for different environments. The whole system, based on aGraphic Asset Managementsystem, is scalable, so if changes in the workflow need more channels, newsroom integration, or any other Maestro Suite components, they can be added later without a complex installation, and while maintaining all the previously created material. In larger organizations, several Maestro stations can be networked to share assets and data
Graphics Playout
A graphics playout system comprised of Maestro,3DPlayandPowerWall, powered by the HDVG video rendering platform, feeds graphics onto a video wall in the studio for live production.
3DPlay's tools for real-time channel branding graphics cover transmissions from scheduling to air, such as coming up next, promo over credits, squeeze backs, multiple tickers and others. For elections, game shows, sports broadcasts and other events when the content flow and studio conditions are unpredictable, 3DPlay can be a good choice because it is anaction based graphics controller.
The user can combine graphics, content, and animation into a button – the 'action' - and define its behaviour. For example, when the action is cued, graphics can be prepared and updated with the latest data through interfaces to external databases. Once the action is played, the animation is executed with all the relevant graphics.

3DPlay can also execute graphics in anonlinearmanner by triggering the selected action. The user can arrange the created actions into a container, and place them in 3DPlay's workspace according toequirements. Actions can be dragged and dropped into a playlist and displayed as events. These kinds of events and playlists can be automated as well.
Video Wall
PowerWallis a turnkey system for video walls, based on Orad's HDVG4 platform that supplies up to 16K resolution output from a single device. The Orad PowerWall can be integrated into the production workflow of diverse scenarios such as entertainment, sports or elections.
OneHDVG4 render enginecan output up to 8 genlocked 3G or 16 HD SDI signals that can be tiled according to the size and shape required, and has various output options to closely match the resolution and aspect ratio of the wall. Its resolution can range from 3840x1080 in the 2x1 setup up to 15360x2160 in the 8x2 arrangement. This high resolution makes it possible to zoom in on the video without pixilation of content.
The HDVG4 can accept up to 16 HD or SD live video insertions, plus video clips in most formats, which can be mapped to different graphical elements on the video wall. The 3Designer authoring software can be used to create original content. All of these video elements are integrated, not overlaid as picture-in-picture objects. By running from a single HDVG4, all on-screen elements - tickers, videos, animations and so on - will remain synchronized across the whole of the wall, without visible tearing.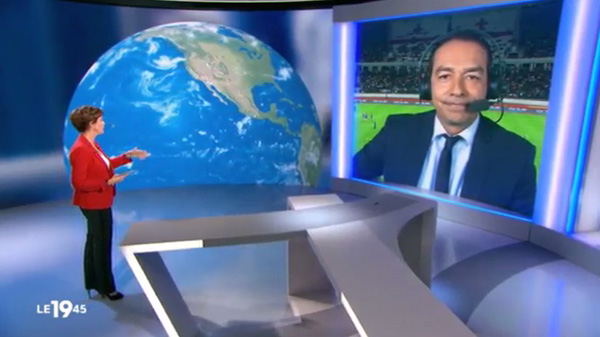 Cecile Leveaux said, "Prior to moving premises, we discussed our requirements in detail with Orad. Their suggested set-up based on the HDVG rendering platform will enable us to create very high quality graphics and scale the system progressively as we continue to grow."
Euronews opened its new facility on 15 October 2015. In 2016, Euronews will launchAfricanews, the first independent, pan-African multilingual news channel. Correspondents will be reporting from all over the continent on African, global and business news told from an African perspective. Specialty programmes will include talks, analysis and user generated content. All programming will be available via the Africanews TV Channel and africanews.com website on mobile, tablet and desktop. www.avid.com