Videocraft took on the role of sole provider of OB and post facilities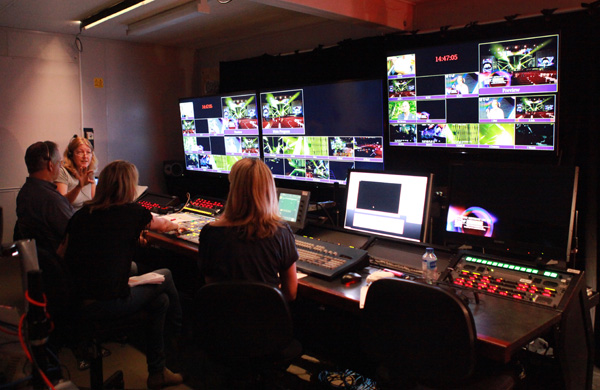 at the 2015 ARIA Australian pop music Awards in Sydney, using Sony
F55 cameras with an EVS and Avid edit workflow.
---
Videocraft Takes Centre Stage at 2015 ARIA Awards
The2015 ARIA Awards, recognising achievements in Australian pop music, were held at The Star casino in Sydney in November. The event was captured for broadcast from custom OB and post production facilities built by local camera and broadcast supplierVideocraft.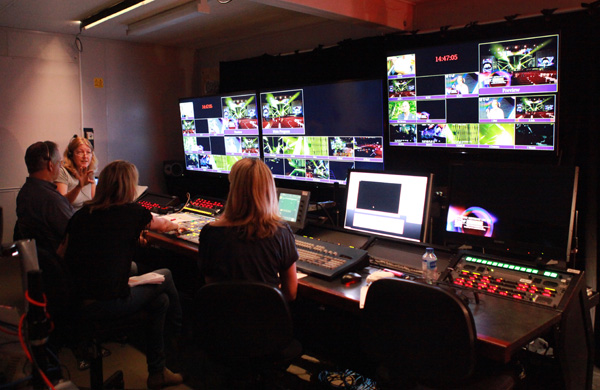 For the previous two years' shows, Videocraft had been contracted through another OB provider to facilitate onsite editing operations at the ARIAs, as part of an EVS workflow. This year, the Awards' production companyGigler Communicationshired Videocraft as the sole provider of OB and post production facilities the event.

Gigler Technical ProducerPhil Gouldensaid, "I'd had a chance to look over Videocraft'sFlyPackkit at the SMPTE 2015 exhibition and felt that theirSony F55large sensor cameras in OB configuration were what we were looking for to update the Awards presentation this year." Videocraft's successful bid was partly due to the large sensor camera set-up they built for this season'sX Factor Australia, which demonstrated the F55's performance for live music events and shows.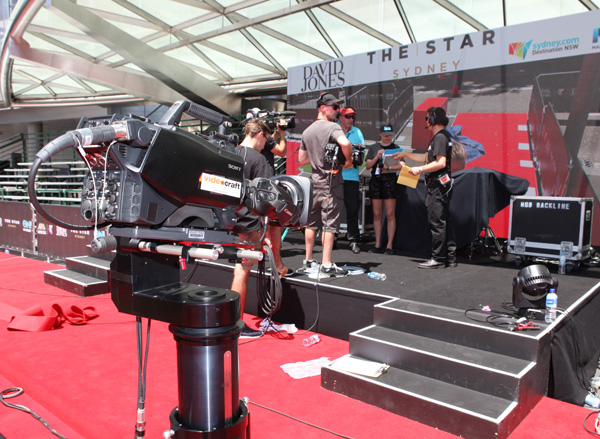 "After everyone saw X Factor, we experienced a demand for the equipment and services we had provided to the show," Videocraft NSW State ManagerAndy Liellsaid. "We invested heavily in order to offer this on a larger scale and undertook a major upgrade and systemisation of our F55 configuration. This included purchasingSony CA4000 fibre adaptors, BPU4000 baseband processors, Fujinon Cabrio lenses, Canon lensesand associated accessories.
"We were also able to demonstrate to the Awards' broadcast partner Network Ten, Gigler and the ARIAs themselves how we had repeated our X Factor success on several other live music events since then, including gigs by the Hoodoo Gurus, Florence and the Machine and #The Beebs."

Videocraft's Awards configuration, assembled as a large production FlyPack, incorporated 26 cameras, two control room areas, largeAvidandEVSset-ups and an OB truck. In previous years, the production effort had been achieved using multiple truck-based facilities, often creating problems for production staff who had to work between the various zones.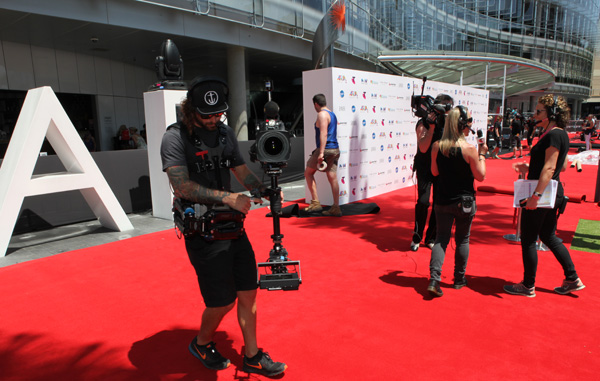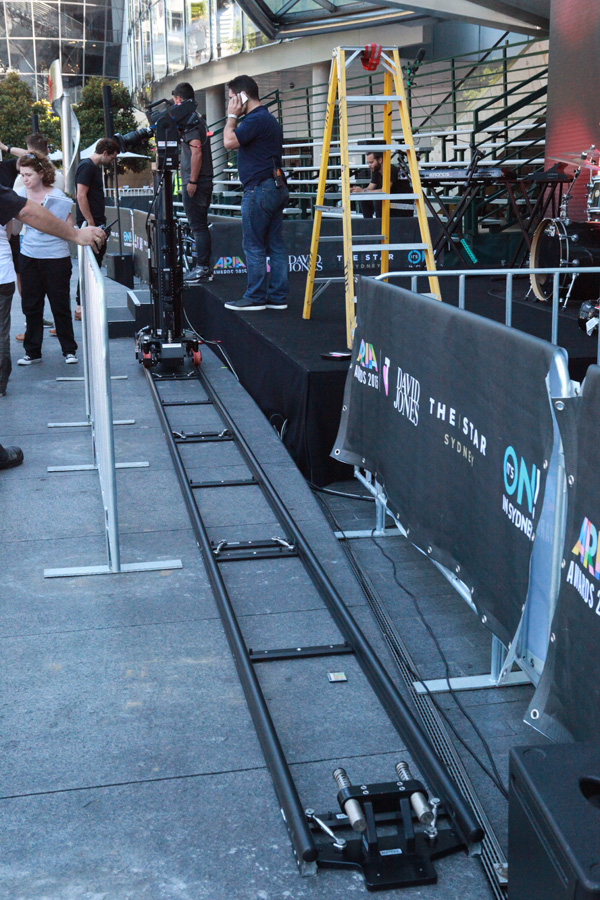 To improve on this, Videocraft worked with Gigler on the design and construction a purpose-built facility containing the key production elements in a concise layout using the extensivefibre interconnectivityat The Star casino venue, which worked well with their FlyPack components.
Videocraft supplied sharedEVSandCCUresources between the main show and the red carpet, and a separate edit facility, also for both sides of the production, where the EVS was utilised as well for the final playout to Network Ten. This allowed the Red Carpet Production area to be re-purposed during the main show as a network coordination and QC facility for the outgoing programme segments, bringing it closer to the executive team.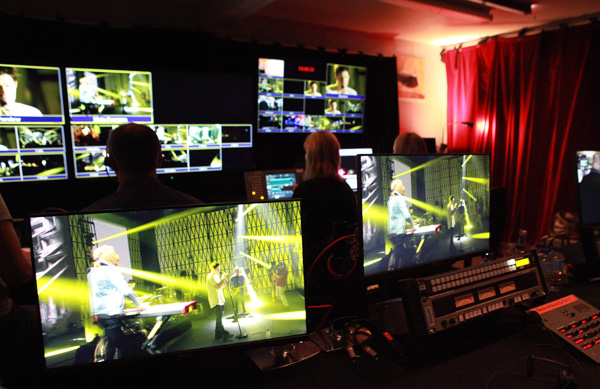 The Videocraft main press centre OB truck acted as a stand-alone production facility forTelstra's expandedsecond screenrequirements and housed a fast turnaround workflow using EVS systems for the base edits. The content came from red carpet and back stage interviews, was edited into packages for mobiles and tablets alongside the on-air Network Ten TV broadcast, and was then moved into Avid for finishing, export and upload.
The red carpet production set-up consisted of eight cameras and included Videocraft'sRoss Furio robotic camera, Steadicam and jib. The main show employed 13 cameras -Sony HDC-2400 2/3" system camerasfor the awards presentations and the F55s - plus Steadicams for the live performance pieces. The entire main show was delivered in 25 PsF progressive scan video.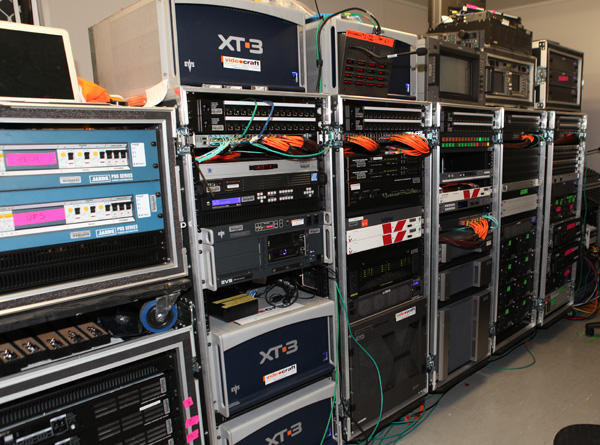 Andy Liell said, "Our plan was to devote the long lens cameras to the award presentations, and use the F55s for performance pieces. Due to the Sony sensor's shallow depth of field and dynamic range, the F55s produced a more cinematic look for the live performances and also worked well for handhelds and mid to long length shots off the Steadicam. www.videocraft.com.au