Cycling programming specialist VSquared TV uses the Monarch HD to

produce H.264-encoded MP4 viewing and compliance copies of their
daily race transmissions on-the-fly from France.
---
VSquared TV Follows Tour de France with Matrox Monarch HD
VSquared TVis a specialist producer and distributor of road and track cycling programmes, whose primary project each year is the Tour de France. Clients include BBC and ITV in the UK and sports governing bodies such as UCI and British Cycling.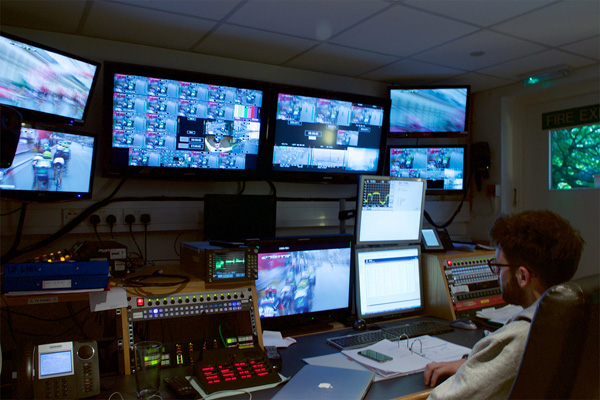 For the 2015 edition of the Tour, VSquared TV's production truck, interior shown above, recorded the transmissions while keeping pace with the racers during the three weeks of racing. The company's team produced up to six hours of live coverage each day fromtechnical facilitiesatTimeline TV's Ealing Broadcast Centre, totalling about 80 hours for the whole event, plus daily one-hour highlights packages that had to be edited and transmitted within two hours of the finish of each day's stage. The programmes aired onITV 4in the UK.
Viewing, Logging and Compliance
To satisfy legal compliance requirements, VSquared needs to makeviewing copiesof all transmissions, one withtimecode. In previous years, the team would normally make two DVD copies, one with the timecode and one without, and meanwhile handled further requests for copies that come in from time to time. Because the recordings were done during transmission, a DVD recorder had to be set up for each copy.

VSquared found making these DVD copies cumbersome and unreliable, and the copies were bulky to store. When recording failed it cost time and money to recreate the programme, and playback of the DVDs on desktop software was less than ideal. To view the content easily, they created MP4 files, which meant running a conversion process on the recordings that took several hours.
More recently, however, the team has been using twoMatrox Monarch HD H.264 encoderson the truck. They can now create H.264-encoded MP4 files on-the-fly from the output of the switcher, and no transcoding is required. Using the source as video input with burnt-in timecode, one Monarch HD generates a file with timecode and a second Monarch HD generates a clean file without timecode onto aNAS drive.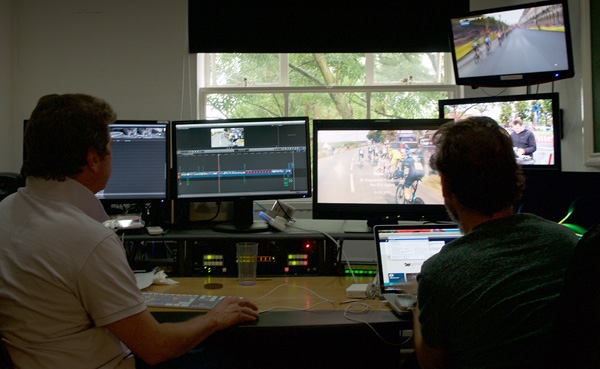 File-based Workflow
The live programme output from the production switcher goes to twoSDI-to-HDMI converters. From the converters, the HDMI outputs - one with timecode overlay - are fed into two Monarch HD devices that encode the signals to MP4 files and write them toCorsair USB 3.0 flashdrives. To store and distribute the recordings, VSquared transfers the files from the USB drives onto aWD My Cloud NASdrive. All recordings can then be immediately viewed and accessed using a web browser by any computer on the same network.
Copies are available immediately on the NAS following the airing of the programme and can be distributed in any quantity by email or pushed to a drop box. Using one of the encoding presets called 'Matrox YouTubeLive 720p' keeps thefile size below 1 GB- because these are viewing copies, full 1080 resolution is not required. Production assistants can now complete the compliance paperwork - music returns, transmission forms and so on - immediately after transmission, and view the recording in their desktop web browser.
In effect, VSquared's workflow on the truck has been modernised. While earlier on, space and power had to be allocated for a bank ofsix to ten DVD recorders, VSquared now uses thetwo compact Monarch HDsinstead.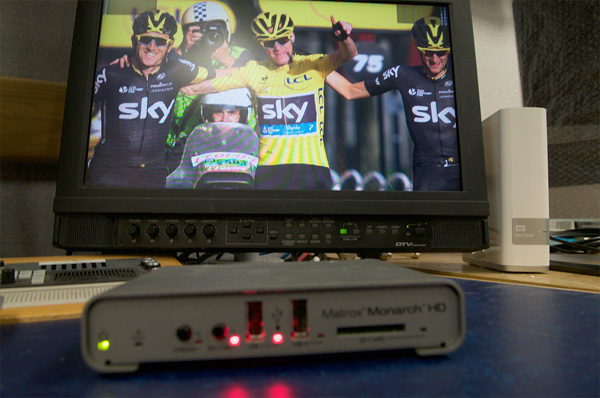 Senior producer and director of VSquared TVJames Vennersaid, "The Monarch HD has updated an inflexible workflow for processing DVDs and editing. It makes handling the viewing copies, logging copies and legal compliance copies much more efficient. The media is also more convenient to use, and easier to store and access at a later date. Whereas previously we would only have a limited number of DVD copies following transmissions, which could easily be lost, now we can distribute an infinite number of copies and always have the master."
Future Plans – Live Streaming
Further to the TV programming, VSquared produces extra feature material and a nightly podcast for ITV's website. Again, they need to produce viewing copies of that material, and can use the Monarch HD to generate MP4 copies of everything they produce for the web as well.Sylvain Swimmer, an engineer at Timeline TV's facilities where VSquared were working, said that setting up the Monarch HD via the web-browser was very straightforward, especially using the presets, and the whole process was their simplest option.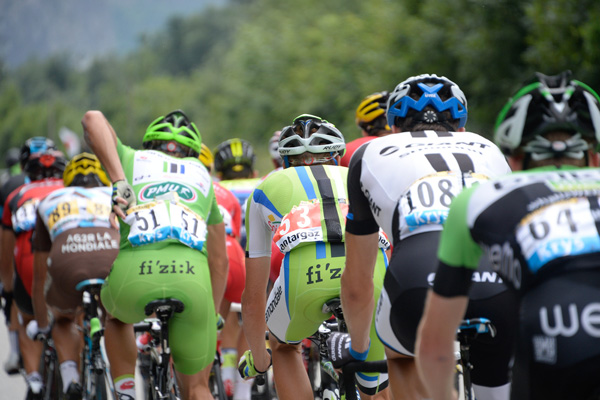 For the next big cycling event, theWorld Track Championshipsto be held in London in February 2016, VSquared's client will run a live, continuously updating website alongside the TV coverage. Live streaming is increasingly becoming a requirement and with theMonarch HD streaming and recordingdevices already part of their workflow, VSquared is positioned to meet their clients' future requirements. www.matrox.com/video