At Inter BEE 2015, AJA showed Ki Pro Ultra 4K/UltraHD video recorder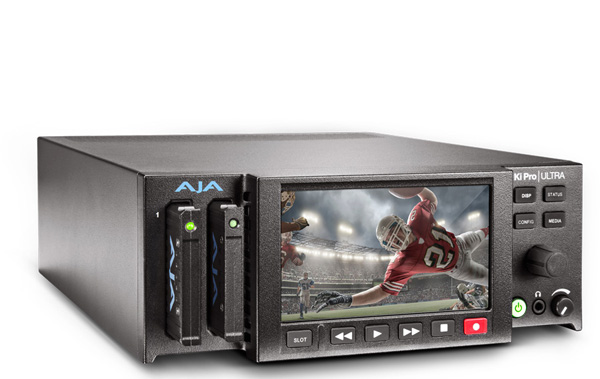 and player, Pak-Adapt-CFast adapter for CFast media, and new openGear
rackframe cards for SDI/Fibre conversions.
---
AJA Ki Pro Ultra 4K/UHD Recorder & CFast Adapter Launch at Inter BEE
At Inter BEE 2015 in Chiba, Japan, AJA introduced the Ki Pro Ultra 4K/UltraHD video recorder and player, Pak-Adapt-CFast adapter for CFast media, and new openGear rackframe cards for SDI/Fibre conversions.
TheKi Pro Ultrais a file-based 4K/UltraHD and 2K/HD video recorder and player with a built-in HD LCD monitor, capable of capturing edit-ready4K, UltraHD, 2KandHD Apple ProResvideo files, up to ProRes 4444. Ki Pro Ultra also supports recording and playback of video formats and frame rates up to4K 60p, and has flexible input and output options for connectivity including3G-SDI, FibreandHDMIsupporting large-raster and high-frame rate workflows.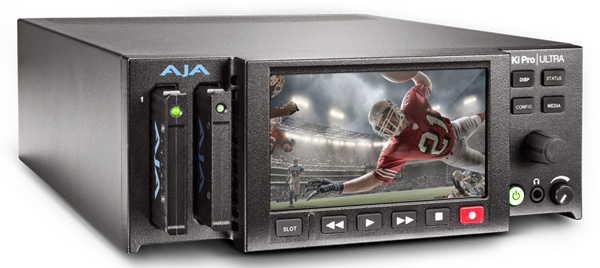 In a half-rack wide 2RU high unit, Ki Pro Ultra suits various applications and production environments and hasanalogue and digital audioconnectivity via standard 3G-SDI, HDMI, SFP Fibre, XLR audio and other connections. When using two 1TB AJA Pak1000 SSDs, Ki Pro Ultra supports up to two hours of 4K 60p ProRes HQ recording. To extend the time , the twin media drive bays allow you to make quick media changes and set up rollover recording.
An integrated4.8in 720p HD LCD displayfor confidence monitoring and playback uses transparent overlays, accessed through a full menu structure with onscreen keyboard functionality. Ki Pro Ultra also includes AJA'sintegrated web UIfor control across a LAN from a web browser, andRS-422control for integration with editing systems and external controllers. All outputs are continuously active for substantial output and monitoring capabilities.4K/UHD to HD down-conversionis constantly available as well.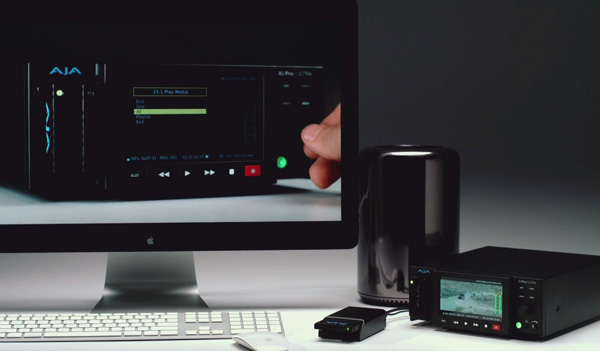 Ki Pro Ultra is availablenow. It records toAJA's Pak SSD-based mediaand, with the newPak-Adapt-CFastmedia adapter, toCFast media. Pak-Adapt-CFast, to be available soon, is a media caddy with the same connector and design as AJA's Pak SSD drives, but with a top slot for inserting CFast media. The unit also has the same green LED light to indicate that the media is mounted.
As well as Ki Pro Ultra, theAJA CIONproduction camera andKi Pro Quadcan also use CFast media via the Pak-Adapt-CFast. The recommended media to use with Pak-Adapt-CFast isSanDisk Extreme Pro CFast 2.0. To give users who want to use Pak-Adapt-CFast a better understanding of performance, AJA will be releasing a list ofqualified CFast mediashortly.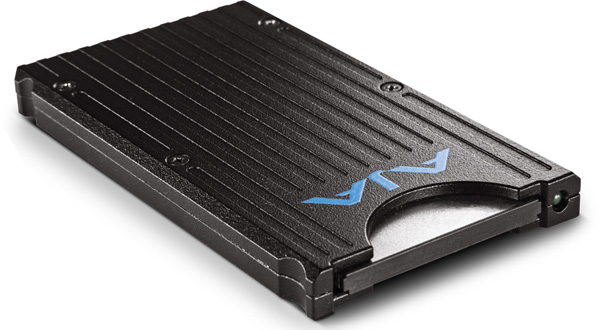 AJA also released three new models in its range ofopenGear-compatiblevideo and audio rackframe cards, supporting single channelSDI-to-FibreandFibre-to-SDIconversion. The new openGear-compatible cards from AJA include the OG-FIBER-TR, OG-FIBER-T, and OG-FIBER-R. openGear is an open-architecture, modular frame system designed by Ross Video and supported by terminal equipment manufacturers across various industries.
The openGear standard applied to these AJA cards makes sure that they will be compatible with other openGear products from certified openGear partners. The initial models in this series were launched at IBC 2015 in September, and you can read about themhere.


TheOG-FIBER-TR SDI/Fibreconverter, compatible with DFR-8321 as well as OG3 openGear frames, performs both SDI-to-Fibre and Fibre-to-SDI conversions, and supports single mode fibre cable. Both Fibre and SDI inputs are automatically detected and re-clocked with precisely measured input jitter tolerance, supporting SDI rates of 270Mb, 1.5Gb, and 3Gb. Both signal paths are independent and can work at different rates. Inputs and outputs are SDI via BNC connector, or Fibre by LC connector. The card specs are 1310 nm wavelength, -2dBm typical optical power, running at 2.5 watts.
TheOG-FIBER-Tis aSDI-to-Fibreconverter, allowing SDI signals to be extended up to 10km over standard single-mode fibre optic cable. The SDI input is re-clocked with precise input jitter tolerance and a re-clocked looping SDI output is included. TheOG-FIBER-R Fibre-to-SDIconverter also allows SDI signals to be extended up to 10km over standard single-mode fibre optic cable, and fibre input is re-clocked with input jitter tolerance. The new cards will be availableDecember 2015. www.aja.com