R&S VENICE 4K Moves Studios Up to 4K/UHD Performance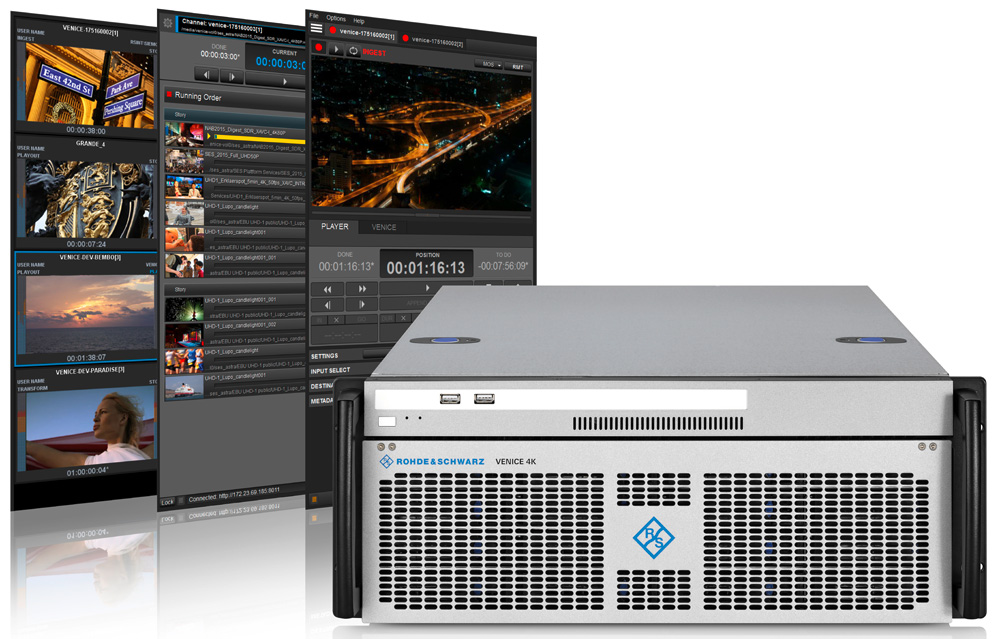 The new 4K version of the R&S DVS VENICE ingest and playout platform was on view at NAB with open system architecture, a large variety of supported file formats, codecs and interfaces and integrated tools. VENICE is designed to help TV studios to optimize current and future workflows.
The R&S VENICE ingest and playout platform handles ingest, playout and transform processes for 4K/UHD material with up to 60p, making it possible to create high-quality 4K broadcast workflows that are as easy to handle as HD workflows. Because R&S VENICE 4K records material directly at 4K/UHD-1 resolution, or UHDTV, time-consuming stitching processes are unnecessary. At the same time, an HD-derivative can be generated to maintain compatibility with existing HD workflows.
Broadcasters can gradually migrate their production to 4K while orienting themselves to their familiar workflows. The dual destination ability makes it possible to save UHD-1 signals in parallel and independently of one another to two different storage environments, eliminating transfer times for copying. UHD-1 signals can be directly recorded to internal and external storage media, and the recorded material can be accessed directly.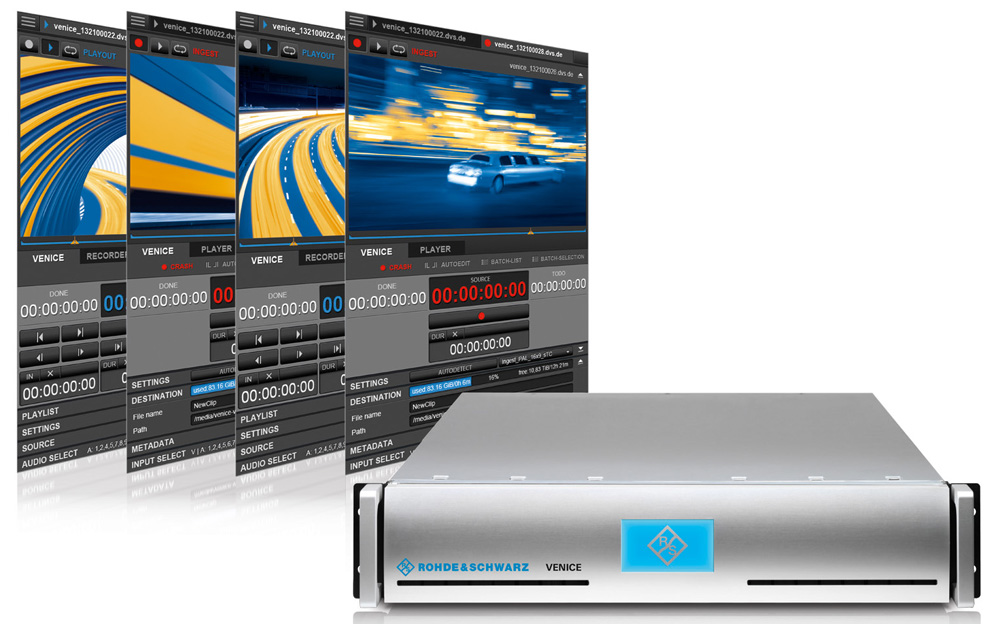 R&S VENICE 4K supports Sony XAVC and Apple ProRes for the recording of UHD-1 signals. Regular software upgrades expand the variety of supported codecs. Consequently, broadcasters can design workflows flexibly and adapt them to a project's individual needs. In the same way as the existing R&S VENICE 2U systems, R&S VENICE 4K can be controlled via VDCP, webservices FIMS and MOS, or the R&S VENICE remote client.
The R&S VENICE Play software is intended for use in studio playout applications. It allows users to control multiple channels in fast-paced playout scenarios. Users can directly access all important functions and continue to make changes to processes until immediately before content goes on the air, even in hectic production environments. The clear display of multiple channels in parallel makes it possible to simultaneously view channels in A/B mode and auxiliary channels and to control them even under difficult live conditions. http://www.dvs.de/